It's day 2 of Amazon's Black Friday Week, and this is your live blog where we track through all the deals and bring you all the top...
It's day 2 of Amazon's Black Friday Week, and this is your live blog where we track through all the deals and bring you all the top deals we're seeing.
Of course, this is just us bringing our blinkered view of what we think is interesting and exciting (or just worth spending money on) - if you want to get the lowdown on all the deals going live, you can head to our dedicated Amazon Black Friday deals page - or, if you're looking for a flavour of everything that's already available in the Black Friday deals chaos, then we have a whole team dedicated to making that page as full-to-bursting with the actually good stuff across all retailer as we can.
But this live blog is going to be a wonderful place that mixes expert insight - we've got deals experts with a cumulative nearly half a century's-worth of experience finding the best savings for you.
We'll be mixing in a blend of deals, commentary, Black Friday analysis and more - so bookmark this page and come on the absolutely wild ride that is Amazon having a pre-Black Friday sale.
The best categories to check out
The 5 deals we're loving right now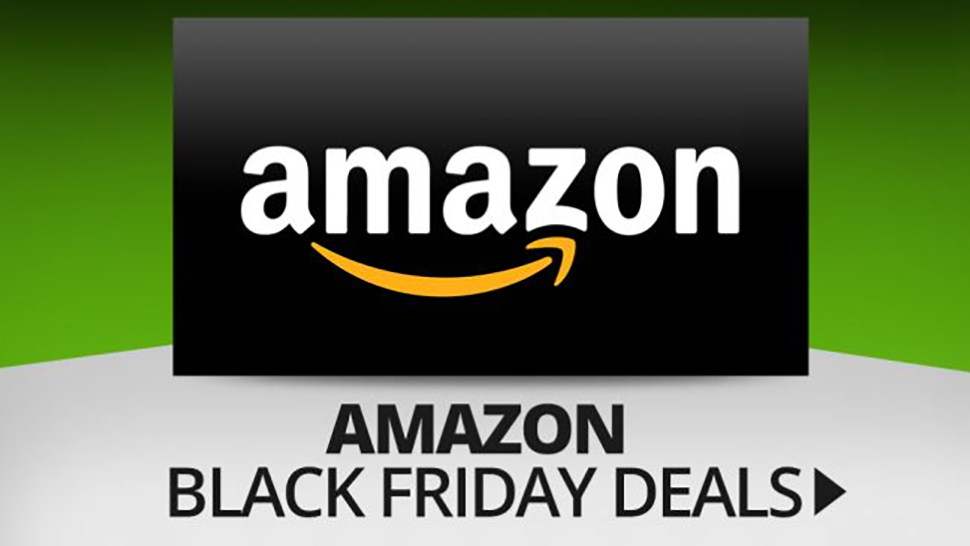 Oh, hello there. It's late on Thursday evening and yet we're readying ourselves for a glut of Amazon Black Friday deals.
Why is that? Well, the retailer clearly doesn't like to let journalists sleep - it's nearly time for the Black Friday Week sale to begin, with rumors of all kinds of deals appearing to give you, noble shopper, the chance to get those pesky Christmas gifts bought, wrapped up and then accidentally left in the wardrobe when you head down to your parents' house on December 24.
How are you going to find out about the latest deals? Well, you could just head on over to the Amazon Black Friday Week sale and find all the stuff there - we won't hold it against you.
But if you do decide to stick around, we're going to be bringing you a glut of buying advice, the top deals we're seeing and a flavour of what it's like behind the scenes trying to sift through the mega amount of Black Friday deals to see what's really worth telling you about.
OK, let's start you off with a tasty little deal that seems to have snuck out before the clock strikes midnight: the Amazon Echo Show 5 is the cheapest it's ever been, and our review says it's "a great device for those looking for a first smart display".
What's your first smart display? Well, it's kind of like a smartphone you can't take with you because of the pesky plug, will show you someone at the door if you've got a video doorbell, and will randomly start talking if someone says 'I'll text her' in a way that sounds too much like Alexa.
Sound like something you want? Well, be glad you didn't buy it last week like an absolute mug.
As I said, I'm here until the wee(ish) small hours giving you a whole host of Black Friday updates - it's interesting how it's all turned around. 10 years ago we used to be stretching out, thinking about winding down for Christmas and wondering if the iPhone 4 was coming next year.
Today, I spent time poring over data to see what was happening in the world of Black Friday deals in different countries in the world before getting back online late in the evening to see what Amazon is going to dump into its deals tonight.
I also had a baby, but that's not really relevant. I just quite like her and enjoy telling the world about it.
I just inexplicably got invited to Miss America 2021 - 100 years of the pageant, apparently. Not sure why I got the invite, it's hardly the new Samsung Galaxy S22 launch...
.. or is it? Do I need to prove to Samsung that I check my emails?
Hmmm... no, it's just the pageant.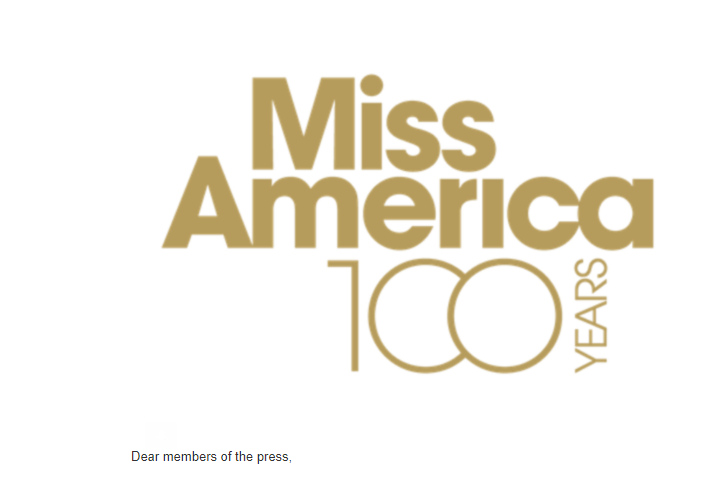 Right, it's game time. Amazon's Black Friday Week sales have offically started. Let's go!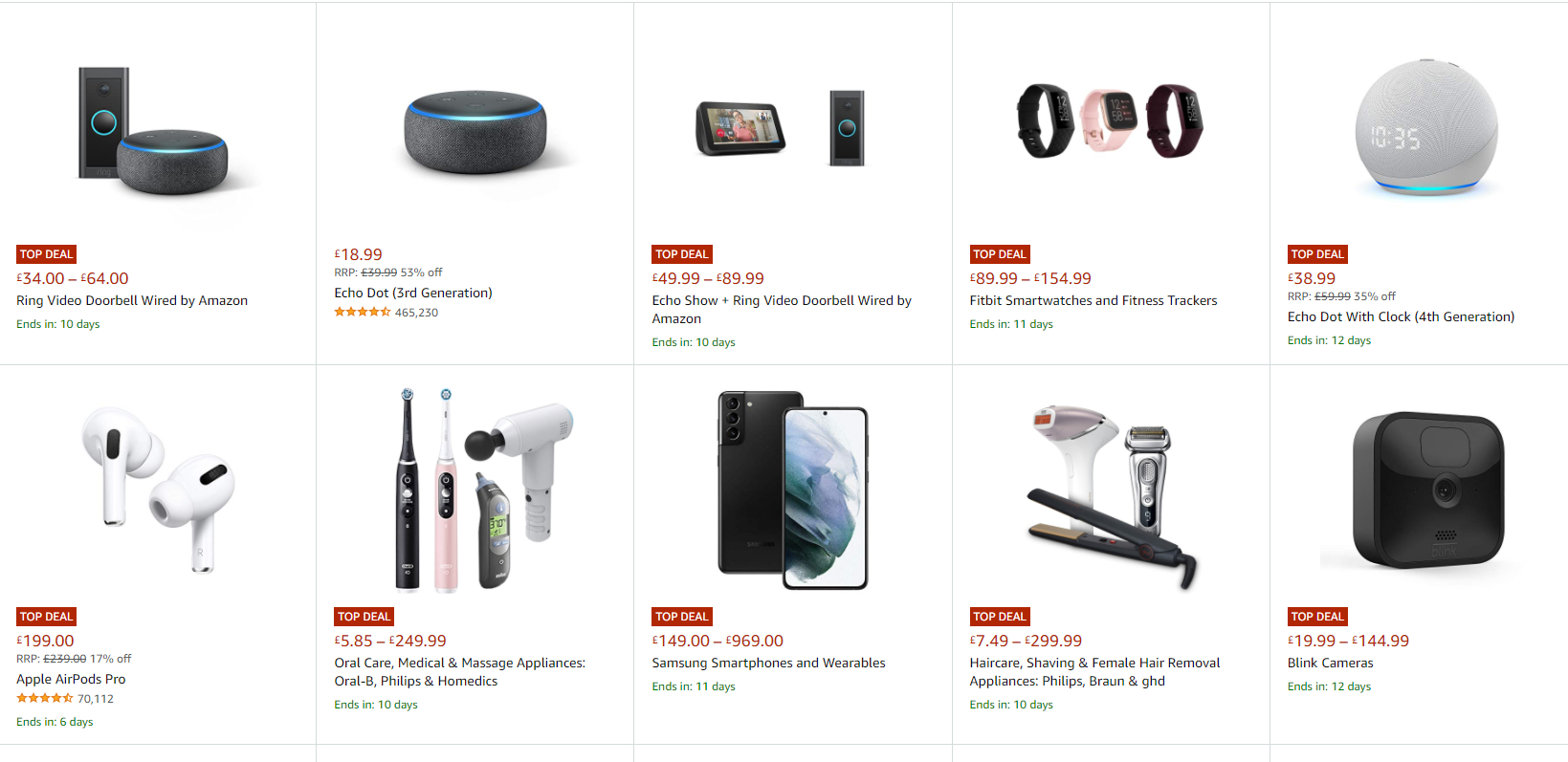 Right, let's start by dissecting all the top deals on the landing page: I'm liking the look of the AirPods Pro, down to £199. Fair warning - they're at that price at a lot of UK retailers right now (John Lewis has them too, with that lovely long guarantee) but that's a top price.
You can also buy refurbished ones for £25 less, but you don't get the MagSafe charging with that - just the boring ol' wireless charging case (pssst... it's basically the same).
Look, I know you can get the Echo Dot (3rd gen) for £18.99. Big Whoop.
You can now get the Echo Dot (4TH GEN!) for £28.99. A tenner extra for better sound, a nicer look and the nice rounded shape (which is excellent for booting across the room should it ever stop working) is a good investment in my eyes.
My rule: 3rd gen for places you don't really go but might want to turn on lights, 4th gen for everywhere else.
A lot of people ask whether Black Friday will be as big this year - it's an interesting question in the UK. While it was certainly down in 2020 over 2019, and some big retailers like Next are pulling out this year, we're still seeing some good deals on tech emerging already.
The key question is whether this is a trend that will ramp up until next week, when Black Friday officially launches on November 26 (the Brits don't have Thanksgiving to tell them when the sales are going to be) or whether supply chain issues mean the big discounts are coming now.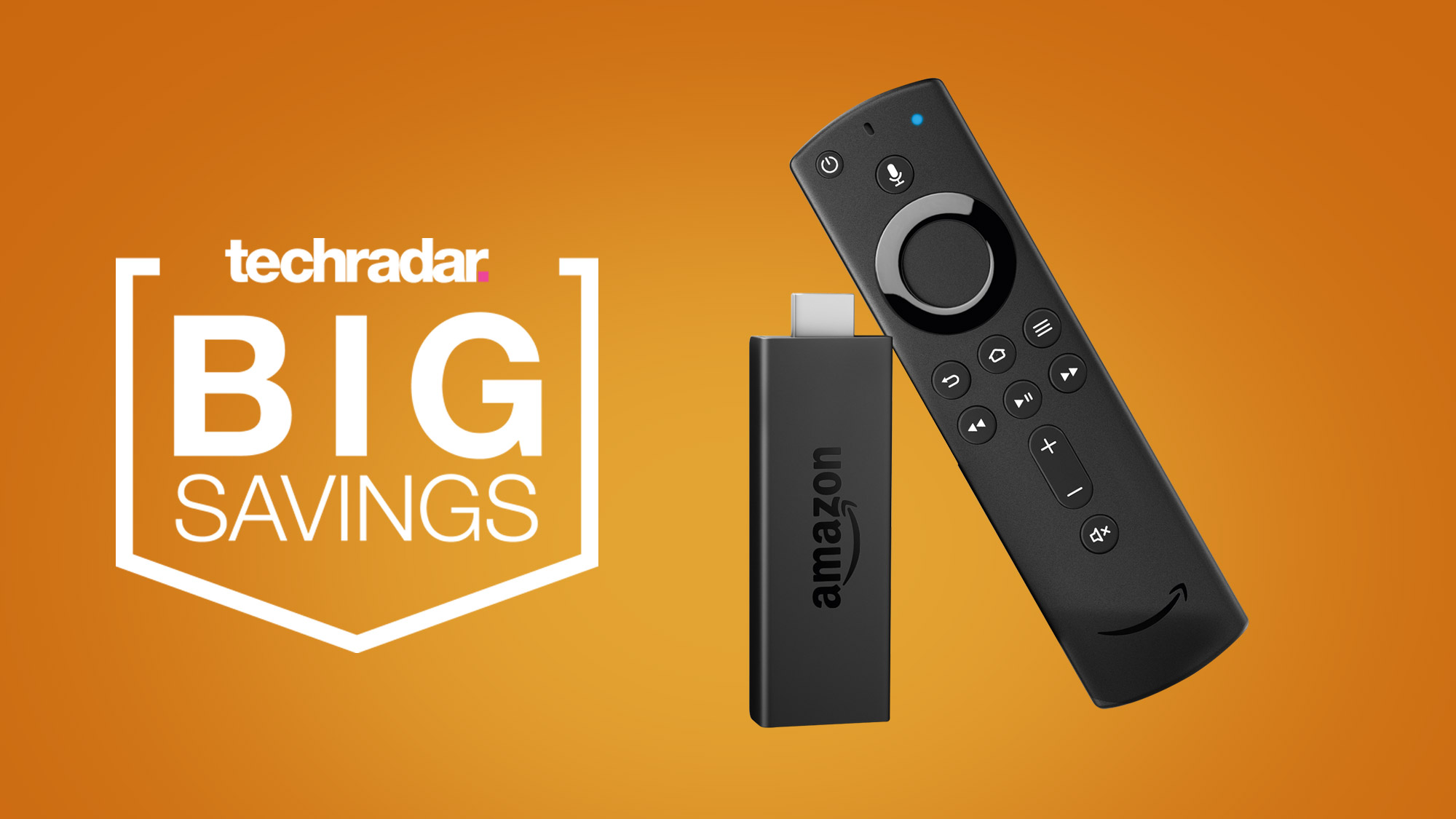 Right, you lot ready for another deal? It's Amazon's own devices again - and this time we've spotted that the Fire TV Stick is down to just £15 - a remarkable saving, and once again highlighting: never buy any Amazon devices outside of Black Friday or Amazon Prime Day.
They're always heavily discounted this time of year, and you can kit out your house for almost 50% less. My Mum has a Fire TV stick. Loves it.
Keeps losing the remote though - it's too thin.
Sorry - just to confirm - that last deal was for the Fire TV Stick Lite, so no fancy 4K streaming for you. But then again, it's the cost of two pints in London, so...
As mentioned, baby stuff is relevant to my interests. So Amazon's whopping sale on all manner of baby materials is suddenly something that I'm looking at with gusto.
A lot, lot of stair guards in here, but I'm tempted by that cradling baby bouncer that's got 27% off... if only it wasn't so girly and pink and unicorn-y. Would it be too much to ask for this to be a bit more, I don't know, not stereotyped?
Oh, this Swing'n'Go looks alright - a bit more pricey and I will definitely trip over it, but it's far more what I'm after.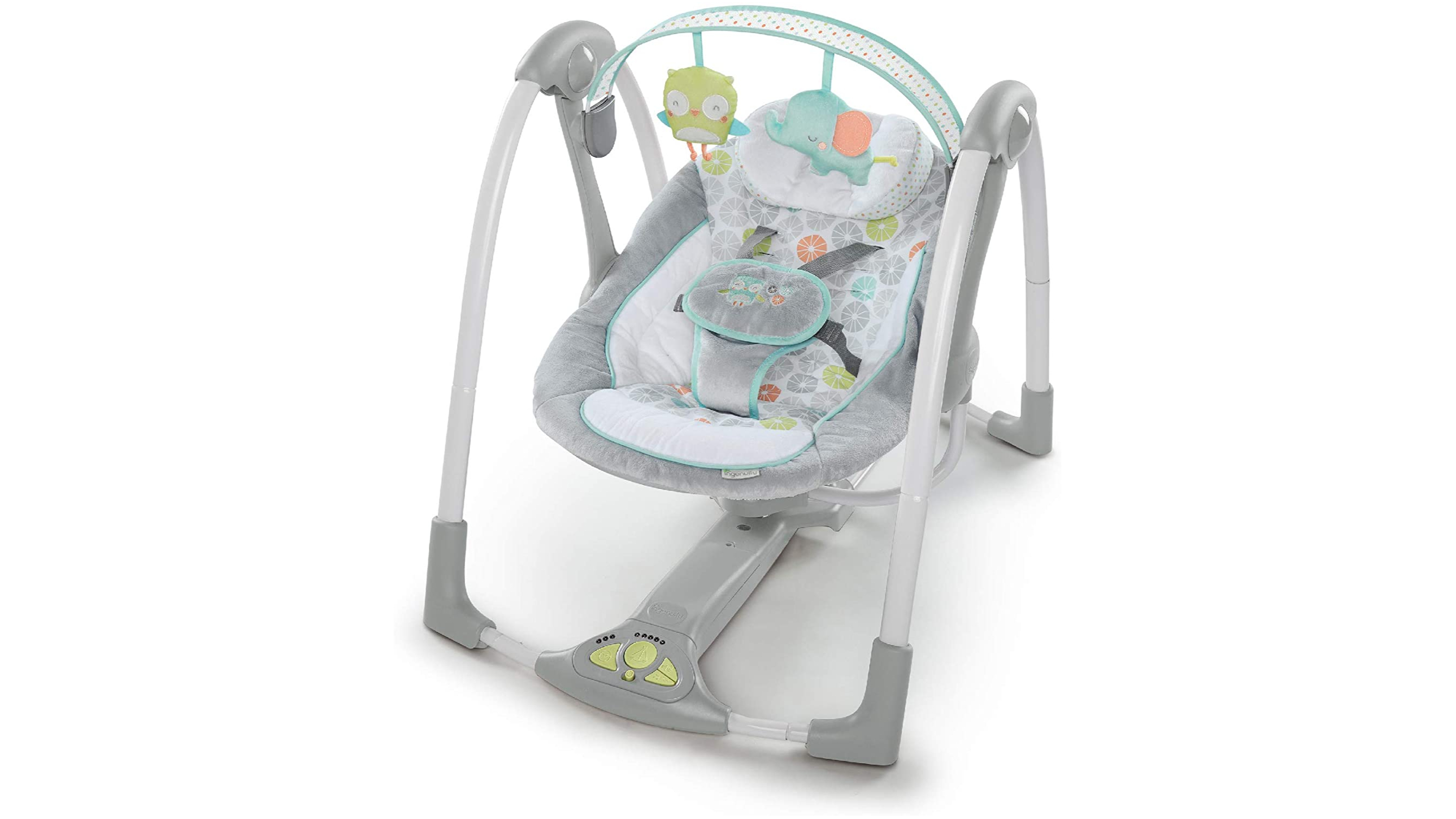 Let's have a look at the deals under £15, shall we? Makes me feel like I'm rooting around a car boot sale - except instead of finding old Beano annuals, I'm wondering if I need a microSD card for £7.39 (update: I don't. But it's cheap).
We've got Under Armour kit - but that's not really under £15 unless you want socks or a travel kit. Then there's the Amazon smart plug for a penny under £15, which is great if you want to Alexa-ify your house.
I'll be honest, this 'deals under £15 is a bit much. It's mostly 'really expensive things with a cheap thing thrown into the category so it can be shoved into the £15 section'.
I don't want to be spending loads of money - stop making me click so much, Amazon.
OK, it's time for a bit of a blitz - we've got a lot of good deals that we've seen, so here are some of the top ones:
1. Sony headphones down to the lowest price in a while - £51 off.
2. Sennheiser HD 450SE: down to just £90. That is cheap for noise cancelling.
3. Two cheap OnePlus phones with big, £100+ savings.
4. A DJI Drone for nearly £1,000. But, trust us, it's a good drone.
HERE COMES ANOTHER DEALS BLAST! And this time, it's about making you feel healthier.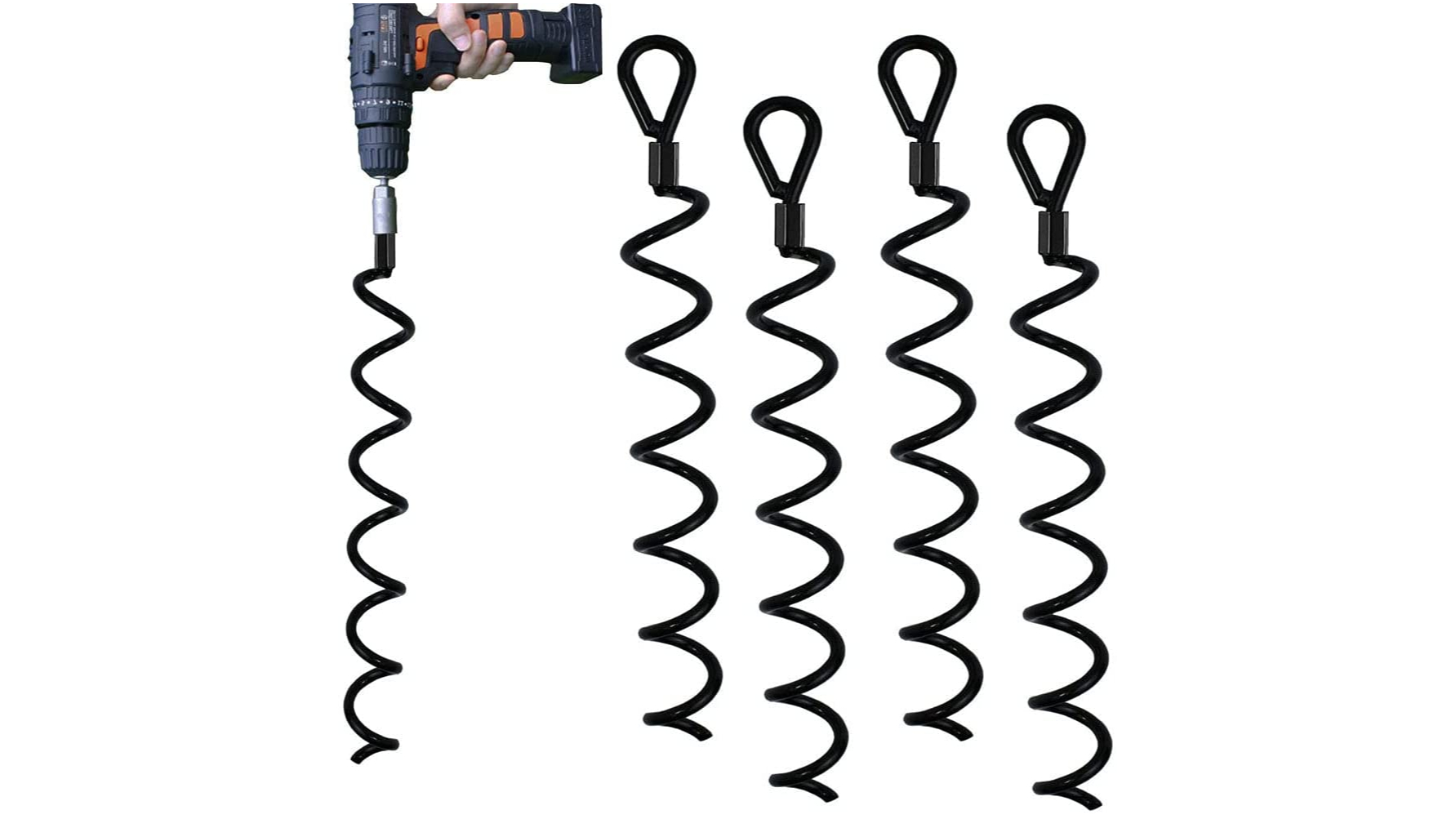 Oh man, I've never even heard of these before. Never even conceived of them. But now I want them with my very being.
Get a drill (got one for my birthday, always looking for things to drill), attach one of these, stick it in the earth and one squeeze later you've got an anchor to hold down all manner of things.
A shed? A trampoline? A marquee (probably?) These can do all that - I've only just remembered there's a deal on, showing how little I care about the price.
Just imagine getting these out at a BBQ with other parents. Guarantee two people will ask where I got them.
Oh, mate, I am getting properly tired now. I've got all overexcited with this live blog, but here's the good news: we're going to be running it for a little while longer, so bookmark it and check back to see what we've spotted in Amazon's Black Friday Week sale.
Good morning. I've had a little sleep and done a drop off to a swimming lesson. But now I'm back. What's happening in the wild world of Amazon deals?
Alrighty-roo, I've been scanning through the deals that went live overnight - and I think this one is the place to start. It's for the Xiaomi Poco F3 5G 128GB (smooth name, right?) which is down to just £249 from £349.
Once again, and I'll keep saying it: phones are all pretty good nowadays. You might be sacrificing camera quality here but you're also spending very, very little. There's a reason this is 4.5 star phone..: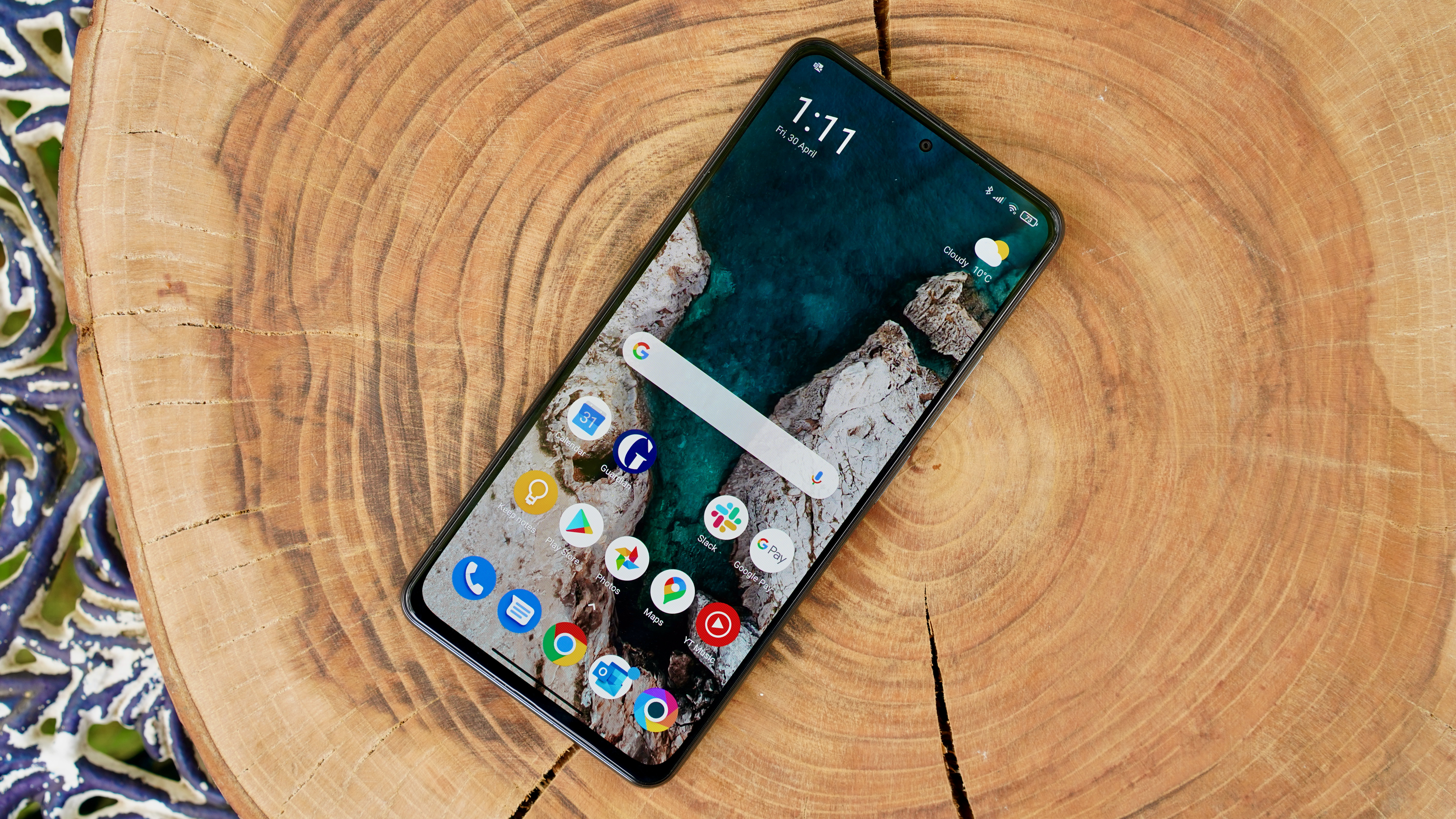 Ready to take to the skies? Now you can with a huge 20% off DJI's seriously impressive FPV drone.
FPV stands for 'first person view' and it comes with a VR-like headset which displays the live view from the camera on the drone. This is a drone flying experience like no other - and it's now £250 cheaper.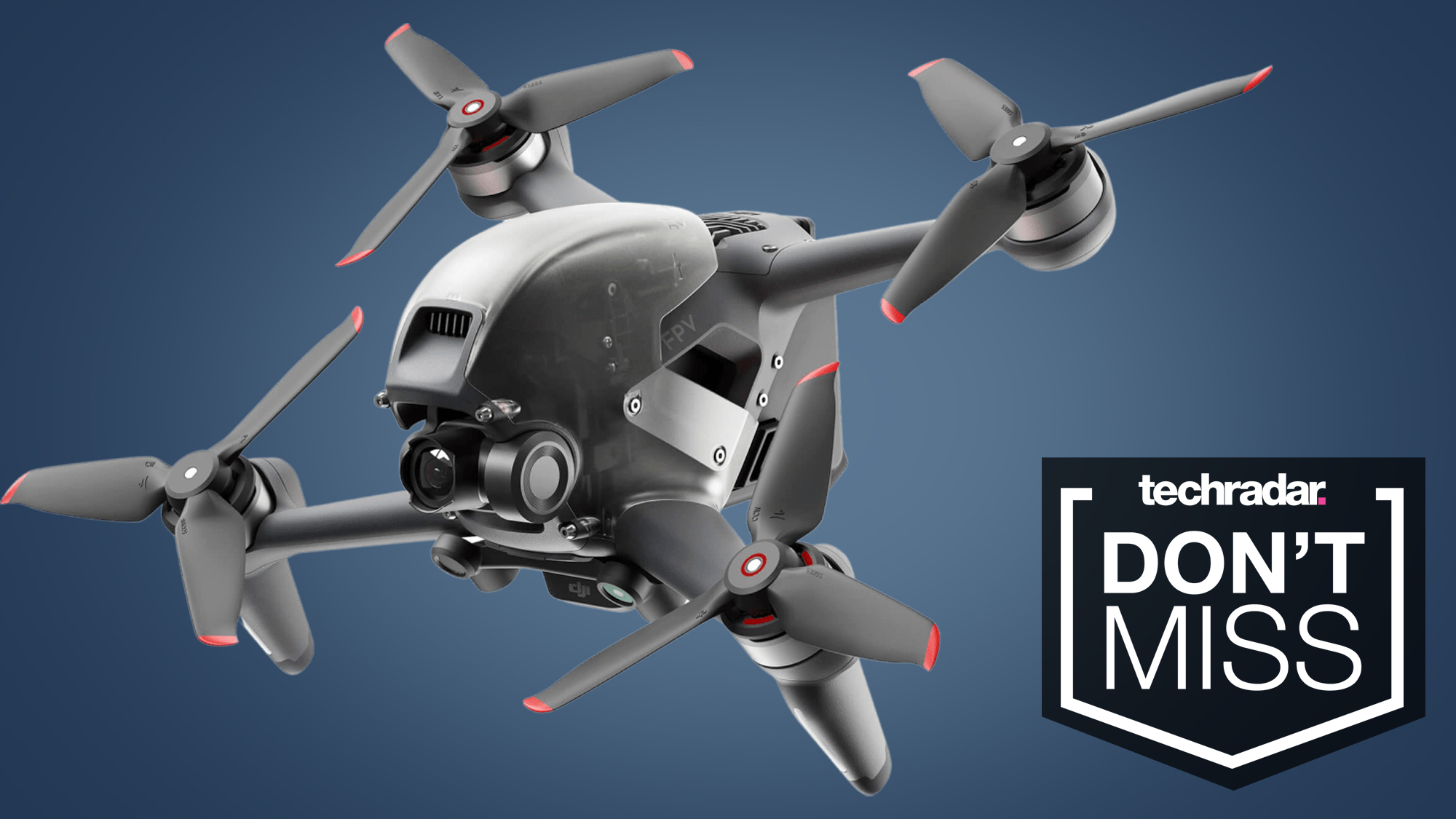 Right, I know I've already given you a hot slice of phone deal pie, but get ready for another one.
The OnePlus 8 Pro 5G is a phone that's been bobbling about for ages in terms of price, coming down to just under £500 a few months ago then rocketing up to £900 not so long ago.
So seeing it down to £399? That's an incredible deal - as our Senior Phones Editor, James Peckham says: "This is One of 2020's top five phones, and to see it down to half price under a year later is something we didn't expect."
There you go.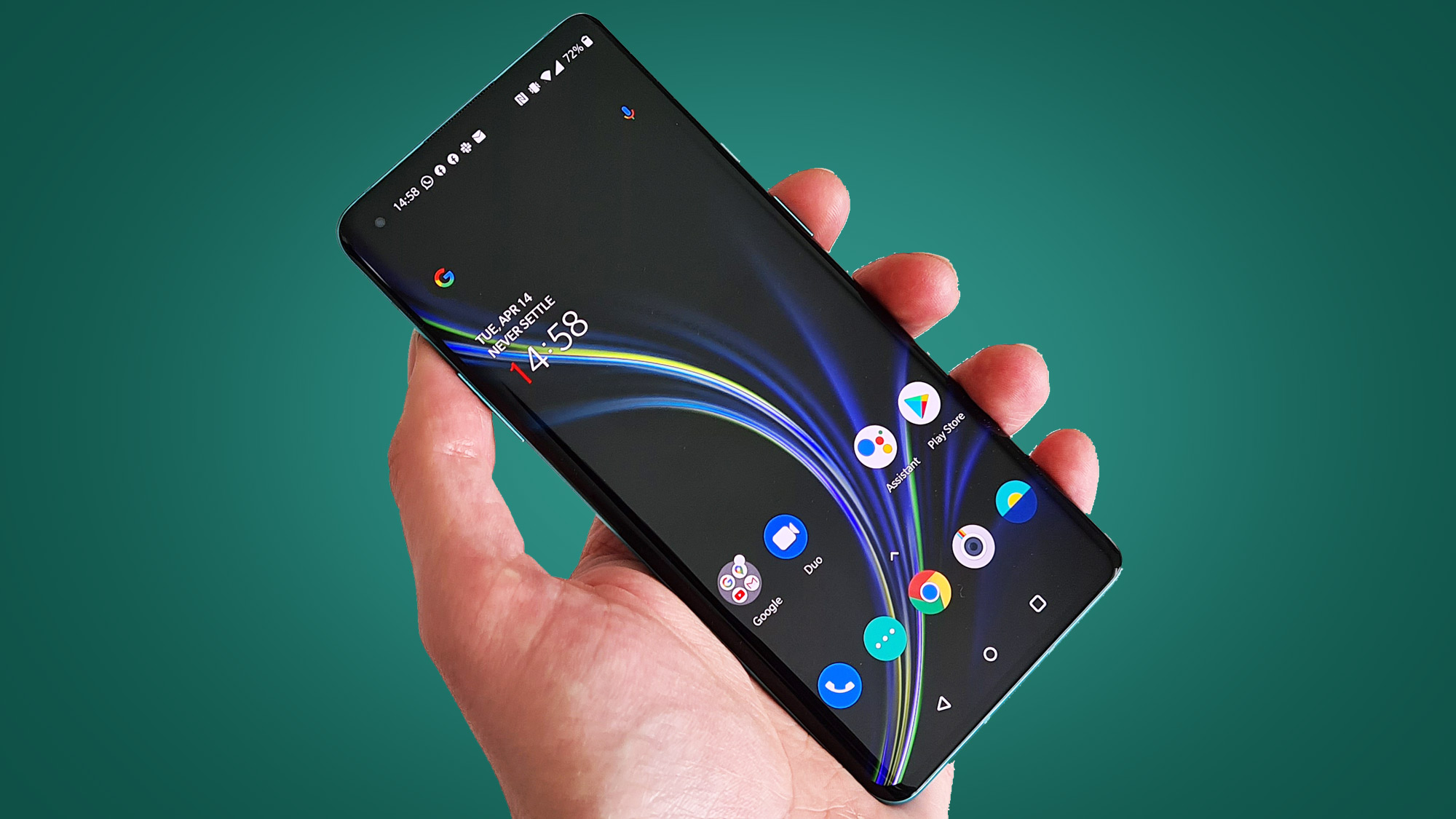 It looks like the Amazon sale is really kicking things off in the Black Friday world - we're seeing a huge UK spike of traffic for Black Friday stuff, so you fine folks clearly are all in the mood for a deal.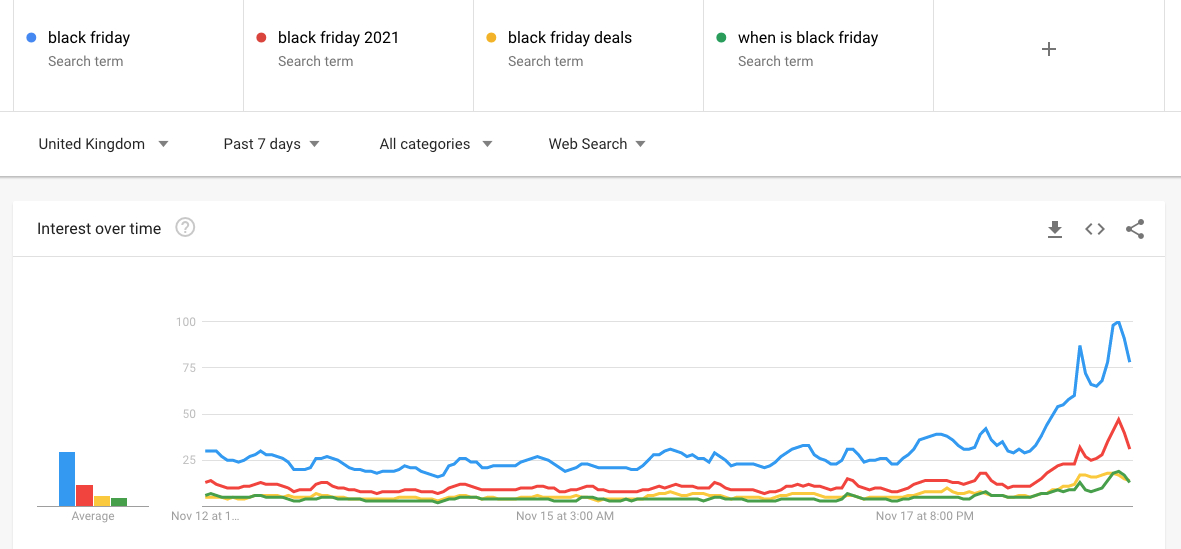 I've just checked the deals news pipeline, and I wish I hadn't. There's a lot coming, so let's start ticking them off so you don't miss anything. (Although, of course, I know you're all religiously checking out the TechRadar deals page, right?).
Next up is are two rather fruity little deals for those that want a blazingly-fast PC - you might not think this is for you, but trust me - a super-quick solid state drive (SSD) is a thing of beauty in your computer.
First up: the ADATA XPG GAMMIX 1TB SSD has dropped even lower in price. The Amazon listing says £176.28, but you can use a free voucher that knocks 35% off the price. Simply click the orange voucher to apply it, which can be found next to the price, and you'll see a new lowest ever price of £114.58 at checkout.
Then, hot on those slim and rectangular heels, you've got the Samsung 970 EVO Plus 2TB PCIe NVMe (yes, I know, terrible names here) down to just £170.49. That's a huge saving, trust us.
If you want more, we've rounded up tonnes of SSD deals from Amazon in one place, because we are just that good.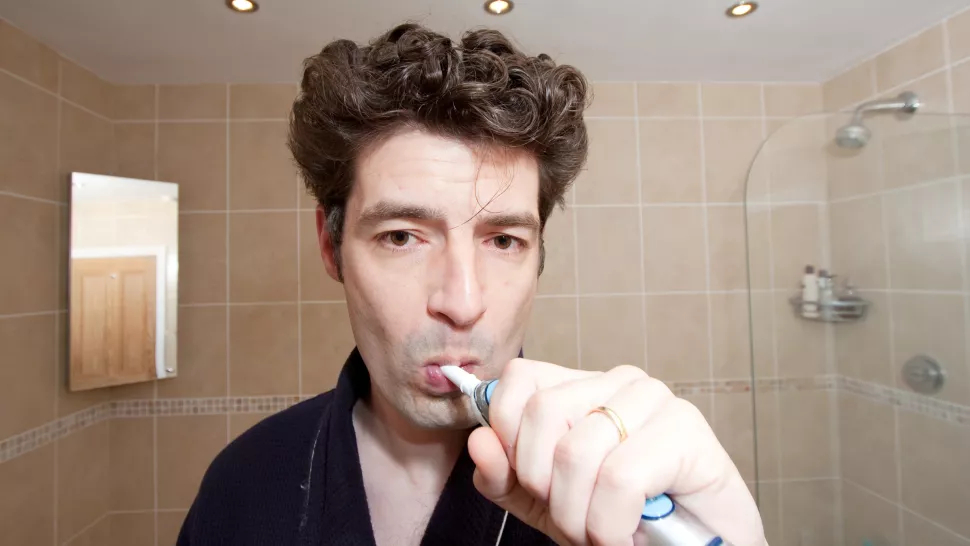 Before we get to the next deal, I've got a PSA:
DO NOT GET TRICKED BY ELECTRIC TOOTHBRUSHES THIS BLACK FRIDAY.
I'm not saying they're going to play that 'follow the queen' card game that always ends up in you losing, but they can be right slippery customers.
There are deals still flying around - but then again, everyone is writing about them all the time forever and ever, it feels like.
So what's actually doing well at the moment? Let's take a look and see what's popular across TechRadar. Gaming accessories, headphones and spinny drill anchors are all flying - here's what I'm currently looking at within those categories:
- This Logitech Brio is one of the best webcams out there - it's down to £2 above its lowest price ever... but that makes me feel like it could fall further in later sales. Hmmm...
---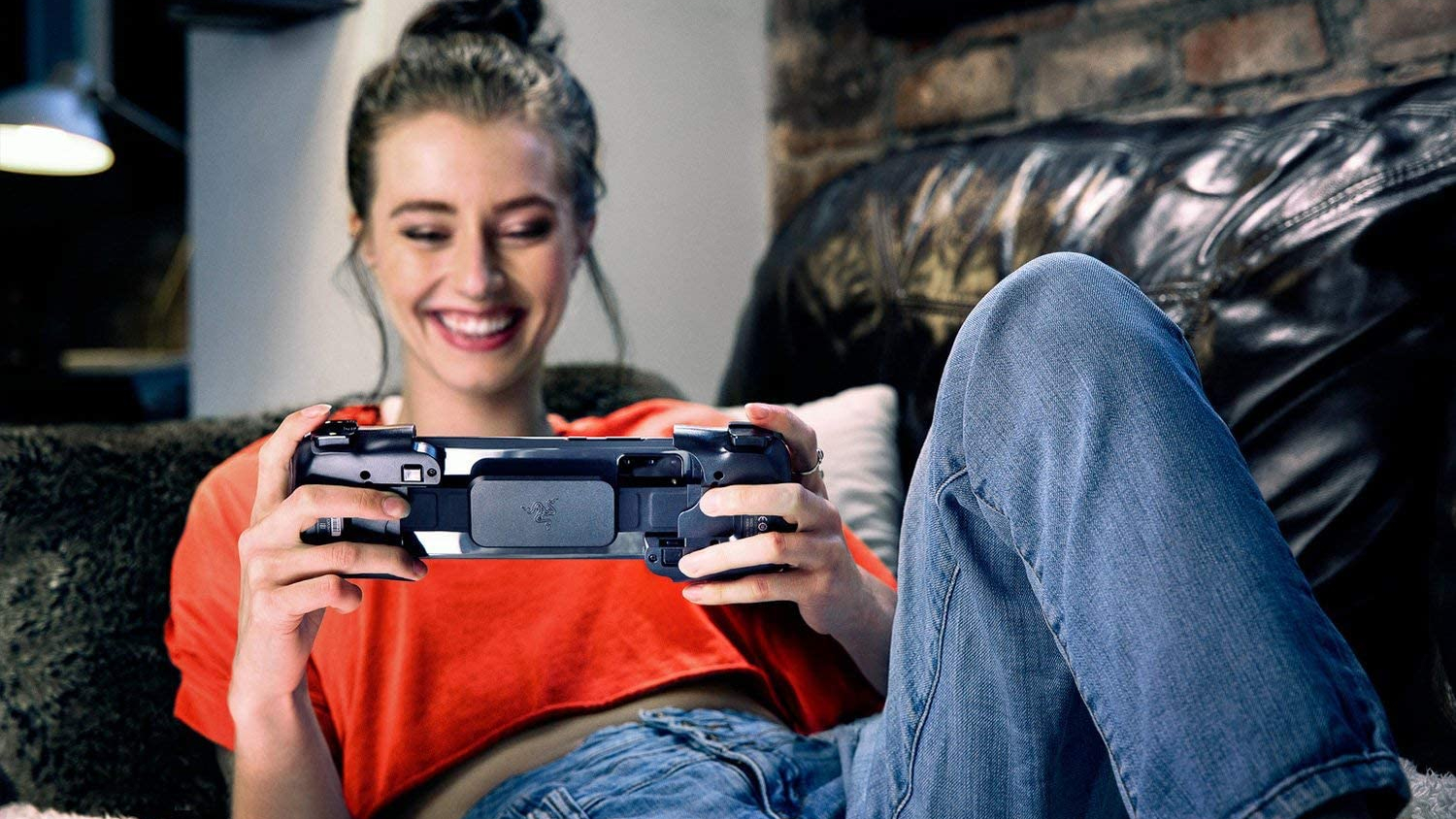 - Ooh, the Razer Kishi controller (for Android here) is one of the highest-rated products in this category, and it's the cheapest it's ever been at £49.99. It's a Beavis Buy - our review does highlight that only certain games are supported and you need a USB-C smartphone, but if it works then it's a literal game-changer.
Quick one here - I'm kind of into the look of these bulbs. I just checked my Google Photos app, and I've taken seven different photos of lightbulbs like this over the years when testing phones.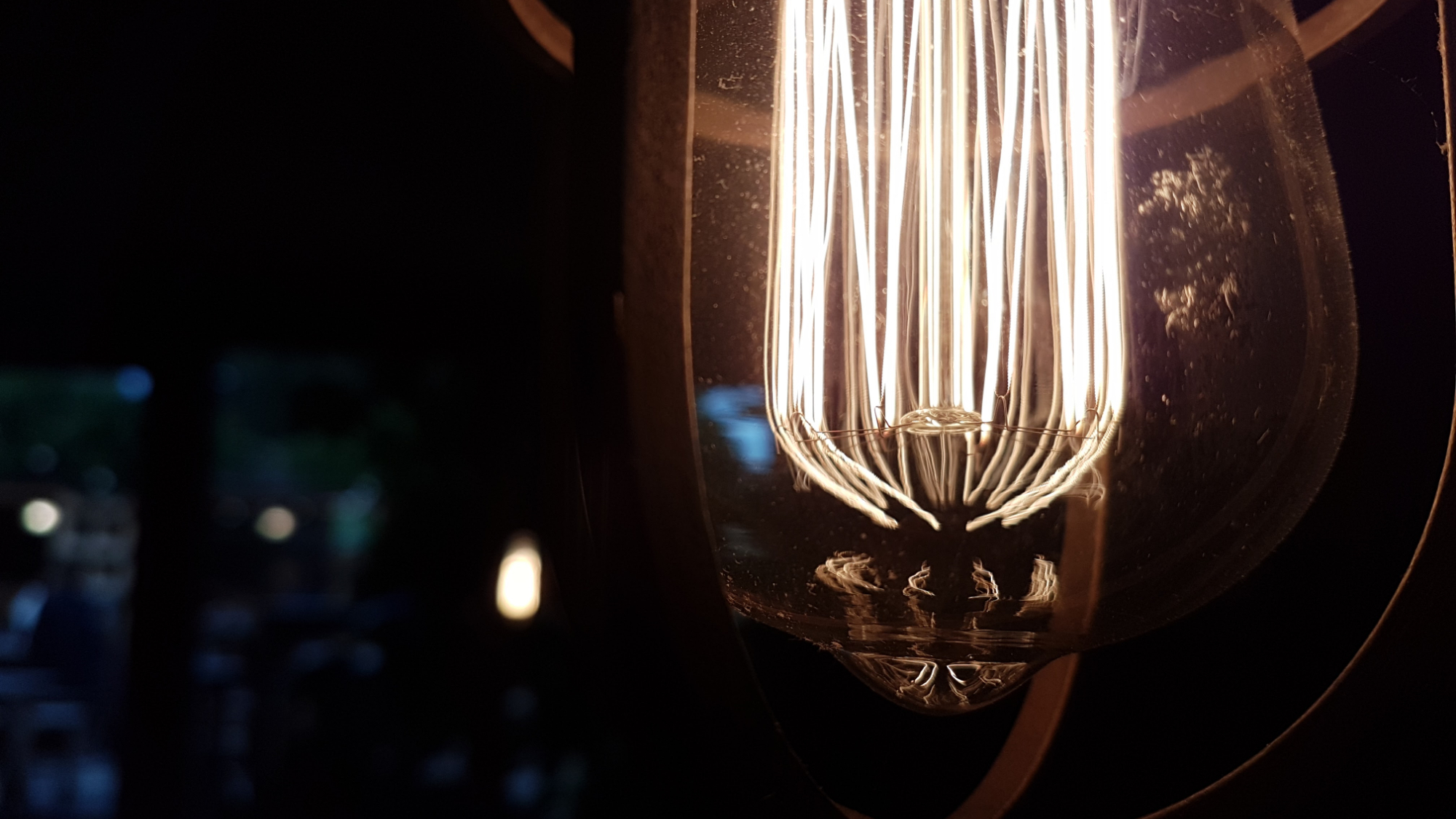 Now you too can get the Beavis look for just £7 for a pack of two Amazon Basics LED E27 Vintage Edison Bulb, then you too can try and be a twatty photographer with whatever phone you have to hand...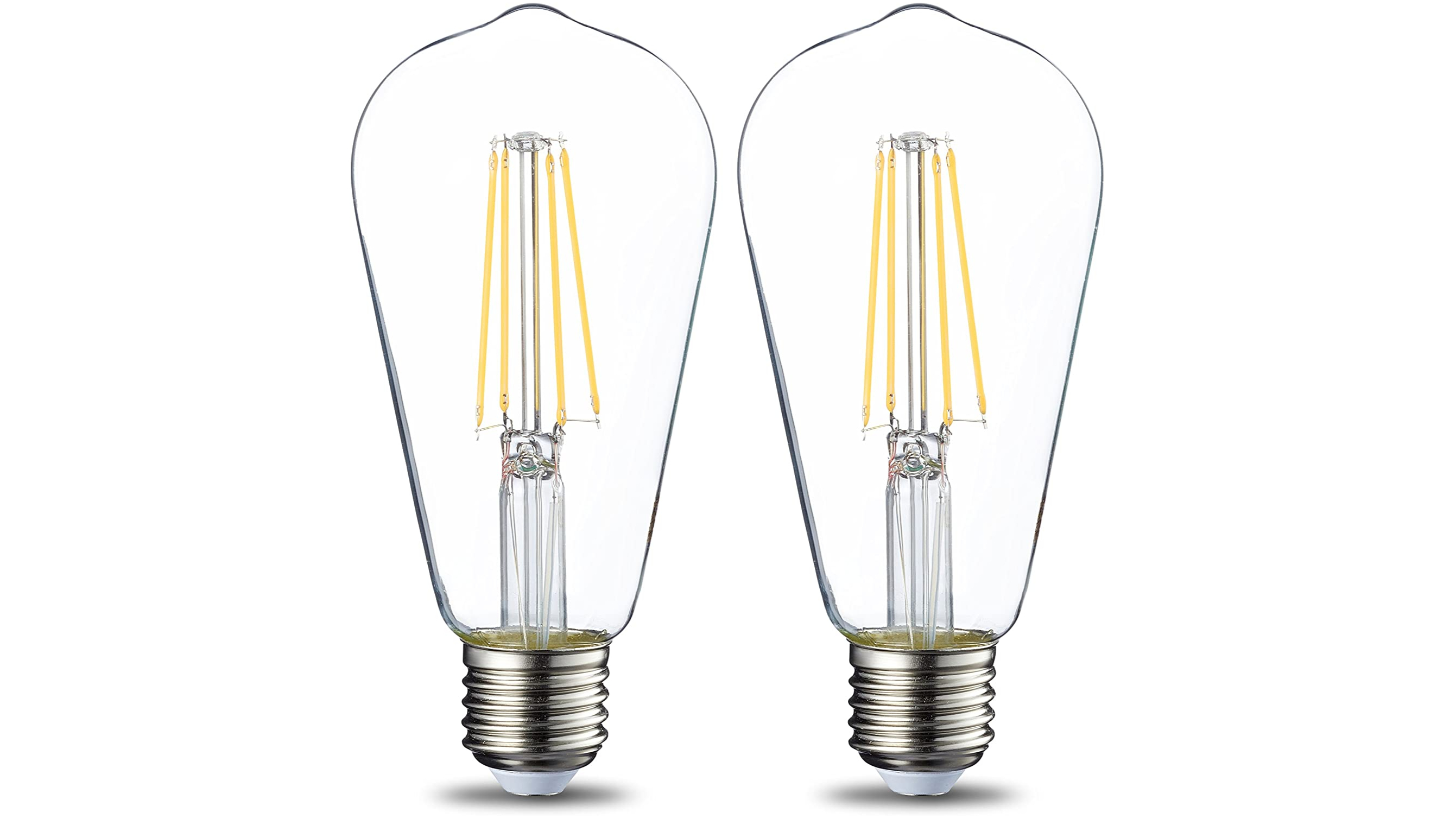 Here's a thing for you gamers out there - specifically if you're a PlayStation gamer. PS Plus, the online service that allows you to download free games each month and play with pals, is reduced massively in the Black Friday Week sale at Amazon, down to £33 from £50. It's now the second biggest deal in gaming at Amazon right now, and it's tempting me.
Tempting me even though I have a newborn and barely enough time to wash, let alone spend any time gaming.
So it's a good saving - but our Global Managing Editor John McCann spotted an even bigger one on ShopNow. You can get it for a shade under £30 if you enter the special code EXTRATEN... is the extra hassle worth three pounds? YOU DECIDE.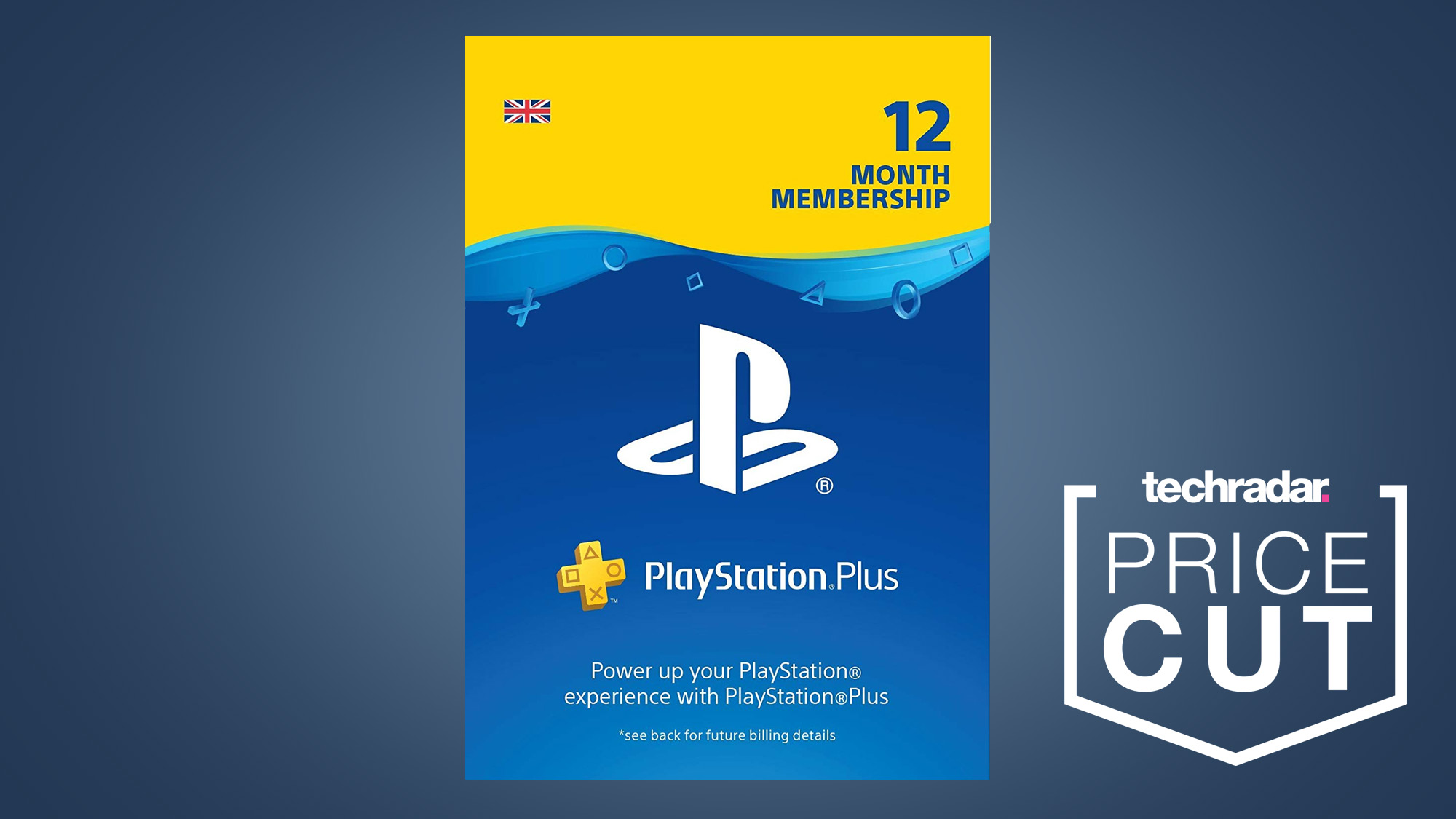 We're calling it a night now on this here live blog - which has been tremendously successful, it must be said. Lovely to talk to you all.
We'll be back tomorrow, trawling through and looking for all the top sales for your delectation. Sleep well, deal fans.
Morning all - Gareth here, but I'm just joining on to introduce you to Josie, who will be guiding you through the heady world of Amazon deals for the next few hours.
But first... let me talk you through a few deals I've spotted overnight.
First up, there are a good few laptops worth checking out - I would suggest you avoid the Acer Chromebook 311, even though it is under £150, as it's severely under-specified and will struggle with harder tasks.
I would suggest checking out the Huawei range of laptops - we've rated them over the years, and the Huawei MateBook 14s is under £1000 if you're looking to spend a bit more (although there are other good choices in there, like the refreshed-for-2021 Matebook 14 for under £700.)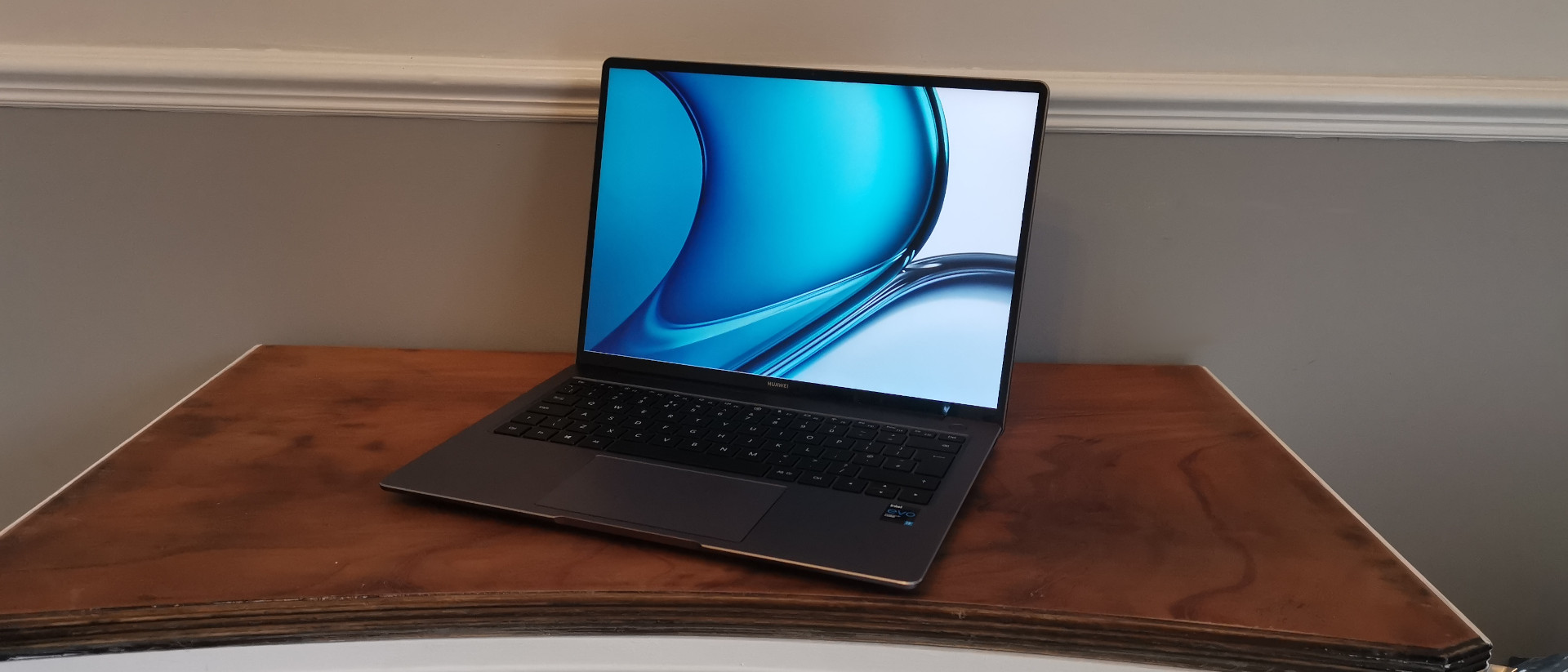 ---
And here's another thing I've found in the phones and wearables sales section - which has some incredible savings on Xiaomi and OnePlus phones (the OnePlus 8 Pro deal is one our Senior Phones Editor pinged me on Slack about, such is the quality of said deal).
But it's not phones that caught the ol' peepers - it was the Samsung Galaxy Buds Live deal for a sliver under £70 that I like the look of. They're not the absolute top Samsung Buds, and they lack pure noise cancelling, but the battery life and fit are worth the money in my mind alone.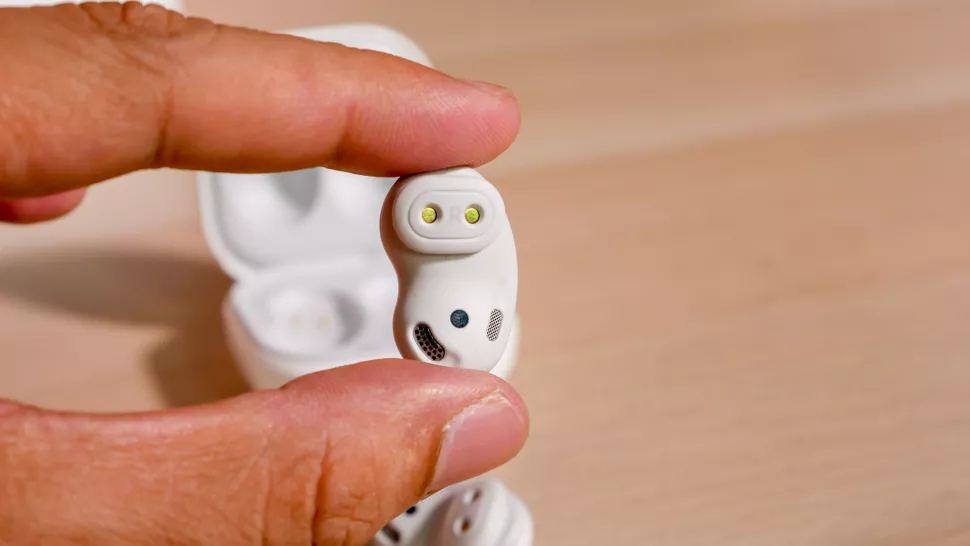 Hello everyone - it's Josie time! I'm looking forward to sharing some great Amazon deals with you this morning.
One thing that isn't happening a lot in my household in the run-up to Black Friday is cleaning - I wish I could blame my workload, but it's really down to a nasty sciatica flare-up and the release of Halo: Infinite.
These Shark cordless and corded vacuum cleaner deals, however, could serve to inspire me to at least whiz around a hoover post-Black Friday.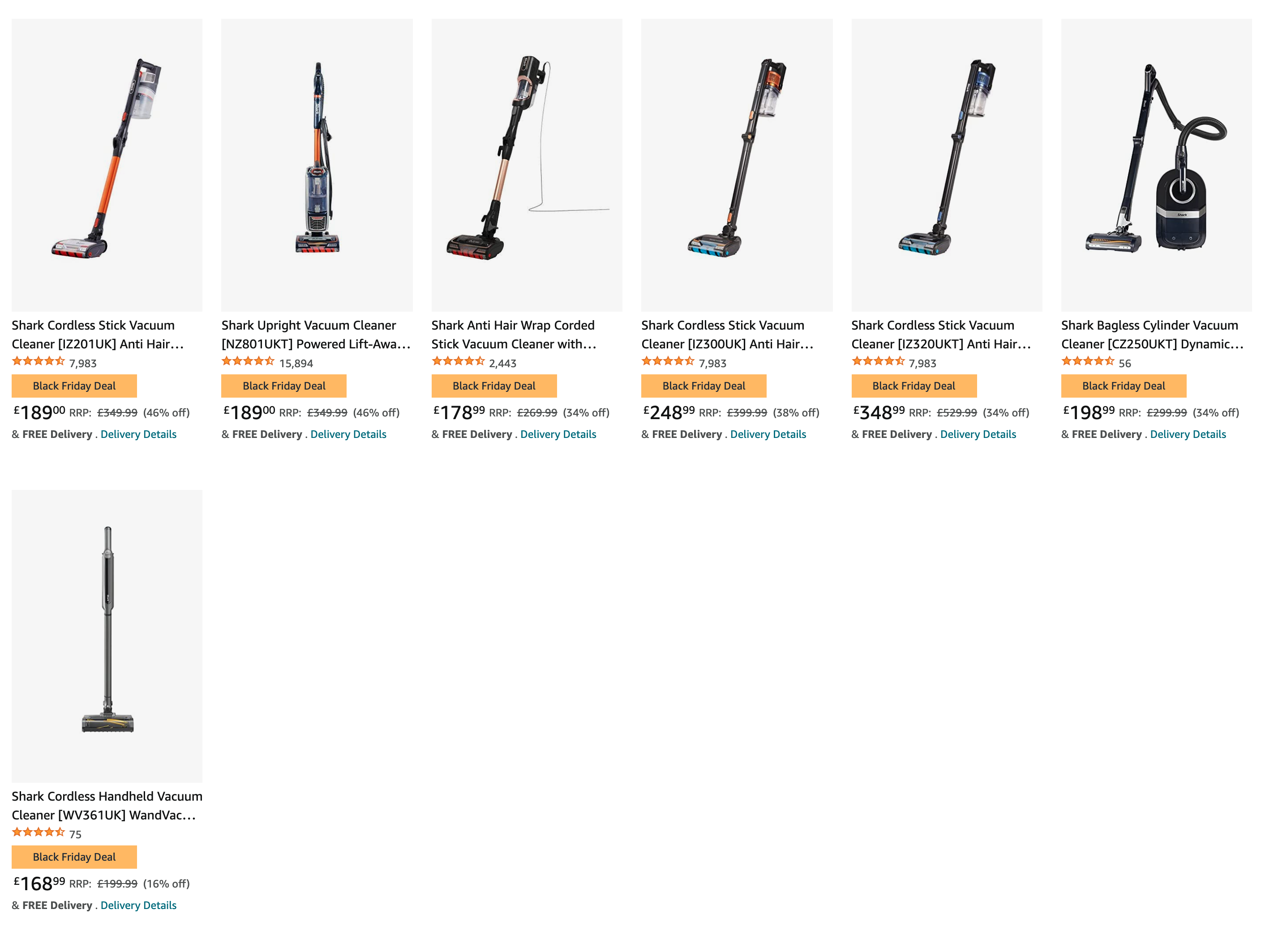 I tend to fall over the cable a lot too while aggressively hunting dust bunnies, so it's cordless all the way for me.
While slightly noisy to use, we rate Shark's vacuums pretty highly - especially the Shark Wandvac and the Shark Anti Hair Wrap Cordless Stick Vacuum Cleaner with PowerFins & Flexology IZ300 (a name which just rolls off the tongue). The latter is definitely the hotter deal here, with a fantastic 38% off, compared to the Wandvac's 16%.
Another thing to add to my list of fun things I want to do post-Black Friday (it's actually fun this time, promise) is playing board games with some real-life pals in person.
My friends and had a great time on Jackbox over the course of the pandemic, but I would be lying if I said I didn't miss the feel of mass-produced plastic tokens or Monopoly money in my palm. Though I'm terrible at Monopoly, so that doesn't happen too often.
Thankfully, there are some enticing deals on board games live right now - 48% off classic Monopoly, 46% off Mouse Trap (an all-time favourite of my child-like mind. I like the noisy, high-energy gameplay, ok?), 37% off Trivial Pursuit and 48% off Cluedo, if you're into the classics.

Or, if you want something a little different, I'd recommend looking into Sweet Existence, which has a 25% discount currently. I'm a big fan of Nathan W. Pyle's creative mind, so this has been on my list for a while - let us know your thoughts if you've tried it!
Uh oh, I started looking at the candle deals and now it's all going downhill for my credit card. Christmas Magic is heaven-scent (har har har) and I am willing to die on this Yankee Candle hill. Back to tech deals, now.
It's iPad o'clock at Amazon, apparently, with some of the best deals we've seen across the range of Apple models available.
For one thing, there's the cheapest price yet on the latest 2021iPad Pro 12.9. Considering how new this model is, £50 in savings is nothing to turn your nose up at. Unless, of course, you don't want an iPad - then why are you reading this entry?
If you want a little more bang for your buck, you can splash out on the 256GB 2021 model including cellular, which has an ever-so-slightly larger discount of £52. Every little helps, right?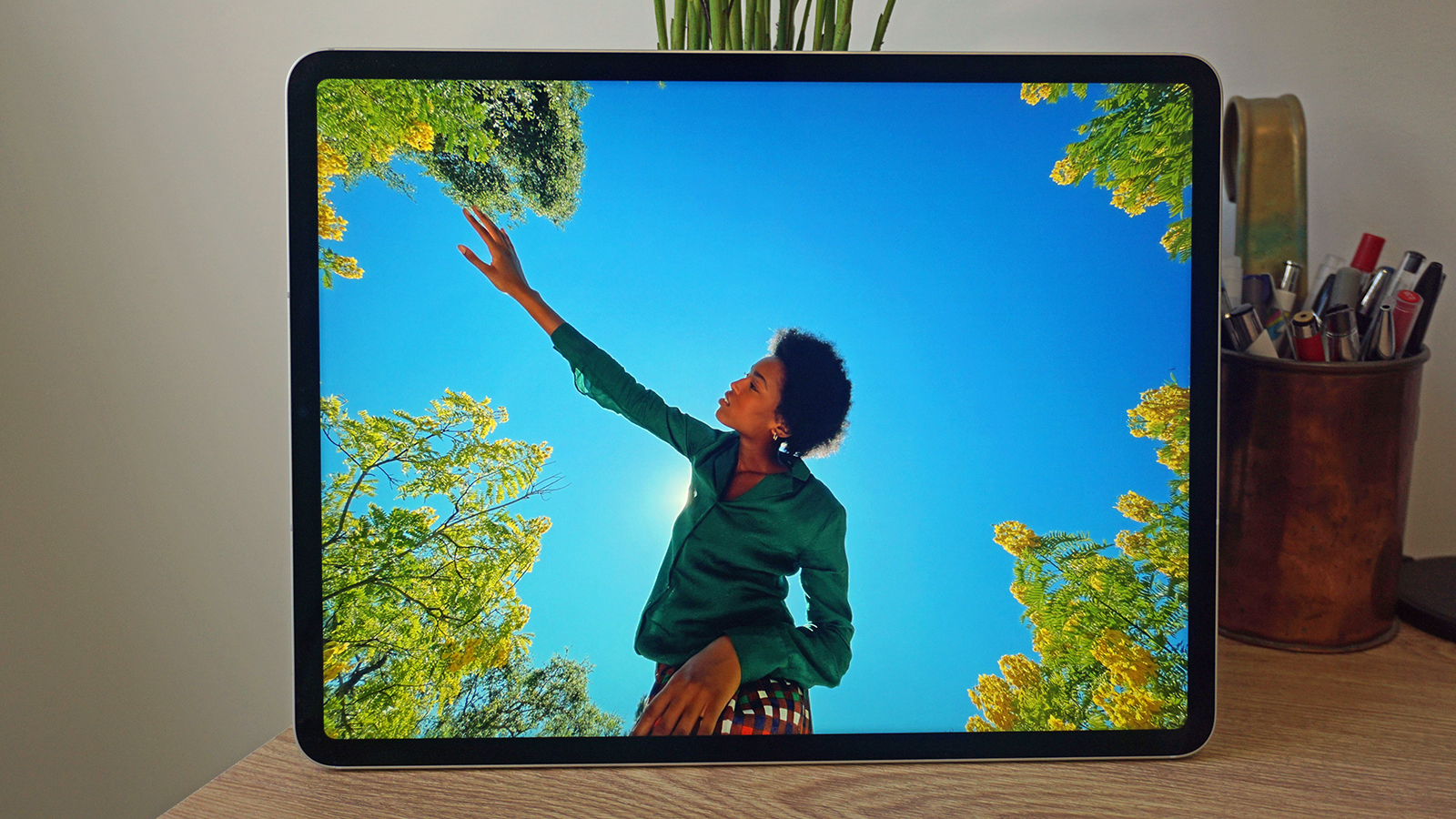 I'm taking a leaf out of Gareth's book here and doing my own little trawl through the deals under £15 section to see if I have a better experience (Omniscient narrator: "She did not have a better experience").
Massive price ranges aside (does £8.99-£1,099.99 really count, Amazon?) I did notice some fun little deals in the boxsets and films category.
In the age of streaming services, physical disc copies might not be a priority for some, but I personally love having my favourite movies proudly displayed in my TV cabinet. Although it's hard to make space alongside my collection of 30+ collectors edition Disney Classic blu-rays.
Still, 15% off the Deadpool Double Pack, 27% off of the Matrix trilogy or 36% off of the Alien: 6-Film collection make for nice stocking-fillers... for myself.
Or, you can spend more than £15 on the Game of Thrones series boxset for £59.99, only to be disappointed once more by the final season. Worth every penny? Maybe not.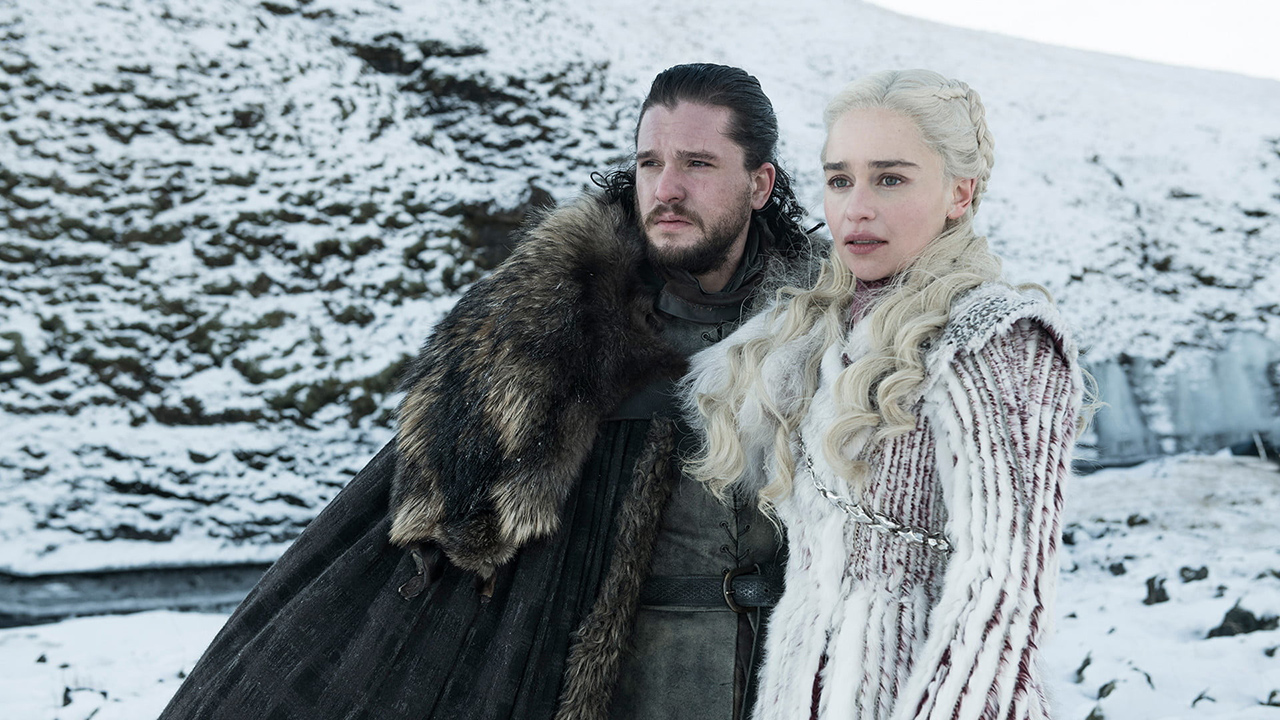 Now, here's another nice one for Apple lovers. The lowest ever price on the Apple Magic Keyboard in Space Gray. I personally prefer the clean white Apple accessories, but for the broodier, dark and mysterious folk, this 50% price cut from £149 to £75 is a steal.
Deals on Apple products like this don't tend to last long, and we don't see the Magic Keyboard go on offer all too often - especially not at prices like this. Grab 'em while they're hot!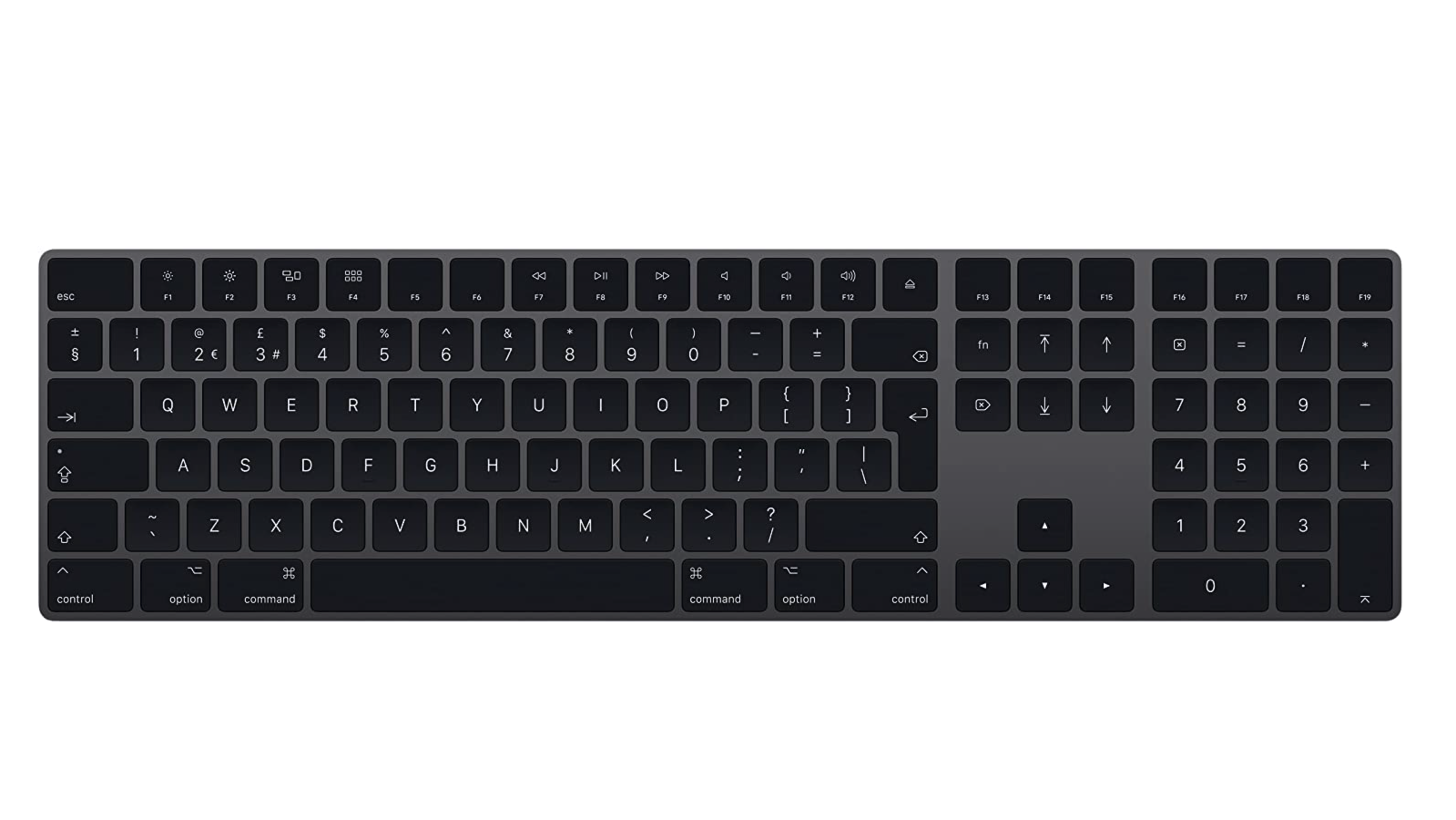 Let's give some love to the audio deals, shall we?
Fun fact about me - during last year's lockdown, I took up music production with the help of a dear (and patient) friend, and my noise-cancelling headphones were a game-changer.
Now, some of our favourite noise-cancelling headphones are on sale. While the best noise-cancelling headphones of 2021, the Sony WH-1000XM4 are currently down to just £248.50, that is neither the lowest price we've seen nor listed as a Black Friday deal. Plus, Amazon says the original price is £350, but we've not seen it listed at anything over £300 since early 2021, so the 29% savings cited are more like 17%. Bit cheeky. There's also a similar deal available at John Lewis.
However, our runner-up, the Sony WH-1000XM3, were the best noise-cancelling headphones in the world for two years running, and they're up for an all-time low of £159 from £199.
The Bose QuietComfort 35 II are currently £164.99, down from £189.99. They've been marginally cheaper in the past, but only by a few pounds.
Plus, all of these headphones are wireless, and as we learned in my earlier Shark vacuum post - I really, really dislike cables, cords and all things wire-like due to my utter lack of co-ordination.
And no, you cannot have the link to my SoundCloud. I'm not very good.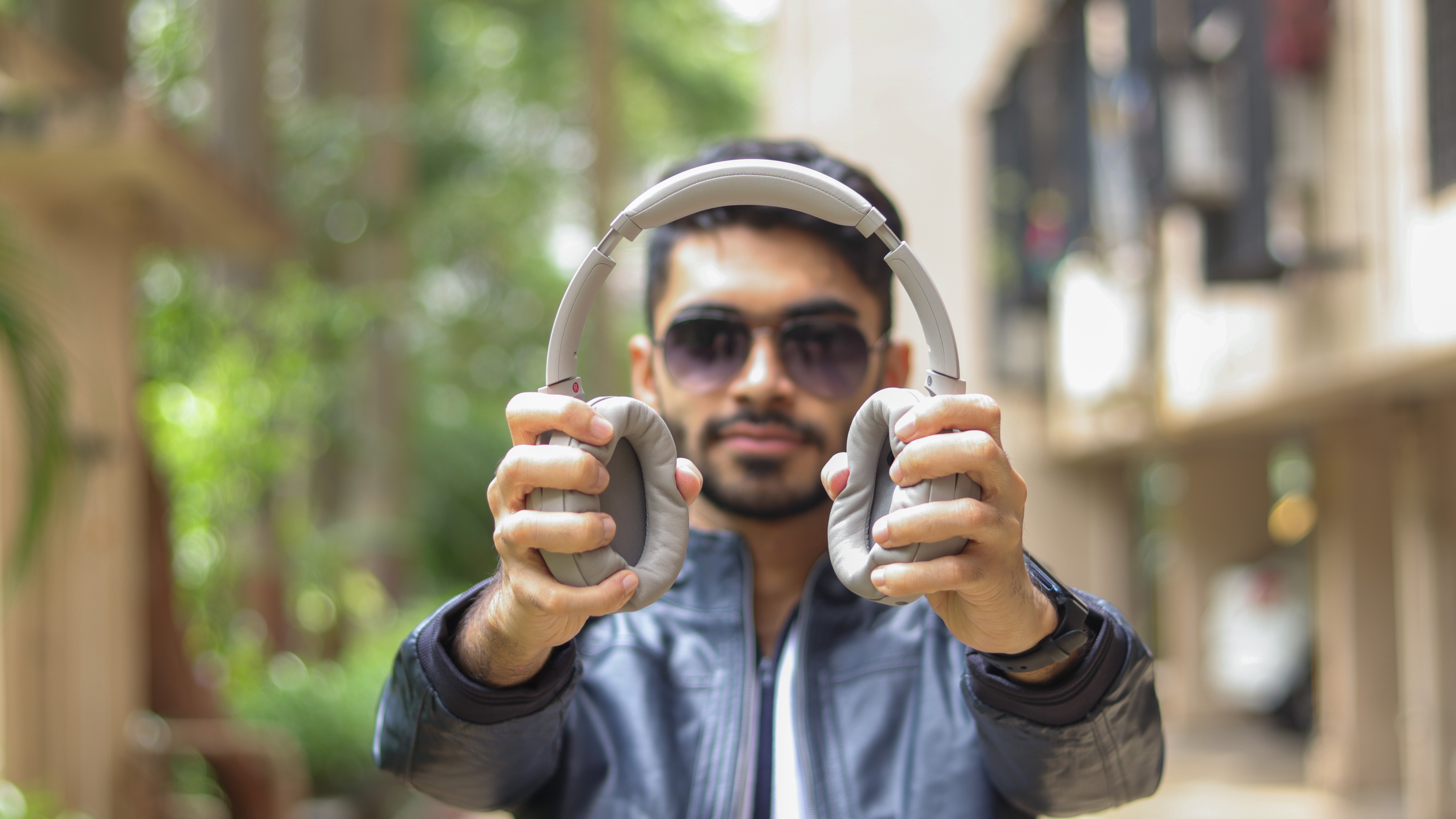 Now, I know Gareth's already mentioned the deals available for the Echo Dot (3rd gen) for £18.99 and the Echo Dot (4th gen) for £28.99.
However, he failed to mention what is indisputably the most crucial part of Echo deals on Amazon this year...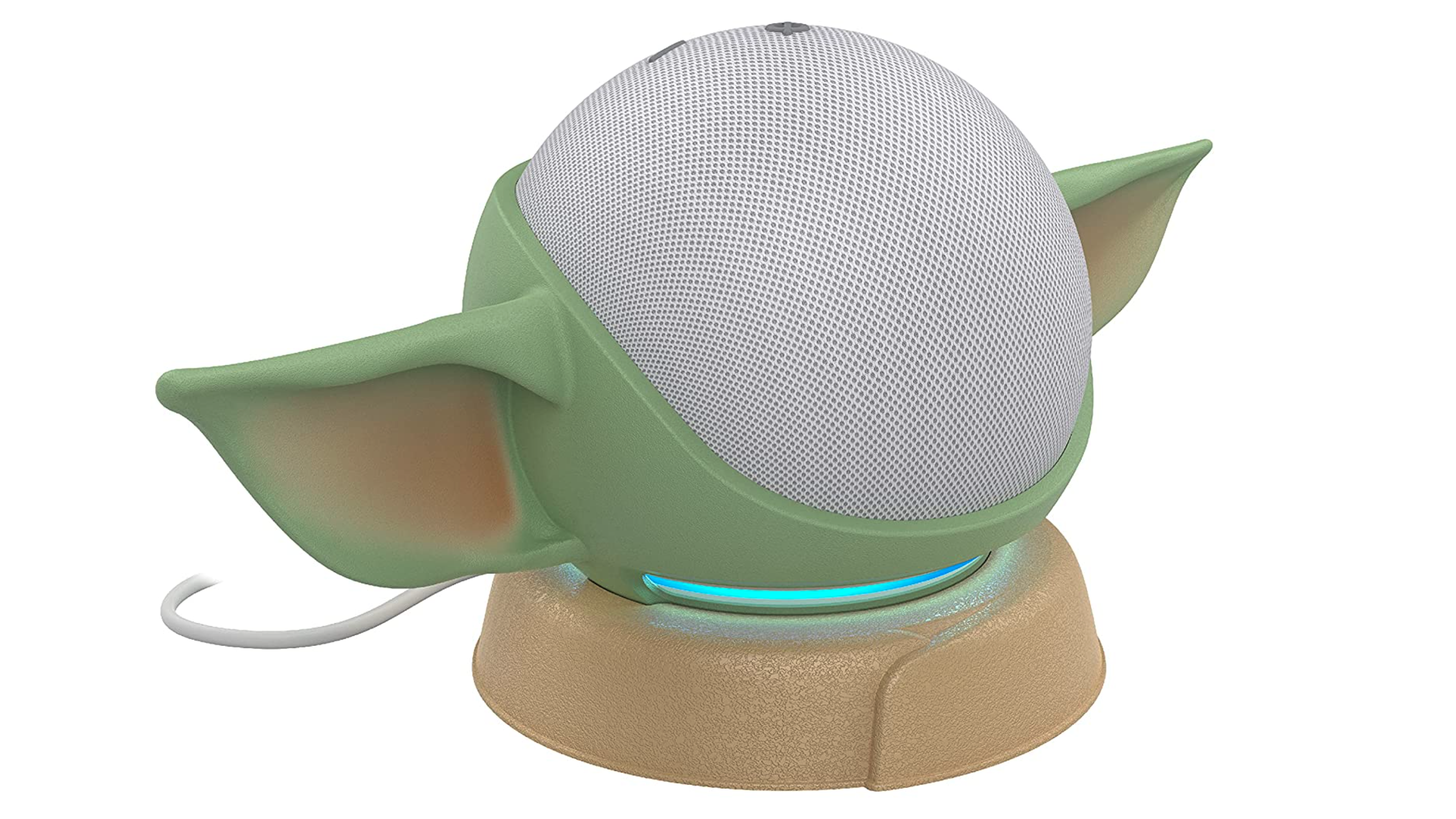 That's right. This bad boy is a Grogu-inspired Echo Dot stand. You can nab one now for £10, down from £24.99, and make an Echo deal that much better.
Nobody asked, but here's another fun fact about me - I used to work at a Lego retail store, and absolutely loved it.
While most of the best UK Black Friday Lego deals aren't from Amazon, a couple are - including the Lego Harry Potter Hogwarts Castle Clock Tower, now down to £66.98 from £84.99 and the Lego Ideas Friends Central Perk, now £51.99 from £64.99.
My love of Lego comes from my dad, who is also a huge Beatles fan, so naturally, my top pick is the heavily discounted Lego The Beatles Collectors DIY Poster set, now just £88.49 instead of the usual £114.99. The price for this on Amazon hops around a fair amount, but seeing as it sold out at this price on the Lego site, I'd say it's still a good deal.
However, seeing as he currently has about 20 unbuilt sets living underneath his bed until he's finished single-handedly renovating his house, I can skip gifting him this one. If you're reading this, dad, hurry up with the house so we can build some Lego.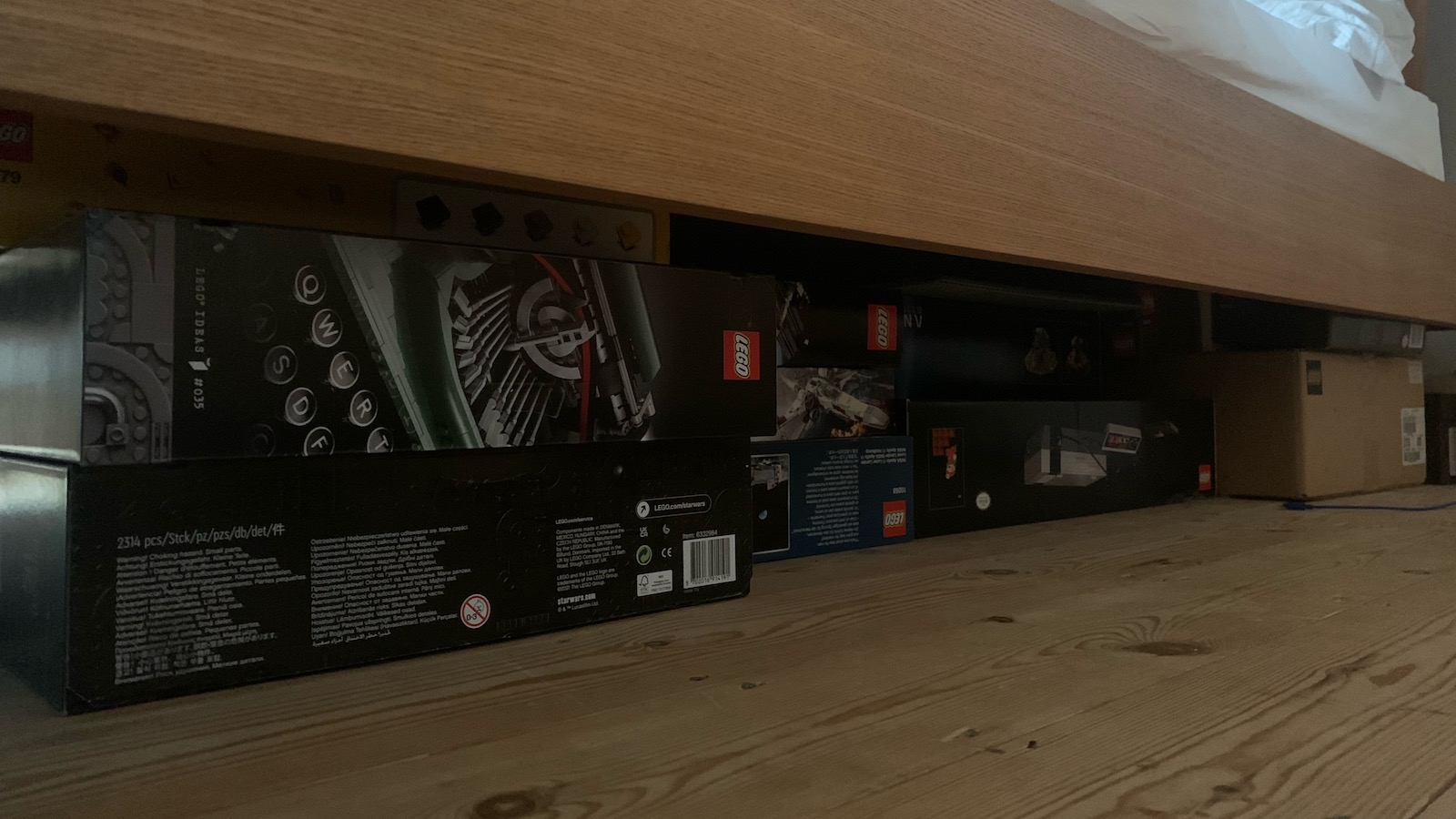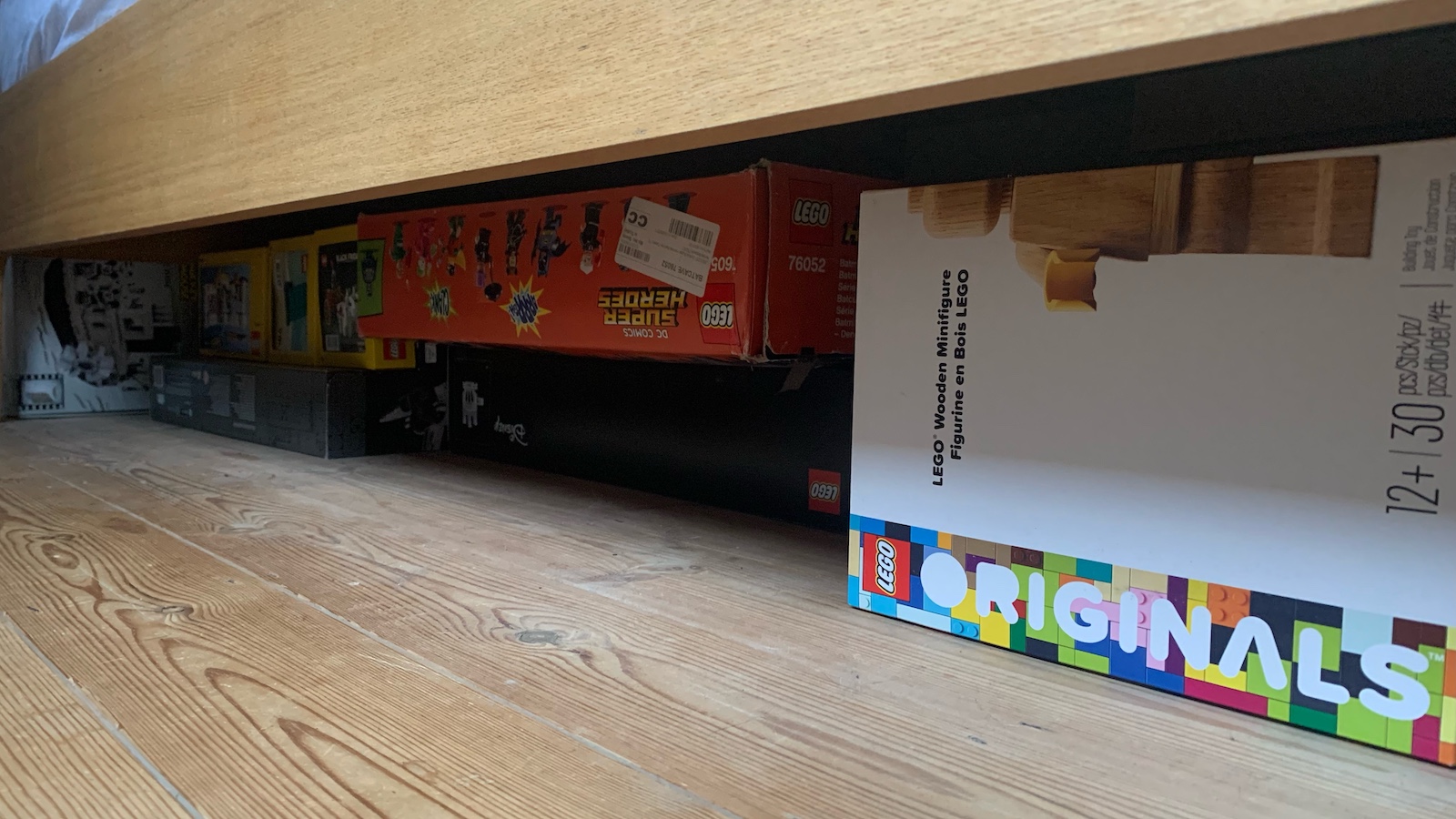 Well, that's all from me today. Hope you've enjoyed my anecdotes and rambling, but it's time for me to go and enjoy my weekend. Josie out!
Ah crap - I've just caught up on all that Josie brought you today, and man - she is good.
Just so you know, that won't be happening here. I'm tired, I've got a 3-month-old and I'll be going far more down the 'rapid-fire' route as it's simpler and I've got a million people asking me things.
So here you go:
1. This Razer BlackShark V2 deal is going great guns across our network - many publications rate it as the best gaming headset out there, and they're even good normal-person headphones. £45 off to just £55, yes indeed.
2. I spent a long time last year worrying about whether to buy a 65-inch OLED TV - the CX fell to £1499... but did I buy it? This year, the (better) LG C1 OLED is £1699 at Amazon... that's going to fall I think, as in the US it's already cheaper than the CX was last year.
3. These are brilliant true wireless earbuds from Sony. They're not cheap, even with discount, at £199, but if you've got the cash they're literally the best out there and have loads of battery life.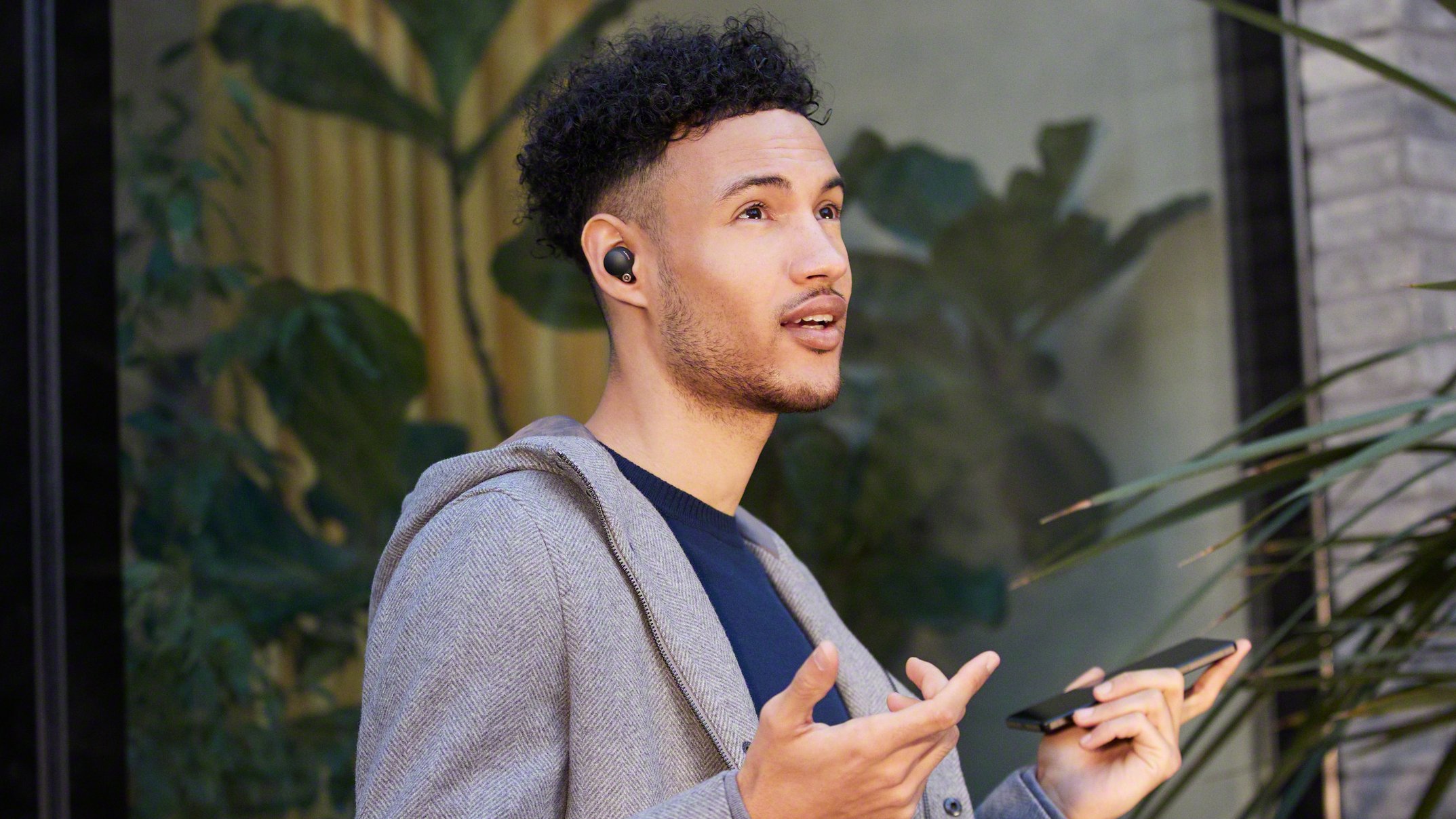 from TechRadar - All the latest technology news https://ift.tt/3qLtw0y
via
IFTTT