God of War: Ragnarok is the much-anticipated sequel to 2018's God of War and it's coming to PS5 and PS4 sometime in 2022. Since the game...
God of War: Ragnarok is the much-anticipated sequel to 2018's God of War and it's coming to PS5 and PS4 sometime in 2022.
Since the game's announcement back in September 2020, we haven't been inundated with details, but a trailer released in September 2021 did give us an exciting look at gameplay and in-game cinematics. Originally supposed to release in 2021, God of War: Ragnarok is now expected sometime this year, with a more solid date likely to be locked in in the near future.
While we wait for that release date and even more details on what Kratos and Atreus will be facing in their upcoming adventure, here's everything we know about God of War: Ragnarok so far.
[Update: Cory Barlog has said he has "no idea" what will happen with regards to a potential PC port of God of War: Ragnarok. Read on to find out more.]
God of War: Ragnarok: cut to the chase
What is it? The sequel to the critically-acclaimed God of War (2018)
When can I play it? TBC 2022
What can I play it on? PS5 and PS4
God of War: Ragnarok release date and platforms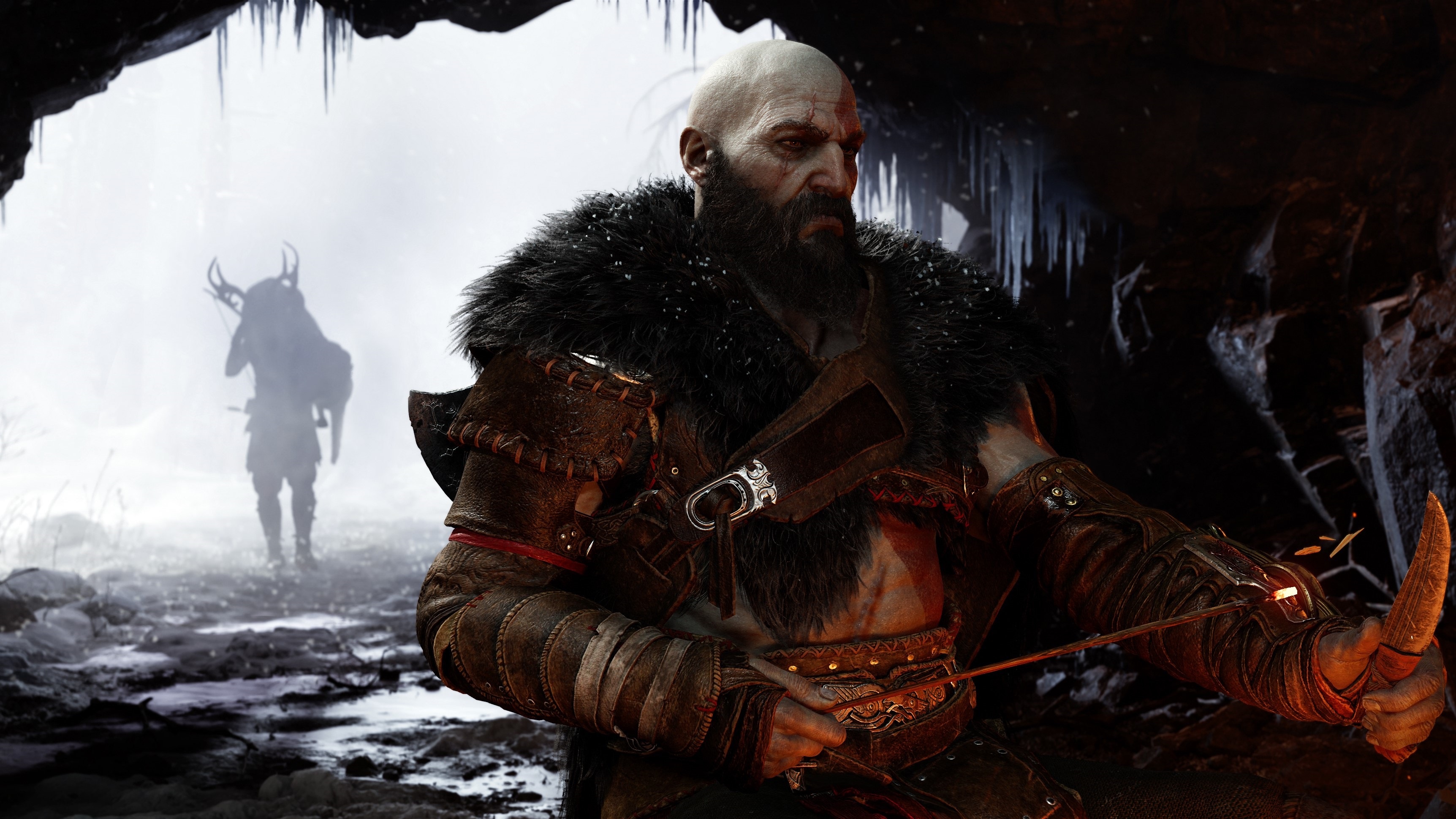 God of War: Ragnarok is due to release sometime in 2022 on PS5 and PS4, following a delay from its initial 2021 release window.
There was already speculation that Ragnarok could be delayed, given that Sony hadn't mentioned the sequel in its plans for 2021 following the game's announcement. Sony Santa Monica Studio confirmed the delay in June 2021, releasing a statement on Twitter.
As yet, a more solid date for 2022 is yet to be confirmed.
God of War: Ragnarok trailer
Reveal trailer
We finally got a proper trailer for God of War: Ragnarok at the PlayStation Showcase 2021 that gave us gameplay and cinematic footage of what we'll be faced with when it releases. The combat looks just as devastatingly violent as we'd expect, and the new announcement also confirmed that we will indeed be facing Ragnarok – a series of events and catastrophes that ultimately lead to the end of the world according to Norse mythology.
Teaser trailer
Previously we had been shown a brief teaser for God of War: Ragnarok right at the end of Sony's live stream event in September 2020. All it showed was a brief logo and the words "Ragnarok is coming".
God of War: Ragnarok story and gameplay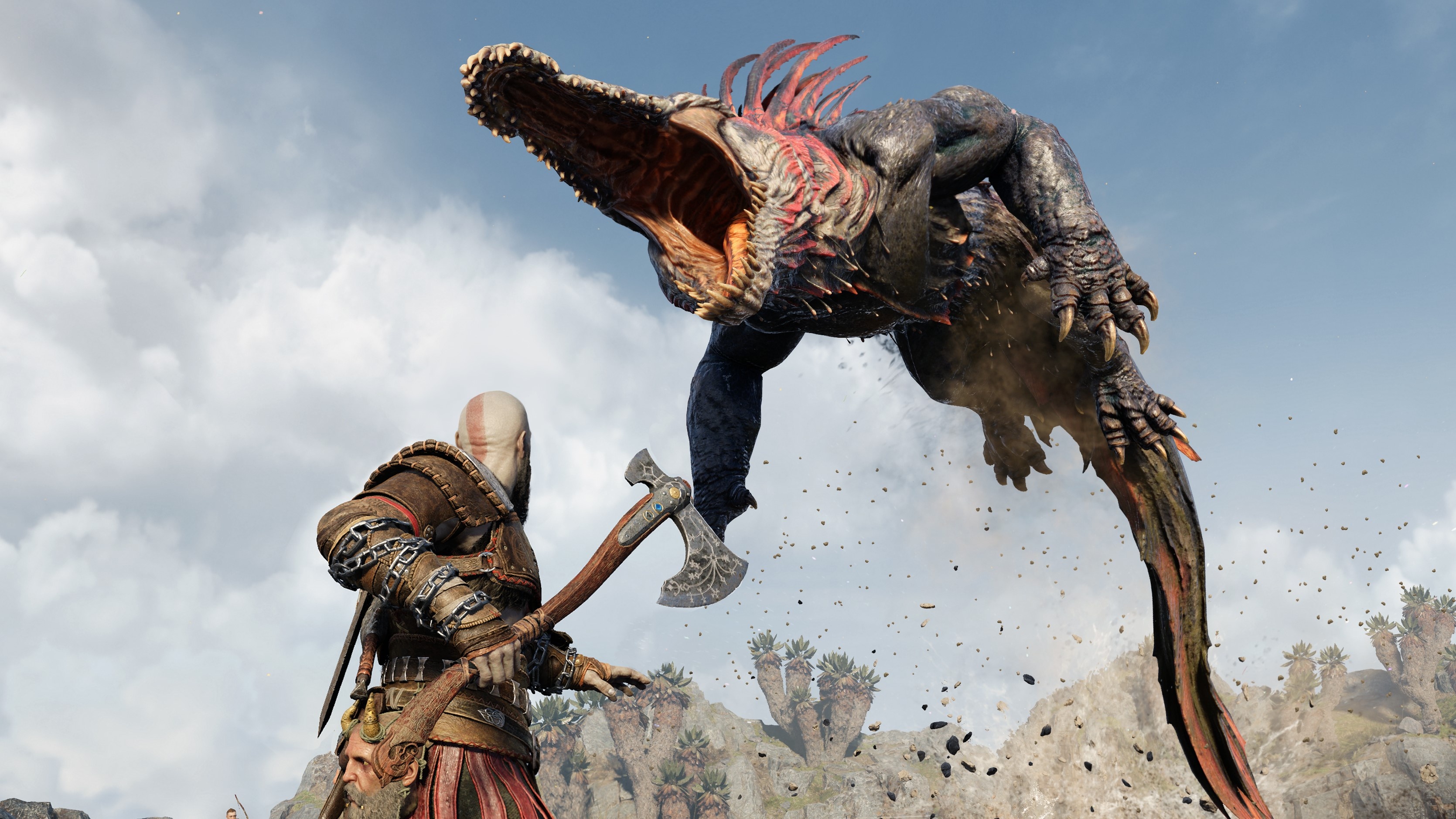 God of War: Ragnarok is set to be a sequel to 2018's God of War and the final entry in the series' Norse saga. In a September 2021 PlayStation blog post, Santa Monica Studio gave us a slightly better idea of what Kratos and Atreus will be facing in their next adventure.
According to the post, God of War: Ragnarok will pick up a few years after the events of 2018's God of War. Midgard is being hit by the freezing winds of Fimbulwinter, which makes "survival for Kratos, Atreus, and Mimir in the Norse wilds even more challenging than before."
Though the previous game built up trust and understanding in the relationship of Kratos and his son Atreus, Ragnarok will continue to explore the complexity of their interactions.
The post describes Atreus as "desperately curious" and says that "he wants to understand who he is" and "who he could be". "The mystery of Loki's role in the upcoming conflict is something that Atreus cannot let go of," the post says. "He wants to keep his family safe, but Atreus also doesn't want to stand by and do nothing while conflict consumes the Nine Realms."
Kratos, meanwhile, wants to protect his son and "spare Atreus the bloody lessons he learned from his conflict with gods."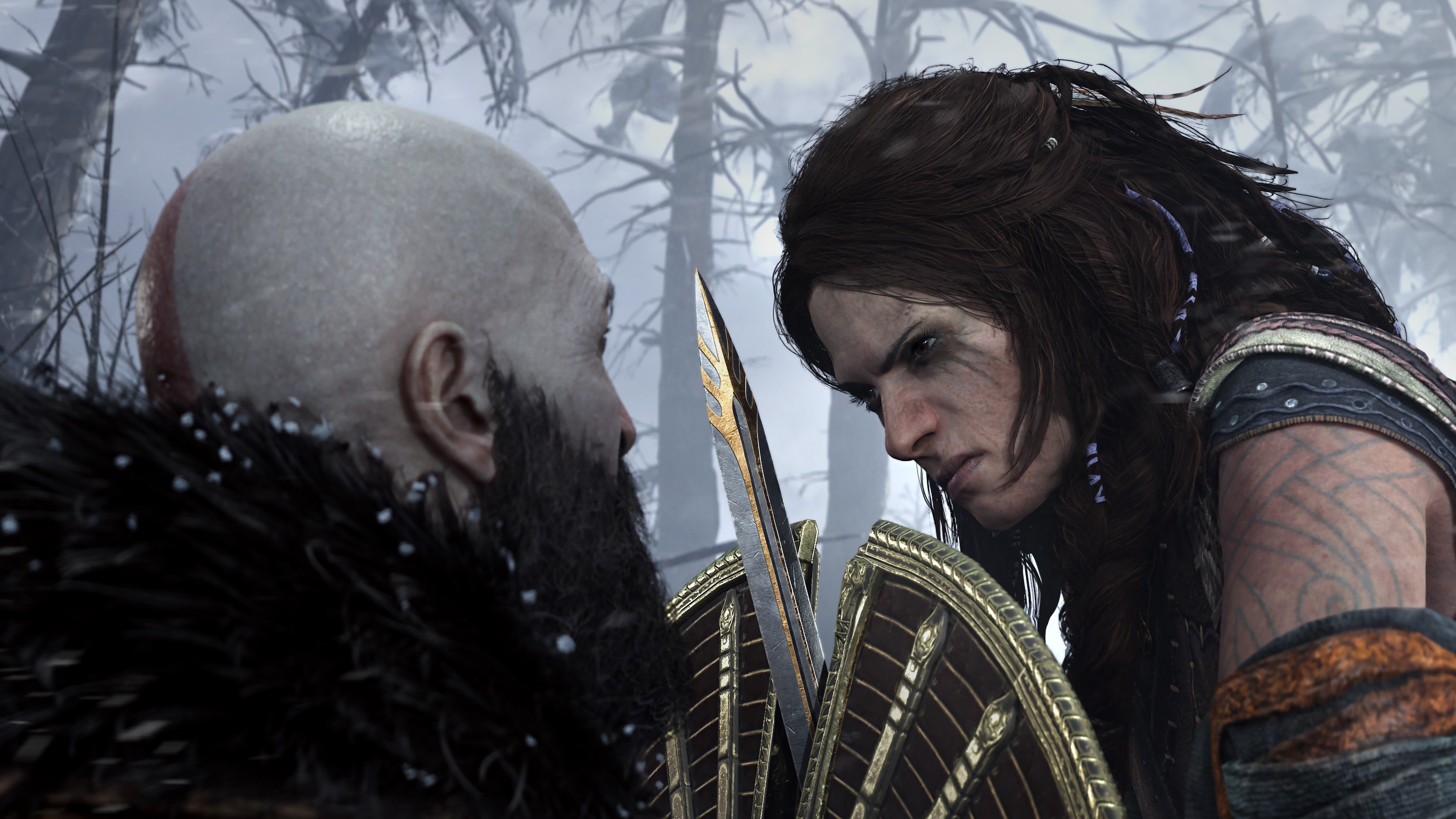 "Together, Kratos and Atreus will have to make a choice about which path they will take. Whatever they choose will define the fate of all those living in the Nine Realms as Ragnarök approaches." In the trailer shown in September 2021, we got a look at Frey and Thor and the post identifies them as the game's "two of the main antagonists".
As far as combat is concerned, the post promises more "visceral" and "spectacular" fights, with "new attack abilities, a new Runic Summon for Atreus, and of course, the return of Kratos' legendary weapons." Santa Monica Studio says it's taken learnings from 2018's God of War to improve combat, with the aim of creating more player choice:
"Whether it's through hard-hitting combos, a mastery of elements, or clever defensive tactics – you will find plenty of opportunity to fight alongside our duo in a way that feels uniquely expressive."
God of War: Ragnarok won't just expand on Atreus and Kratos' relationship and combat, it'll also expand in terms of setting. This time around, players are going to be able to visit all nine realms, including "the previously unreachable Vanaheim, Svartalfheim, and Asgard – as well as to new areas from locations featured in the last game. Exploring the realms will take you everywhere from verdant, otherworldly jungles to intricate subterranean mining networks."
God of War: Ragnarok news and rumors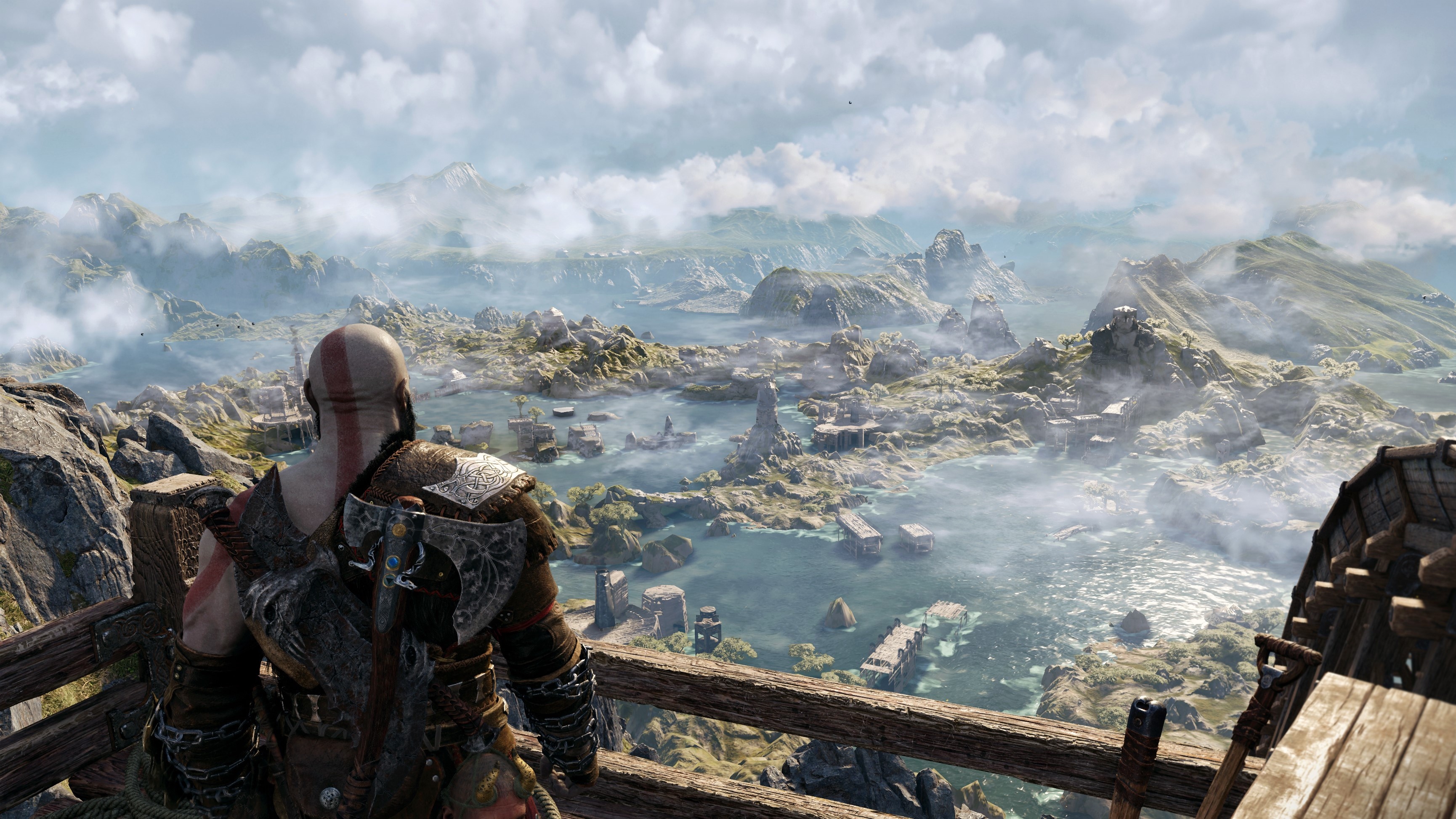 'No idea' about PC port, says Cory Barlog
We've seen an increasing number of PlayStation exclusives ported to PC in recent years, including, very recently and very successfully, 2018's God of War. However, in a recent interview with Game Informer, Sony Santa Monica creative director Cory Barlog was unwilling to commit to the upcoming sequel, God of War: Ragnarok, getting the same treatment in a shorter timeframe than four years.
"I have no idea," Barlog said. "Right now, we're taking it one game at a time, kind of looking at each one and determining, 'Okay, is this the best thing?' And we'll gauge how it does. Do people enjoy it? Did we do it right? Is there anything we did wrong? What can we do better in the future if we do this again? But at the end of the day, ultimately, it's Sony's decision."
Rumors of a February State of Play
Insider Tom Henderson has tweeted that a State of Play event may be coming in February and he thinks it could be a "pretty big one".
The current rumor is that the next Sony event looks like it could be in February based on this month's media events and past PlayStation dates.It'll probably be State of Play, but it has the potential to be a pretty big one IMO. pic.twitter.com/Si0QSY7PeZJanuary 9, 2022
There is further speculation around Sony hosting another State of Play event from other sources, too. AccountNGT, who is also fairly reliable for Sony-related leaks, responded to the question, "Any news about a PlayStation event early this year?", by saying: "It's coming, I will have a lot of information to deliver when it will be announced."
At the moment, we don't have any officially announced dates for approaching State of Play events but, now that we've entered the release year for God of War: Ragnarok, the first big State of Play of the year would be a good time to show more of the game or maybe even narrow down that release date.
Release date may have been listed
A release date tied to God of War: Ragnarok has been spotted on the PlayStation Network database.
The listing was flagged by the Twitter account PlayStation Game Size, which scrapes the database as it updates to find details on things like game file sizes prior to their release. The account tweeted out to say that "according to PlayStation database, God of War Ragnarok coming September 30th 2022".
🚨 According To Playstation Database , God of War Ragnarök Coming September 30th 2022 🟨 Maybe it's Just Place-Holder !🟧 #PS5 #GodOfWarRagnarok pic.twitter.com/g6y61iYMxCDecember 27, 2021
However, while it would be very exciting to get a solid release date for God of War: Ragnarok right now, as PlayStation Game Size itself points out, it seems more likely that this is a placeholder date rather than the actual release date. Until Sony or Santa Monica Studio announces something more official, we'd take it with a pinch of salt.
Concluding the Norse saga
Santa Monica Studios creative director, Cory Barlog, has confirmed in an interview that Ragnarok will conclude the Norse storyline that started with 2018's God of War on PS4. Barlog explained that the main reason to conclude the Norse saga in God of War: Ragnarok was because of the long development time involved in making a modern God of War game. Between the five years taken to develop 2018's God of War and the four that will be spent on Ragnarok, the studio would rather the Norse storyline didn't run over nearly 15 years through a third game, as it'll be "too stretched out."
"Expressive choice" through new shields
The game will bring Kratos and players enjoy a little more variety when it comes to the shields that can be used, according to director, Eric Williams, in an interview with God of War YouTuber Jon Ford.
When Ford pointed out that in the most recent trailer there are moments where it looks like Kratos' Guardian Shield has a different design and Kratos is using it in different ways, Williams said this was true and that while he didn't "want to go too deep on it", the game will have "different shields, and they have different defensive options and abilities."
The reason for this, William explained, is because he and the team at Santa Monica Studio "really want to open up expressive choice to the way that you build your Kratos, like the equipment and loadout and things like that."
This, Williams added, goes "all the way down to the defense, so you can kind of play a little differently and enemies know how to respond to that, or force you into these different situations where you need to use different things. I think it'll be fun for players to explore that but also we want it to be more expressive, you know, your choices matter when you set him up."
Rumors of a PC port
Could we see God of War Ragnarok come to PC as well as PlayStation consoles? Following news of the 2018 God of War port, there is a tentative rumor that its sequel could get a similar treatment. A clue came by way of LinkedIn via GameRant, which picked up on a Twitter user who spotted the profile of a Senior Programmer at Jetpack Interactive, Warren Lee, who has a project listed as 'God of War Ragnarok'.
It's worth noting this could have been in error; Lee could have accidentally added the 'Ragnarok' bit while he in actual fact he might be working on God of War PC right now. Jetpack is the third-party dev in charge of the current God of War port, with Sony's Santa Monica Studio in the role of overseeing the project, rather than actually doing the port. With that in mind, we feel there's a possibility this could be a mistake.
However, with God of War finally getting a port, it does make sense that Ragnarok could get the same treatment. The caveat is, of course, that this would likely happen eventually, way down the line, rather than early in Ragnarok's life. God of War was, after all, released for the PS4 in 2018, so it's taken quite some time for the port to come about.
PS4 to PS5 upgrade fee
After the player outrage surrounding the confusing upgrade process for Horizon Forbidden West, Sony issued a statement detailing how it will allow players to upgrade from the PS4 version to the PS5 version of future titles.
It specifically named checked God of War and said that you'll need to pay a $10 digital fee to get the enhanced PS5 version of the game if you already own the PS4 version. Most likely this means God of War: Ragnarok will continue Sony's trend of $70 PS5 games, however, we hope things change by the time the game actually releases.
It'll launch 'when its done', says creative director
Following the absence of an update on God of War: Ragnarok during PlayStation's February 2021 State of Play, Santa Monica Studios Creative Director, Cory Barlog, appears to have posted a tweet in response to those asking for an update on the game.
I don't know who needs to hear this...(certainly not me since I have never heard of it)but...WHEN. IT'S. DONE.❤️(trust that it's what's best for everyone) pic.twitter.com/DVE6hQ9BVAFebruary 25, 2021
Reading "When it's done it's done", Barlog's tweet doesn't directly mention God of War: Ragnarok but it seems likely that's what he's referring to. The game still has a fairly wide release window of 2021, but there have been rumors that it might be looking at a delay and this tweet doesn't exactly clear them up. But, as Barlog says, "Trust that it's what's best for everyone."
Coming to PS4 too
PlayStation Studios boss Herman Hulst seems to have confirmed that God of War will be coming to PS4. In a PlayStation Blog post, when asked about how PS4 factors into PlayStation Studios' vision, Hulst said:
"Where it makes sense to develop a title for both PS4 and PS5 — for Horizon Forbidden West, the next God of War, GT7 — we'll continue looking at that. And if PS4 owners want to play that game, then they can. If they want to go on and play the PS5 version, that game will be there for them."
Previously God of War: Ragnarok was only confirmed to release on PS5.
Job Listings
As spotted by GamesRadar, SIE Santa Monica Studio posted job listings in 2020 for a number of roles across its programming, art, design, and tech art teams – with one listing clearly citing the God of War reboot.
Applicants for Senior Combat Designer "Must have knowledge of God of War (2018) and be able to speak in depth about the combat systems, mechanics and enemies".
A listing for Facial Blend Shape Character Artist also specifically mentions "next-gen videogame platform experience" for the role: something that should whittle down prospective applicants to relatively few animators, given that the next generation of consoles have yet to launch.
The waters were muddied slightly with a Senior Gameplay Animator posting, which asks for someone "to help us push the boundaries of action and combat movement and set the bar for gameplay feel on the PS4".
God of War PS4 theme
Back in April 2019, a new dynamic theme appeared on PS4 to celebrate the anniversary of the God of War reboot. The theme showed Kratos and Atreus rowing, however the theme contained a secret message (discovered by eagle-eyed God of War fans on Reddit).
The boat the pair are rowing in has runes etched on its side which translate (in English) to "Ragnarok is coming" – which we now know to be a pretty official slogan for the game.
No God of War DLC
God of War director Corey Barlog had said there were originally plans for DLC for the 2018 reboot, but said they were halted for being "too ambitious". That means the studio can invest resources into an entirely new game as opposed to post-launch content.
God of War (2018) PS5 update
To make the wait for God of War: Ragnarok a little easier, Sony Santa Monica has released a God of War PS5 update that boosts the game's resolution to a checkerboard 4K resolution while maintaining a 60fps target. Hopefully this means that Ragnarok will continue the pleasing trend of more PS5 games hitting 60fps, even if it means compromising or dropping the resolution slightly to achieve it.
God of War: Ragnarok: what we want to see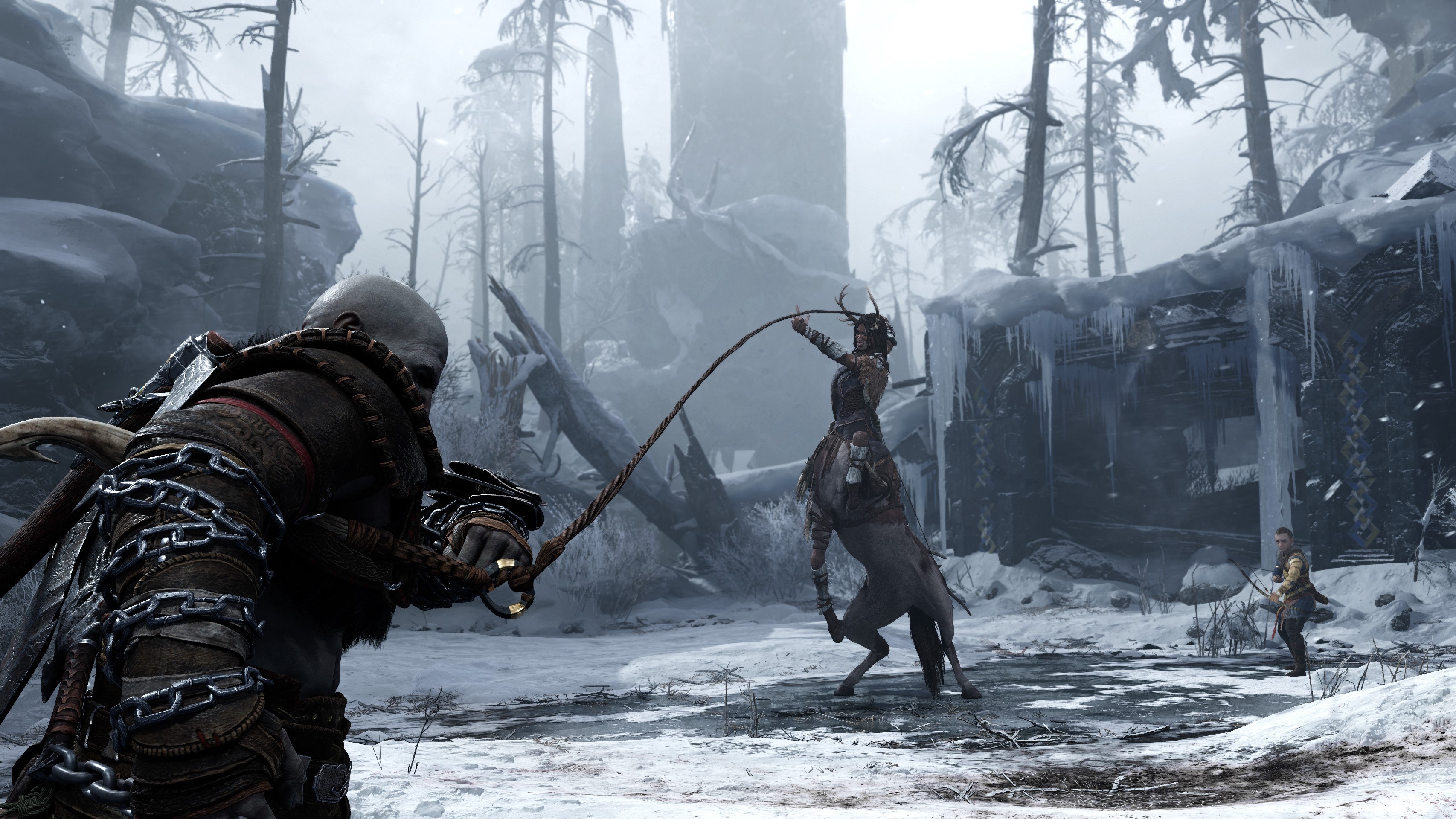 [Warning: spoilers for the ending of God of War ahead.]
Exploring that ending further
At the end of God of War, we found out that Kratos' wife (and Atreus' mother) Faye was actually a Giant called Laufey. That means Atreus is half God and half Giant and, what's more, he has a different name altogether: Loki. You know Loki, the trickster of Norse mythology.
Hopefully God of War: Ragnarok will explore this further and we'll find out more about Faye's secret past, as well as why she kept it all a secret in the first place. We're also hoping Atreus will embrace the shape-shifting abilities that Loki is notorious for instead of simply standing on the sidelines firing arrows at enemies.
Atreus isn't a boy anymore
The God of War sequel may continue on directly from the events of the previous game, however we think it would be more interesting to see how a teenage Atreus and grumpy dad Kratos fair on an adventure.
from TechRadar - All the latest technology news https://ift.tt/t0YHhJpGq
via
IFTTT