What about more affordable TV options? We realise that the best TV isn't always something most people can afford – that's why we...
What about more affordable TV options?
We realise that the best TV isn't always something most people can afford – that's why we've put together a list of the best cheap 4K TV deals in Australia. Whether you're after a small or large telly, you're likely to find a suitable option for your budget.
There's never a bad time to buy one of the best TVs of 2021. So far, we've seen massive discounts on last year's top models, and in the coming months we expect to see a slew of new TVs from Sony, LG, Samsung, Hisense and TCL. Before long, those same tellies will start progressively cheaper as we lead into the second half of the year.
If you can't wait a few more months until new models arrive, however, there are plenty of amazing TVs from last year that are still well-worth buying – often at significantly reduced prices.
Below you'll find a list of 10 TVs that we can wholeheartedly recommend to Aussies. That includes sets from the likes of TCL, which offer great performance at a really good price, and high-end options like QLED TVs from Samsung and OLEDs from LG.
Best TV at a glance:
Samsung QN900A Neo QLED 8K TV
LG CX OLED Series
Sony Bravia A8H OLED
Samsung TU8000
Sony A9G Master Series OLED
LG GX Gallery Series OLED
Samsung Q80T QLED TV
Sony Bravia X900H Series
Hisense 65SX Dual Cell TV
Samsung Q70T QLED TV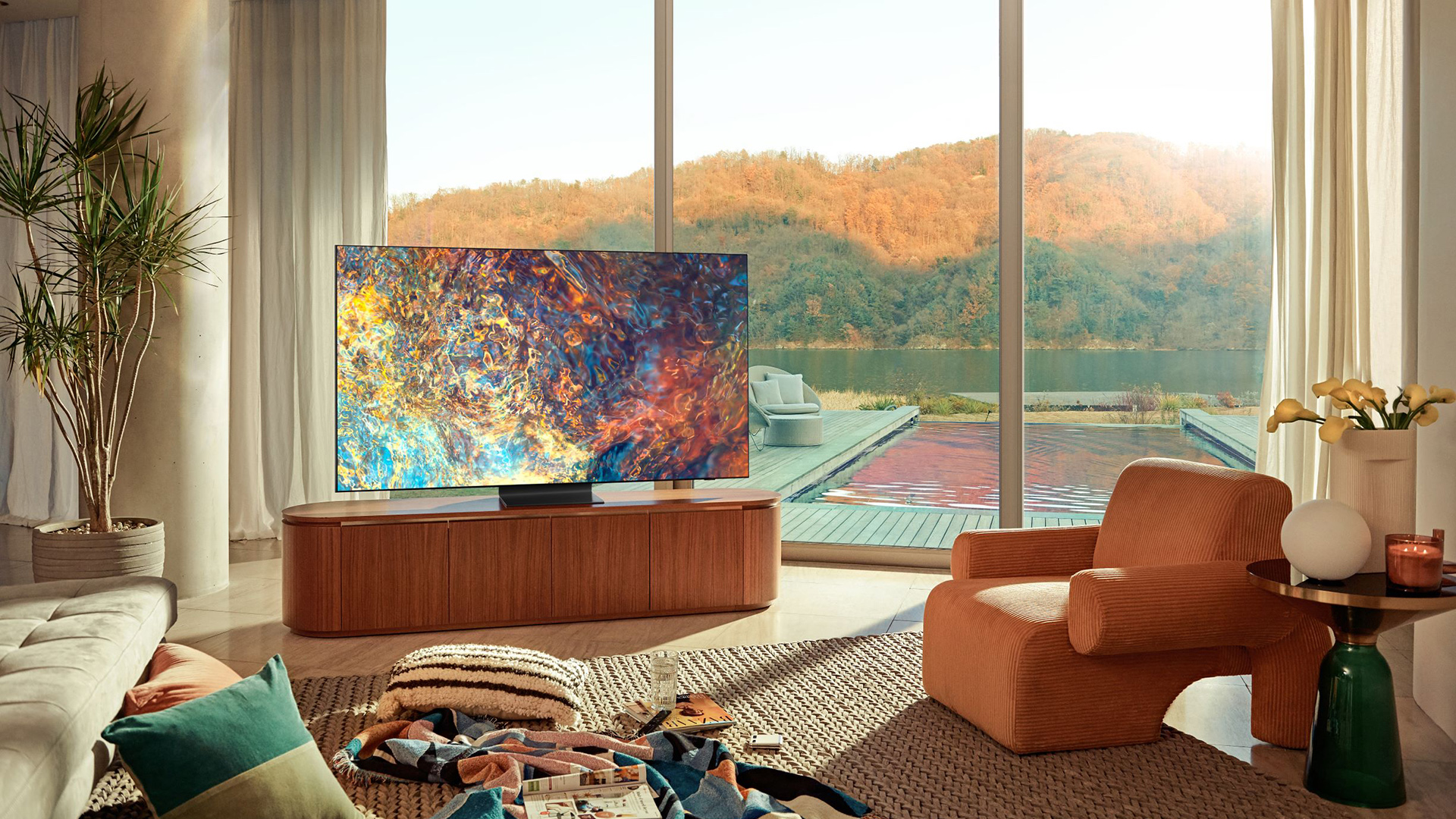 When it goes on sale in May, the Samsung QN900A Neo QLED 8K TV will usher in a new era of television technology. Samsung's Mini LED-sporting QN900A Neo QLED 8K TV offers stunning picture quality, exceptional color and brightness, terrific sound and outstanding blacks – all in a package that's unmatched in terms of design.
For the uninitiated, Samsung's 'Quantum' Mini LEDs are 1/40th the thickness of a regular LED, meaning thousands of smaller LEDs can be packed together in a much tighter fashion, allowing for far more accurate dimming zones and black levels that are practically indistinguishable from an OLED.
As the LEDs are far smaller, they're able to achieve far more precision and less blooming, so the act of seeing bright areas of the screen unnaturally bleed over into darker spots should be greatly reduced or not evident at all.
And because it takes advantage of Samsung's Multi-Intelligence AI upscaling, the QN900A is consistently able to produce images that looked better than their source.
Not only does the Samsung QN900A Neo QLED 8K TV offer the latest HDMI 2.1 and eARC features, it's also ideal for gamers who've recently invested in a next-gen console or beastly gaming PC thanks to support for 4K/120fps or 8K/60fps gameplay via HDMI 2.1, Game Motion Plus and AMD FreeSync Premium Pro.
It's the flagship 8K TV to beat in 2021.
Read the full review: Samsung QN900A Neo QLED 8K TV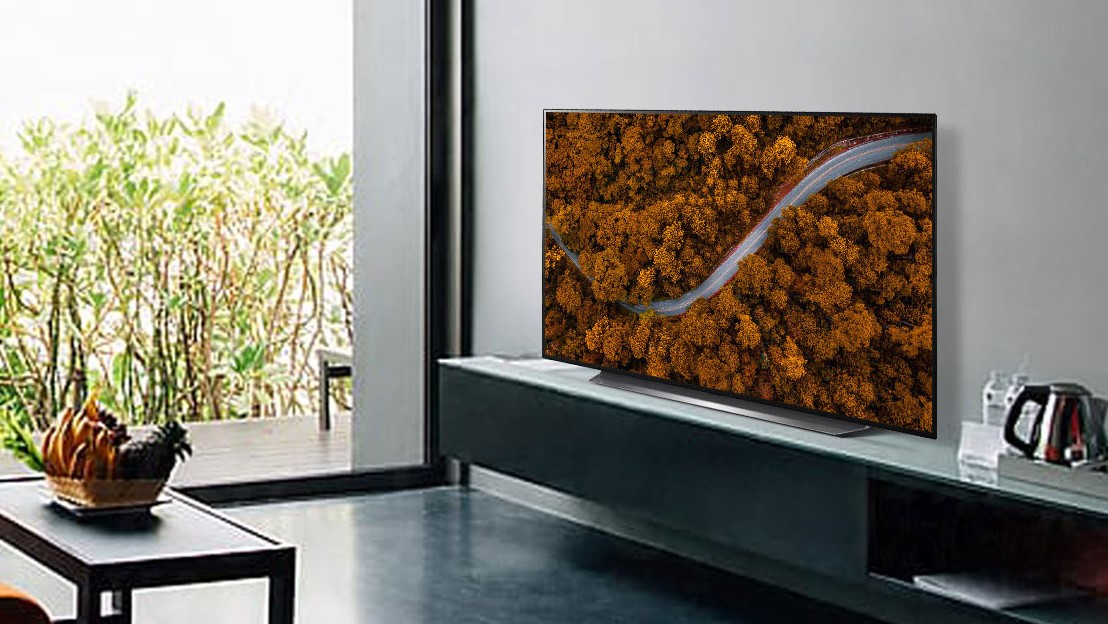 Easily the most approachable OLED television in LG's 2020 line-up, striking the perfect balance between functionality and affordability, the LG CX OLED TV is sure to be an attractive prospect for consumers looking for a new telly this year. The combination of picture quality, sleek design, premium built-in audio and LG's winning webOS smart platform made 2019's LG C9 an OLED TV for the history books. And while there have been some changes to its successor, the same benefits are still on show.
The LG CX doesn't veer too far from the design of its predecessor, with a similarly slim panel and pleasingly small bezel. It's available in the same 55-inch, 65-inch, and 77-inch sizes. You'll also find that LG's ThinQ AI features are back in fine form, along with support for Amazon Alexa and Google Assistant.
In terms of performance, the CX OLED model – like the GX, WX, and ZX OLEDs launching alongside it – makes use of a new a9 Gen 3 processor, rather than 2019's a9 Gen 2 chip, meaning improvements in picture quality, with new algorithms that improve textures, reduce video noise, and enhance motion processing.
LG may have more advanced OLED models available this year, but the LG CX OLED TV's more reasonable price point makes it the easiest to recommend.
Read the hands on review: LG CX OLED TV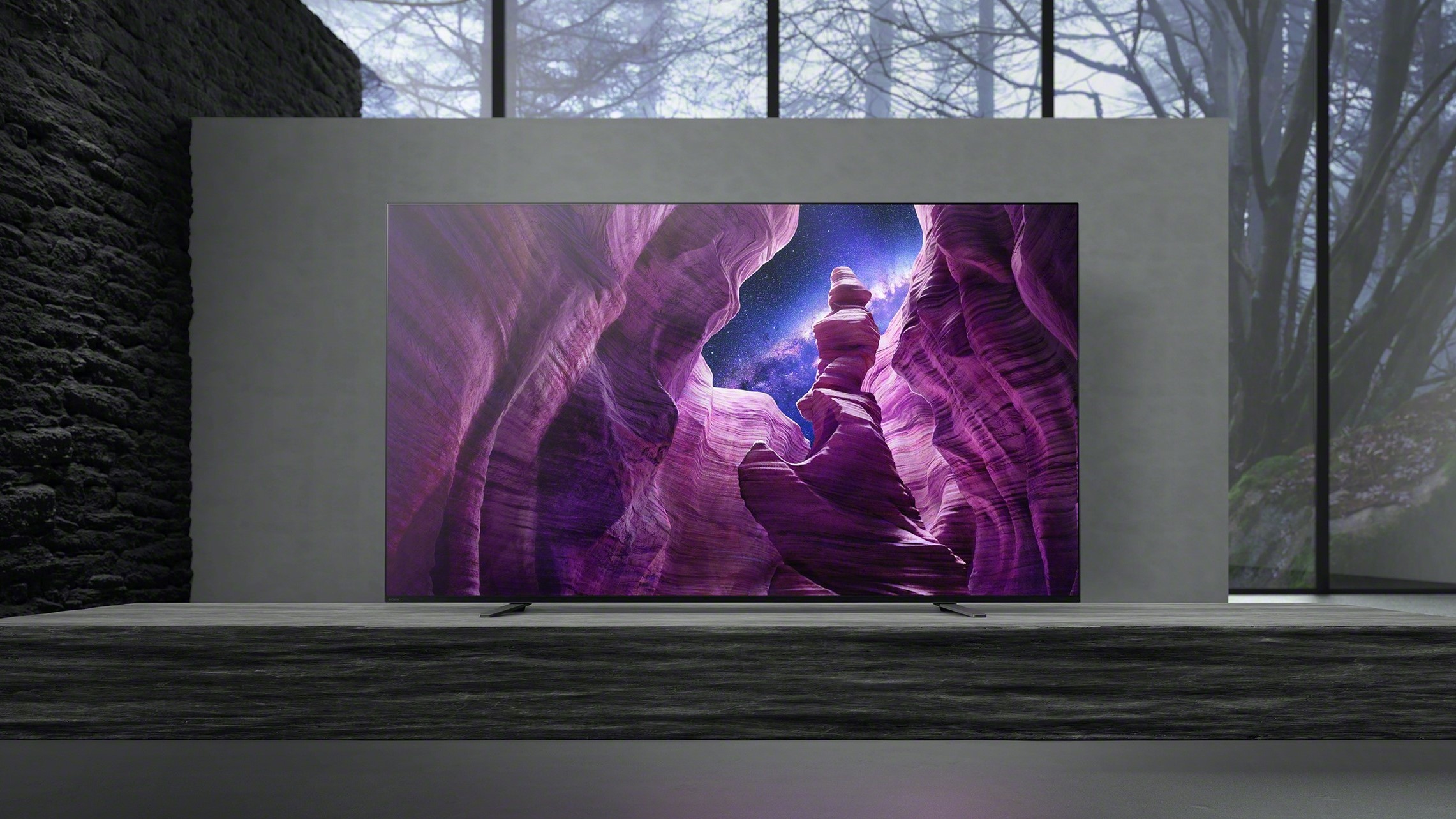 By combining Sony's premium OLED picture performance with a powerful and direct sound system, the Sony A8H OLED TV manages to be a stunningly compelling TV option for serious home cinema fans.
It carries Sony's top-line X1 Ultimate processor, Sony's Pixel Contrast Booster (for more intense image highlights), and a new OLED version of the X-Motion Clarity feature Sony initially developed for its LCD TVs with full array local dimming.
On the audio side, Sony's customary Acoustic Surface Audio system (where the TV's screen is actually 'excited' into producing sound) is joined by a two-subwoofer bass system, and an Acoustic Auto Calibration system that can optimize the TV's sound to your room with just a couple of quick test pulses.
The results are nothing short of gorgeous.
Read the full review: Sony A8H OLED TV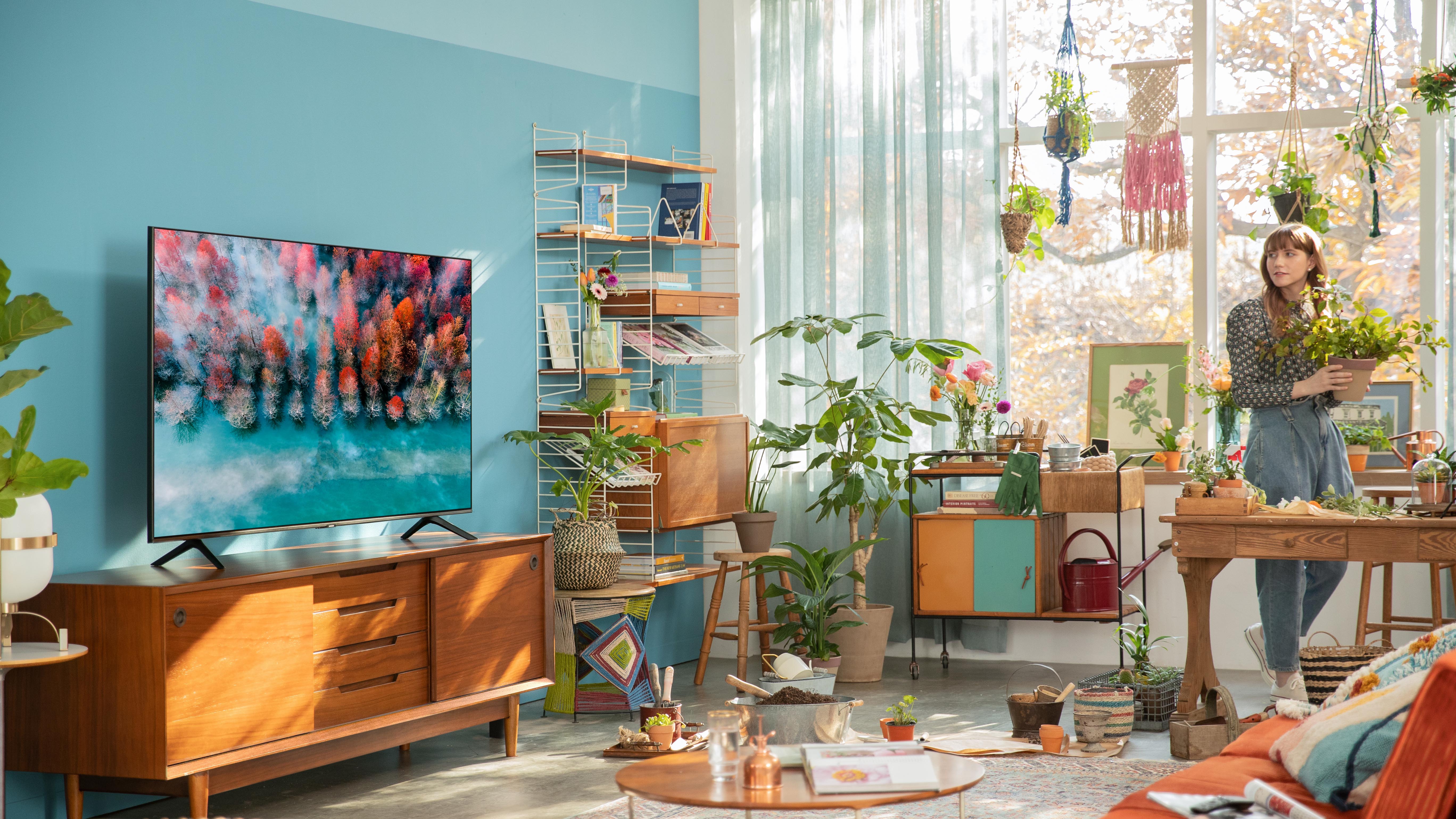 Samsung's 8 Series TVs have built a solid reputation over the last few years thanks to their ability to balance performance and price, making them a sensible option for those who want a great television without having to pay an exorbitant amount of money.
The TU8000 doesn't quite represent the top of that range, but is just one step down, sharing plenty of the TU8500's boasts, but with an even more attractive price tag.
Admittedly, Samsungf's TU8000 doesn't represent the top of Series 8 range, however it is the next best thing, offering terrific picture quality by way of the company's Crystal LCD UHD panel technology.
Add to this an incredible ease of use thanks to the TU8000's magnificently intuitive smart TV system, a gorgeously design, and your choice of built-in voice assistant, and what you have is the best Samsung TV that isn't of the QLED variety.
Read the full review: Samsung TU8000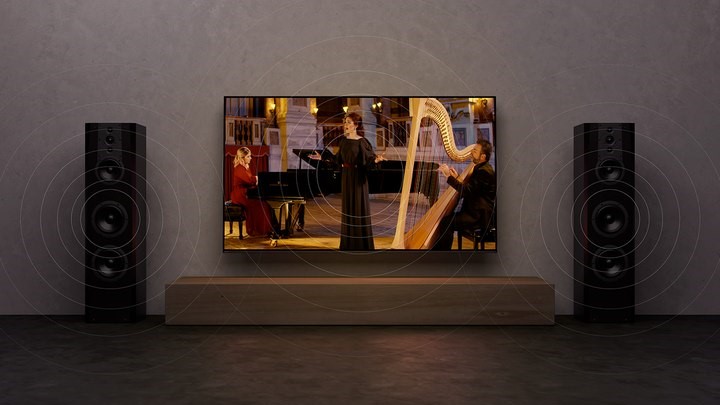 A direct replacement for last year's Sony A9F/AF9 OLED, the Sony A9G/AG9 Master Series OLED is the new flagship of Sony's TV fleet. It embraces a characteristically minimalist design that disguises a host of cutting-edge features like Dolby Vision and Dolby Atmos support, plus Netflix Calibrated Mode (of interest to many), and IMAX Enhanced certification (of interest to few).
This is a screen that looks premium, and has a spec on the right side of righteous. The Android platform is easy to live with, that vibrating sound system entertaining and picture quality top notch. Offering Dolby Vision is a welcome refinement, but the caveat is a lack of support for HDR10+. That said, it does a fabulous job up-scaling HD/SDR so it's easy to overlook the lack of at least one HDR format.
It's undoubtedly expensive but, all things considered, this glass is class.
Read the full review: Sony A9G Master Series OLED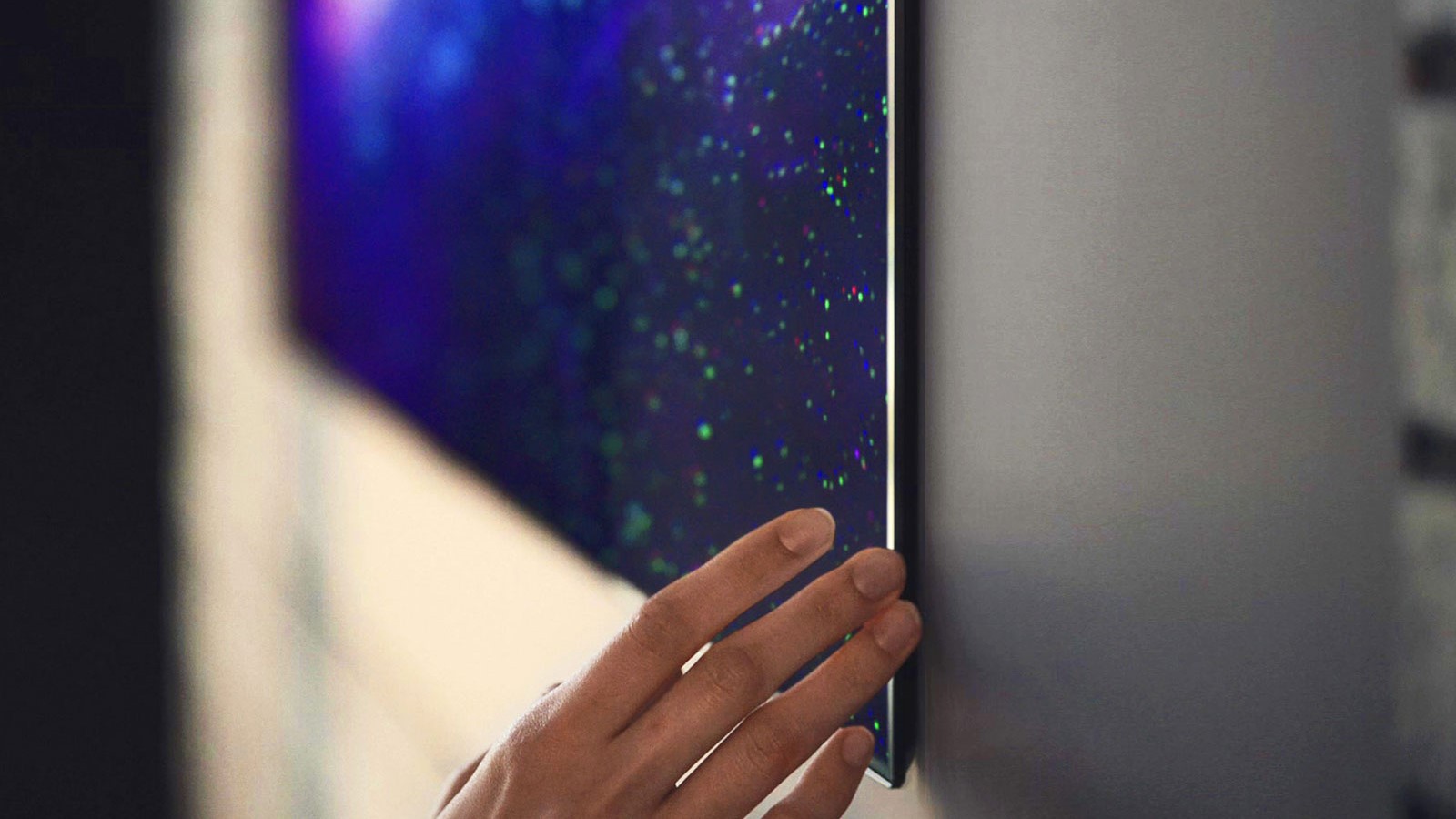 For those who can afford it, the LG Gallery Series GX OLED is a home cinema lover's dream come true – an exemplary flatscreen that uses all the latest specs and standards, from Dolby Vision and Atmos to Google Assistant and Amazon Alexa, from Chromecast Built-in to AirPlay 2.0.
While the outside is a marvel of engineering and industrial design, inside you've got the all-new LG Alpha a9 Gen. 3 processor that adds better facial recognition and multi-step noise reduction to LG's already-great HD-to-4K upscaling and much-improved motion processing technology.
But if you're looking for pitch-perfect audio, you won't find it on the LG Gallery Series - the built-in speakers are kind of a soft spot in an otherwise great design. Due to design constraints, the TV only sports thin, low-powered speakers that just don't match the premium performance of the OLED panel.
That said, chances are if you're buying a $3,000 TV you've got a sound system at home ready to go and outside of a few other nitpicks, this is a fantastic TV.
Read the full review: LG GX Gallery Series OLED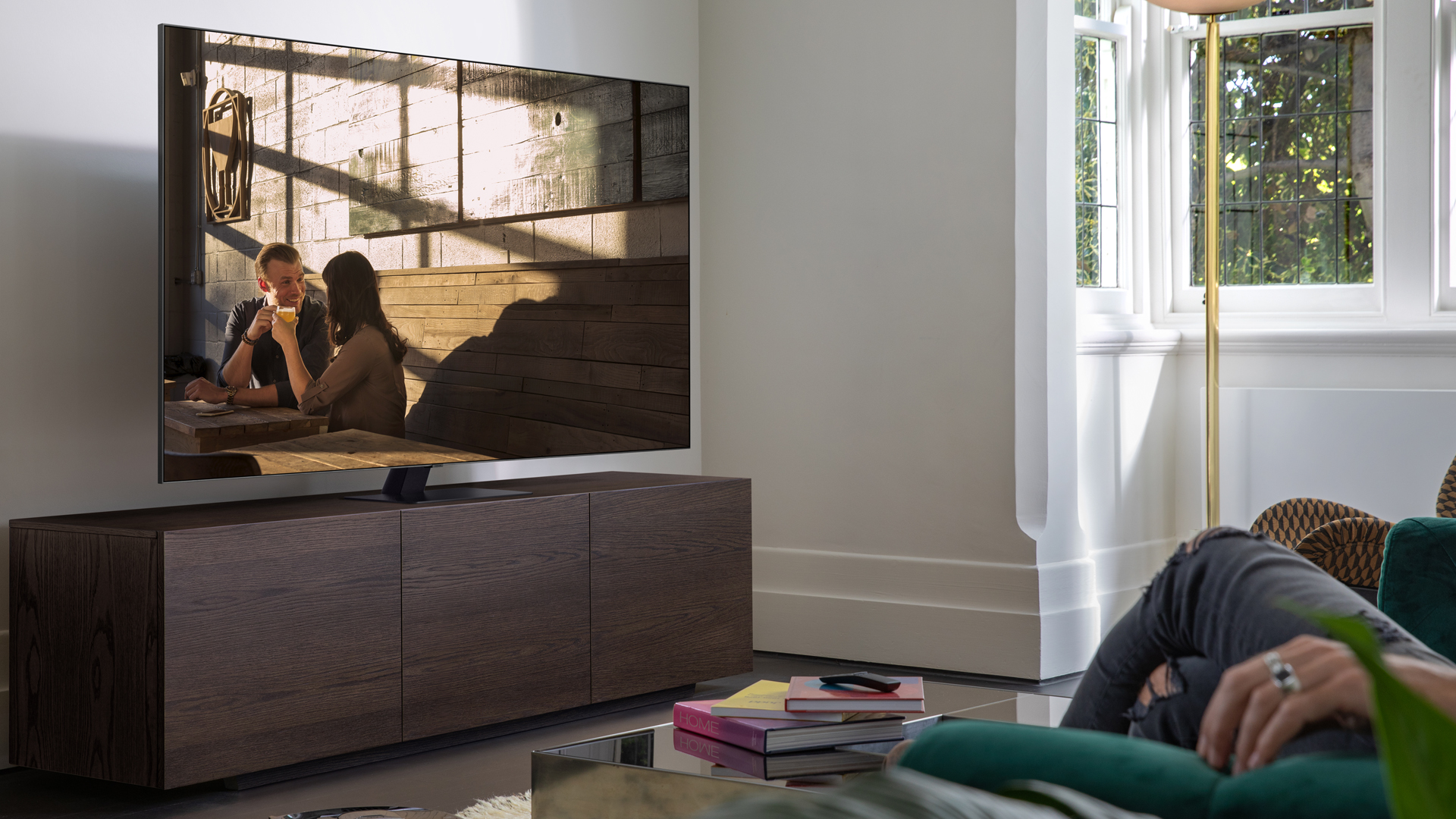 New for 2020, the Samsung Q80T QLED builds on the successes of previous models for a brilliant HDR TV definitely worth checking out.
The most notable feature is the incredibly low input lag, making the Q80T a great choice for gamers who want responsive gameplay, but the QLED screen will also make general watching a pleasure all around.
The Q80T is the cheapest 2020 Samsung TV to come with a full-array backlight, meaning you'll get consistent brightness, though not some of the premium qualities of higher-end sets – hence why it lands lower on this list than last year's Q90 QLED. It also isn't quite as stylish as the zero-bezel Q950TS, with a thick body compared to other QLEDs in this year's range.
However, you'll still get Samsung's latest Quantum 4K processor, vivid HDR colors, and advanced smart TV features through the Tizen OS.
If you want more of a saving, too, the Q70R QLED is this TV's predecessor, and will cost you a good few hundred dollars less than the new Q80T model (yes, it's the some product line, and yes, the naming is confusing).
Read the full review: Samsung Q80T QLED TV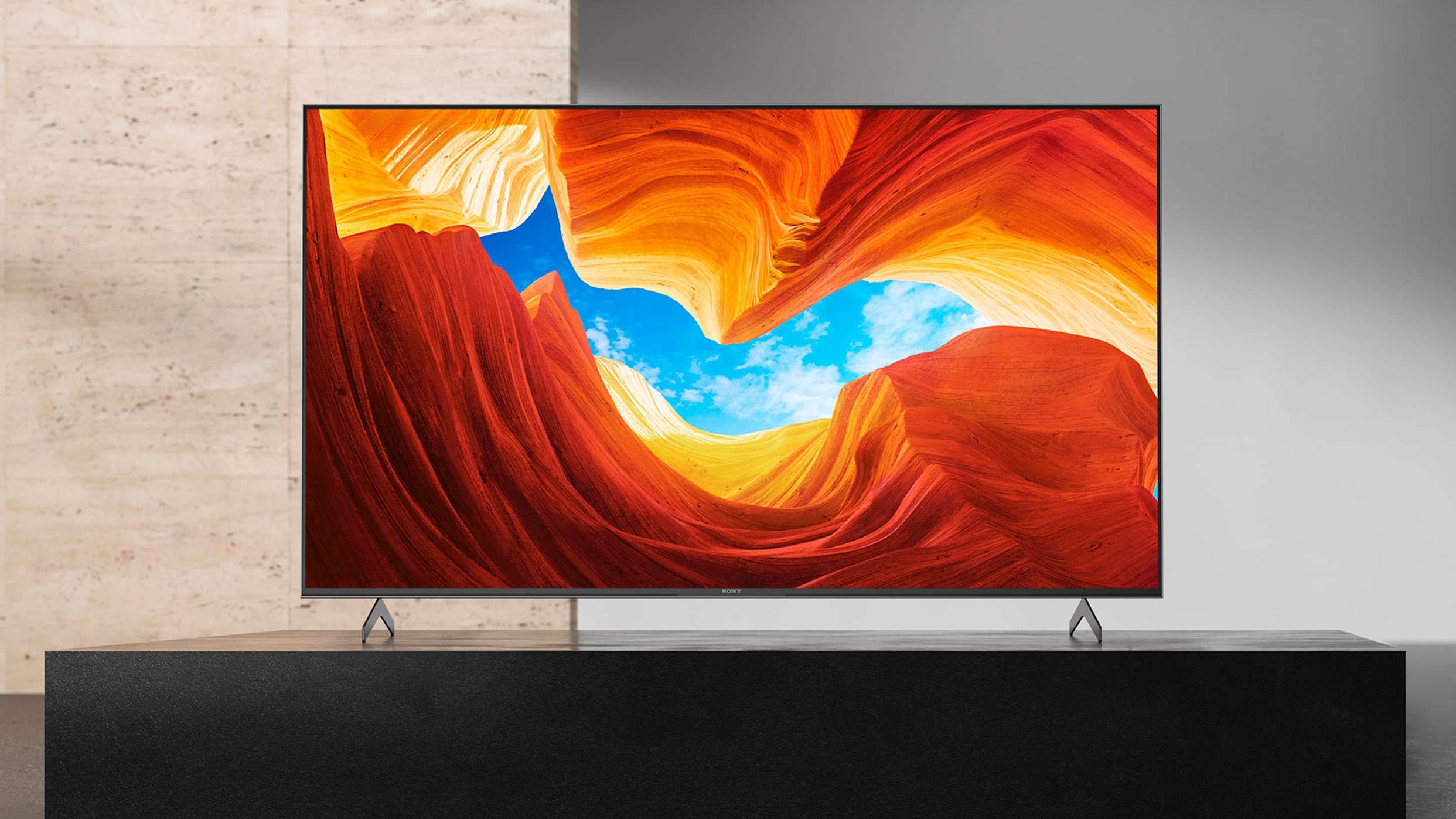 Sony's X900H Series does everything it sets out to do, and in some style. Its picture quality is quite startling in the right circumstances, its sound is more than adequate by prevailing standards, it's simple to use and it doesn't turn its nose up at content of inferior resolution.
The panel itself is a VA-type LCD, which in broad terms has to be considered an upgrade on the IPS edge-lit panel Sony deployed on last year's equivalent model. The higher brightness, greater color volume and improved screen uniformity promised by a full array VA panel ought to more than make up for the rather more restricted viewing angle when compared to IPS. It's noting, too, the X900H doesn't feature the X-Wide viewing angle technology Sony's flagship X950H range is toting.
In short, there's more than enough going on here to make you overlook the lack of HDR10+ and forgive Android TV its overconfidence. If you've this sort of money to spend on a TV of this sort of size, you absolutely have to audition it.
Read the full review: Sony X900H Series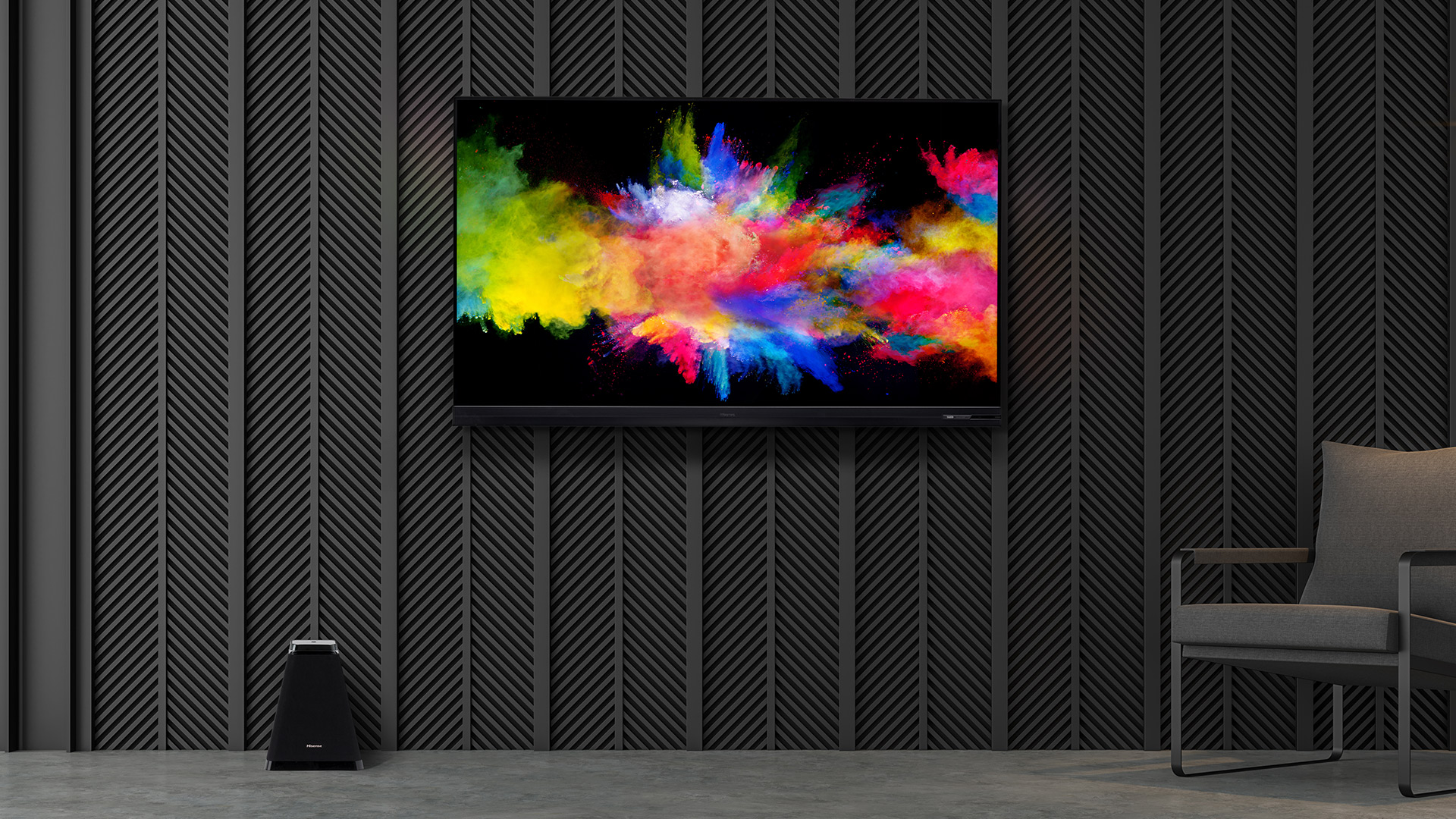 Realising that OLED is notoriously expensive, Hisense has pivoted towards new Dual Cell TV technology, which employs traditional local dimming along with two precision-bonded LCD layers (one cell for colour and a grayscale cell for luminance) in order to reach previously unobtainable black levels on a non-OLED display.
In other words, that means that Hisense's 65SX is able to achieve deep blacks that are remarkably close to that of an OLED television without the negatives that can sometimes come with it, such as burn-in and lack of brightness.
Additionally, the 65SX is capable of excellent sound for a television, with front-facing speakers that offer Dolby Atmos audio, and an included wireless subwoofer that can be placed anywhere in your room or connected to the TV's stand, bringing exceptional bass to the telly – no tinny built-in audio here.
While we did notice some image scrambling and artifacting during our review period, it's worth noting that those slight negatives mostly pale in comparison to the visual uptick the Hisense 65SX provides.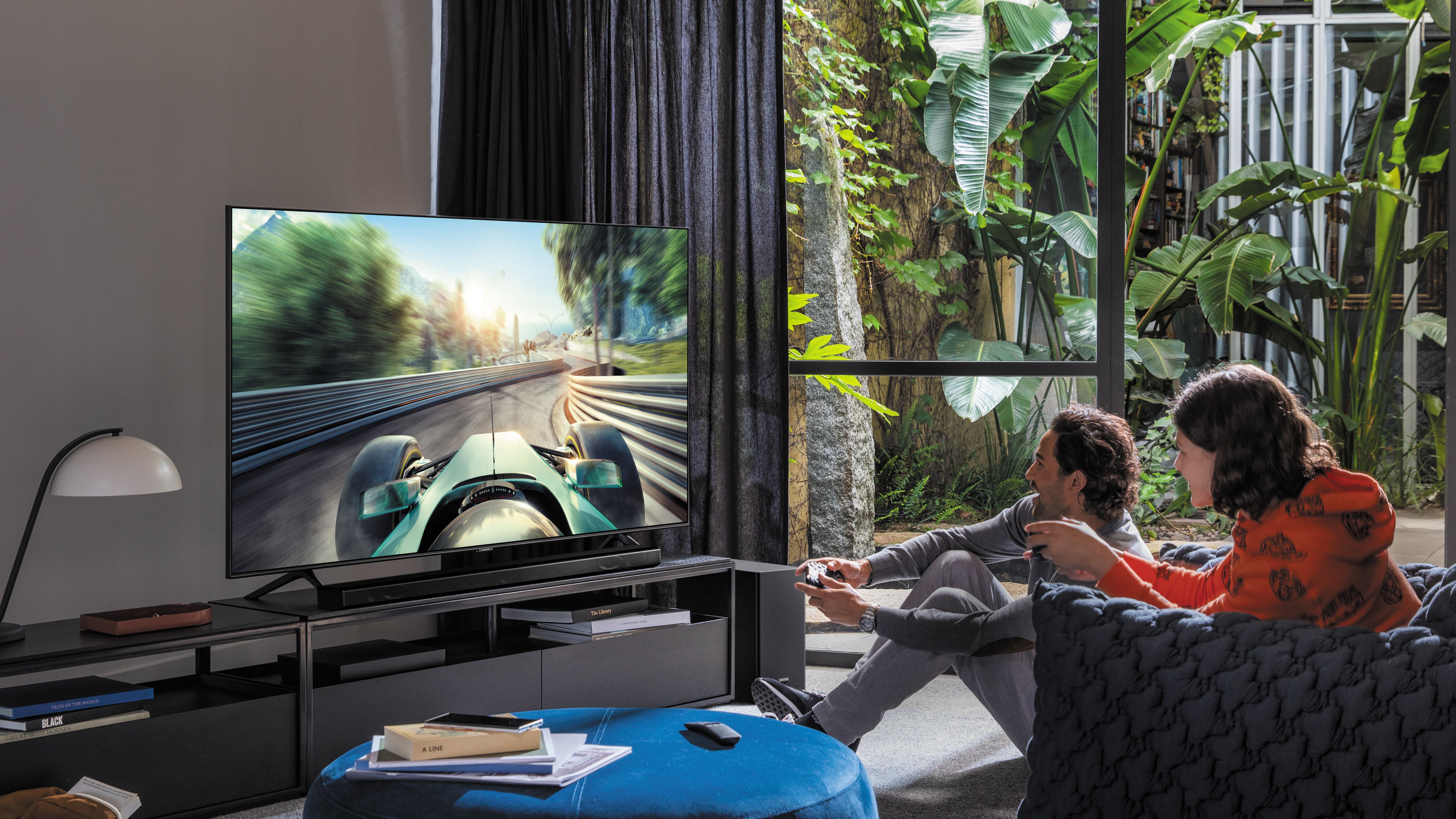 The all-new Samsung Q70T QLED TV boasts much of the feature armory found in Samsung's more expensive QLED 4K screens, but doesn't come with such a punishing price tag – making it a great buy for folks who can't reasonably spend a couple thousand on the flagship Samsung Q95T 8K TV.
The reason it doesn't score higher on our list is that it's an edge-lit TV and doesn't produce the same contrast of comparable full array models, especially in light-controlled rooms like downstairs home cinemas.
Still, Samsung's Q70T is a darn good 4K TV all the same. Ideal for light room viewing, it offers superb detail and color performance, has a comprehensive connected platform and boasts excellent image interpolation.
For gamers, the Q70T is a formidable proposition. Not only is image lag low, both with and without processing, there's a 4K 120fps HDMI just waiting for your next games console. It also confounds when it comes to black level performance and screen uniformity... provided you keep the lights on.
Read the full review: Samsung Q70T QLED TV
Continue on to page two to read about what to look for when buying a TV!
What TV technology is best? Which is the best LCD TV? Which screen size is best for your living room? What's the difference between LCD and LED TVs?
The answers aren't always obvious. In fact, buying a new TV can be stressful even for the tech-savvy - there are so many brands, so many features, so many screen sizes, colors, technologies and flavors to choose from.
So which one is right for you, your family and your living space? In this guide, we'll walk you through everything you need to know about buying a new TV.
What types of TV are there out there?
There are a lot of different screen types out there, all working in different ways to produce the same results. Each technology has its own unique strengths and weaknesses so here are some basics to consider:
LCD TV: CCFL
A few years back, all LCD TVs were backlit by always-on, CCFL (cold cathode fluorescent) lamps. This ageing technology has been superseded by the superior LED method on more expensive sets, but is still standard on some cheaper models.
LED TV: Direct LED
These displays are backlit by an array of LEDs (light emitting diodes) directly behind the screen. This enables localised dimming – meaning immediately adjacent areas of brightness and darkness can be displayed more effectively – and greatly improves contrast. LED TVs are also more power efficient and capable of a wider colour gamut than CCFL sets. Because of the extreme cost of mounting these arrays of LEDs, cheaper TVs usually use Edge-Lit LED screens over Direct or Full-Array LED screens.
LED TV: Edge LED
With these TVs, LEDs of the backlight are mounted along the edges of the panel. This arrangement enables radically slender displays and offers superior contrast levels to CCFL, but can't achieve the same picture quality as directly lit LED sets. However, they do come in far cheaper which is why most LED TVs out there now use this technology.
OLED TV
The backlighting on OLED (organic light emitting diode) sets is achieved by passing an electric current through an emissive, electroluminescent film. This technique produces far better colours and higher contrast and also enables screens to be extremely thin and flexible. This is the holy grail display technology and LG, Sony, Philips and Panasonic have all adopted it in their flagship sets.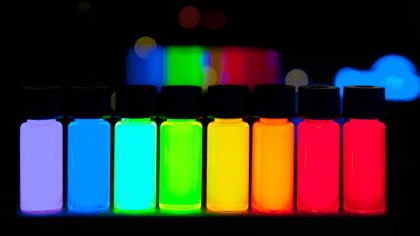 Quantum Dot
Quantum Dot is Samsung's big play in the LED TV space. With it, the brand claims that it's able to produce more colorful pictures than LG and Sony while offering even brighter panels. LG's Super UHD TVs all use a variation of Quantum Dot called Nano Cell, and Hisense makes a number of Quantum Dot TVs for the US and China.
Plasma TV
Plasma has almost entirely been phased out at this point, but PDP (plasma display panel) TVs use glass panels containing millions of tiny cells filled with a mixture of inert gases. Electricity excites the gases, causing them to illuminate the pixels across the screen. Plasma, while arguably superior to LCD in terms of contrast and colour accuracy, is only viable on large (42in+) screens and has been dropped by all but a handful of manufacturers. You'll be lucky to find one on the shelves these days.
Curved TV
Some manufacturers are now making TVs that have slightly curved screens. But unlike old CRT TVs, the curve is inwards rather than outwards. The idea is that this makes every pixel equidistant from your eyes, delivering a more satisfying picture. However, there are drawbacks for this type of screen - the main one being that if you sit far enough to one side – more than 40 degrees or so – the curve clearly starts to affect the image's geometry, foreshortening content near to you and compressing the image's centre.
What resolution tech should I go for?
HD
HD TVs come in two resolutions. Sets with the HD ready are required to be able to display a minimum 720p picture, and generally has a screen resolution of 1366 x 768 pixels. Meanwhile, Full HD TVs have a higher resolution of 1920 x 1080 pixels. It's highly advisable that you don't go for anything less than full HD in this day and age, and really you should be looking almost exclusively at 4K sets.
Ultra HD and 4K
The resolution of Ultra HD is exactly four times higher than full HD - 3840 x 2160. It means a far more detailed picture, with content requiring a lot more bandwidth and storage space. 4K TVs tend to be good at upscaling HD video to Ultra HD but there are currently a few options for watching native 4K content, but terrestrial broadcasters in the US have yet to adopt it as the new standard. Read more about 4K.
HDR
The next big thing in TVs, HDR produces astounding levels of visual fidelity and can be found in some of the latest Ultra HD TVs. HDR is a technology and a standard. Content needs to be mastered in HDR and you need an HDR TV to see it. What HDR offers however, is worth the extra steps to get it - you'll see increased contrast and more realistic colors, enhancing the image to a more cinematic level.
What else should I consider?
Buying a flatscreen television is a major investment and one that you can't afford to take lightly. Just popping into the closest store and grabbing the first plasma or LCD you see won't get you the best deal, the screen that suits your needs, or the gear you require to make the most of your new purchase.
Size matters
People tend to pick the size of their flat TV based on the amount of space they have for it, this isn't necessarily wise. Flat TVs take up much less space than you might think, so your new TV may end up a foot or two further away from your viewing position, making the picture appear smaller.
Also, with hi-def, you can have a bigger screen and the same viewing distance without worrying about seeing blemishes inherent to the source. A 4K TV's lack of noise means that the ideal distance to sit from the screen is three to four times the height of the TV.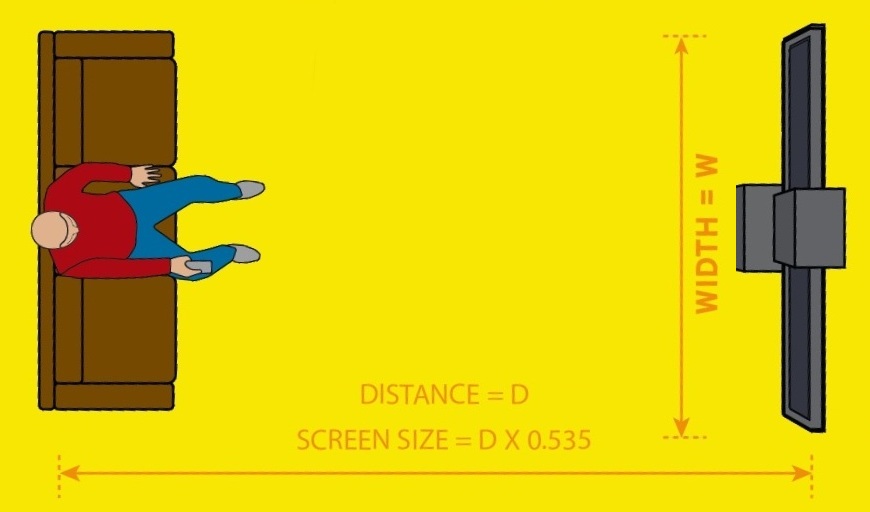 How to calculate the right size HD TV:
The trick here is to ensure that your TV is big enough to fill your line of vision, but small enough to be sharp and clear. Remember, if you intend to only watch standard-definition sources, the bigger the screen gets, the worse the image will look.
The ideal screen size can be calculated by multiplying the distance that you intend to sit away from it by 0.535 and then rounding this up to the nearest size.
So, if you sit 80in away from your TV, the ideal size is 42-inch (80 x 0.535= 42.8).
What features should I look out for?
Features are too numerous to go into here, but here are some things you should consider.
Photo viewing: If you have a digital camera, a TV that has a slot for memory cards or a USB socket for a card reader will let you view your photos onscreen.
Here are some of the things we look for when we review a screen, so you should, too...
Contrast: Bright whites shouldn't have any signs of green, pink or blue in them, while blacks should look solid and not washed out, grey, green or blue.
Colours: Look at how bright and solid they are; how noiseless their edges are; how 'dotty' richly saturated areas are and how natural skin looks, especially in dim scenes.
Fine detail: How much texture does the screen give? Does a tree look like a green lump, or can you see the individual leaves
Edges: Check for ghosting, bright halos and jaggedness, especially around curves.
Motion: Check moving objects and quick camera pans for smearing or blurring, trailing, jerkiness and fizzing dotty noise.
Image artefacts: Look for blockiness, colour bands, grain, smearing, dot crawl: anything that looks like it's added by the TV picture processing or a weak TV tuner. Tinker with a TV's picture settings before making a final decision. Factory settings are rarely good for everyday viewing.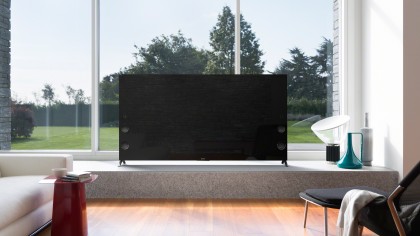 What about sound?
To provide the best audio to complement the pictures, your TV should be hooked up to a surround sound system, but this isn't always an option. So, here's what we listen for when testing a TV's speakers:
Bass: Deep, rounded rumbles that don't cause the set to rattle or speakers to distort, cramp or overwhelm the rest of the sound; but that expand when needed.
Vocals: Voices should sound open, rich and clear, not boxed in, nasal or thin.
Trebles: Treble effects should sound clean, rounded and smooth in loud scenes and shouldn't dominate the soundstage.
Soundstage width/depth: A good TV should throw the sound away from the TV, to the sides, forward and back, to give an extra dimension to what's on screen, without losing any coherence.
How many HDMI sockets do I need?
For a living room TV you should be looking for a minimum of 3 HDMI inputs. If you want to attach a set-top box as well as games consoles etc, those HDMI ports will fill up fast.
Do I want to hang my TV on the wall?
First off, you'll need to consult a construction expert to check that the wall in question is strong enough to support a flatscreen. Then find out if the set you want is designed to be wall-mounted and, if so, ask if the relevant bracket is included in the basic package or as an optional extra.
Will I be connecting it to a home cinema?
If the answer is no, you might want to think more carefully about your set's audio performance. Look for a screen that can go as loud as you'll need without distortion or cabinet rattle. Consider how dialogue sounds and how much low-end rumble the bass is capable of.
Conversely, it's pointless paying out more cash for exceptional built-in speakers if you already have a decent home cinema system.
Happy shopping!
from TechRadar - All the latest technology news https://ift.tt/2JwZpWU
via
IFTTT