Whether you're just starting your photography journey or you're a veteran in the field, you've surely heard of Canon and know a...
Whether you're just starting your photography journey or you're a veteran in the field, you've surely heard of Canon and know at least a few of the company's camera models. But Canon has several bodies to choose from across different budgets and camera types.
Deciding which Canon camera is best for you can be tricky, considering there are choices from pocket-friendly compacts to DSLRs and mirrorless systems. Then there's the choice between full frame or APS-C format. The camera maker caters to any kind of photographer and its catalog keeps expanding each year.
The wide range of Canon cameras also cater to different niches – every model is good for specific genre of photography, from sports and wildlife (those with fast frame rates) and for landscape (those with high resolution sensors).
Then there are the all-rounders, cameras that can handle most scenarios. No matter what kind of photographer you are, there's a Canon camera for you.
But fear not – we're here to cut through the confusion with our definitive list of the best cameras from Canon's huge range. We've put each Canon camera on the market thoroughly through its paces – from older models to brand-new flagships – to bring you our list of recommendations.
Traditionally, Canon was a huge player in the DSLR market. It still is, but of late it's also been concentrating on releasing superb mirrorless choices, too. The relatively recent introduction of the Canon EOS R5 and R6 show this off wonderfully – they're Canon's best-ever stills cameras. The Canon EOS R5, in particular, is stunning, offering fantastic power via its full-frame sensor – but you'll need to have the funds to back it up.
If your budget is a little more limited there's a good range of compact, DSLR and mirrorless options in our list to suit your needs. A particularly good example is the Canon EOS M50, which we recommend as a neat little travel and everyday camera. Despite the recent arrival of a very similar successor, it's currently available at some bargain prices.
So without further ado, here's our list of the best Canon cameras you can buy right now.
Best Canon cameras 2021 at a glance:
Canon EOS R5
Canon EOS R6
Canon EOS RP
Canon EOS 250D
Canon G7X Mark III
Canon EOS R
Canon EOS M6 Mark II
Canon EOS M50
Canon EOS 90D
Canon 1DX Mark III
Canon G5X Mark II
Canon 5D Mark IV

Best Canon cameras in 2021: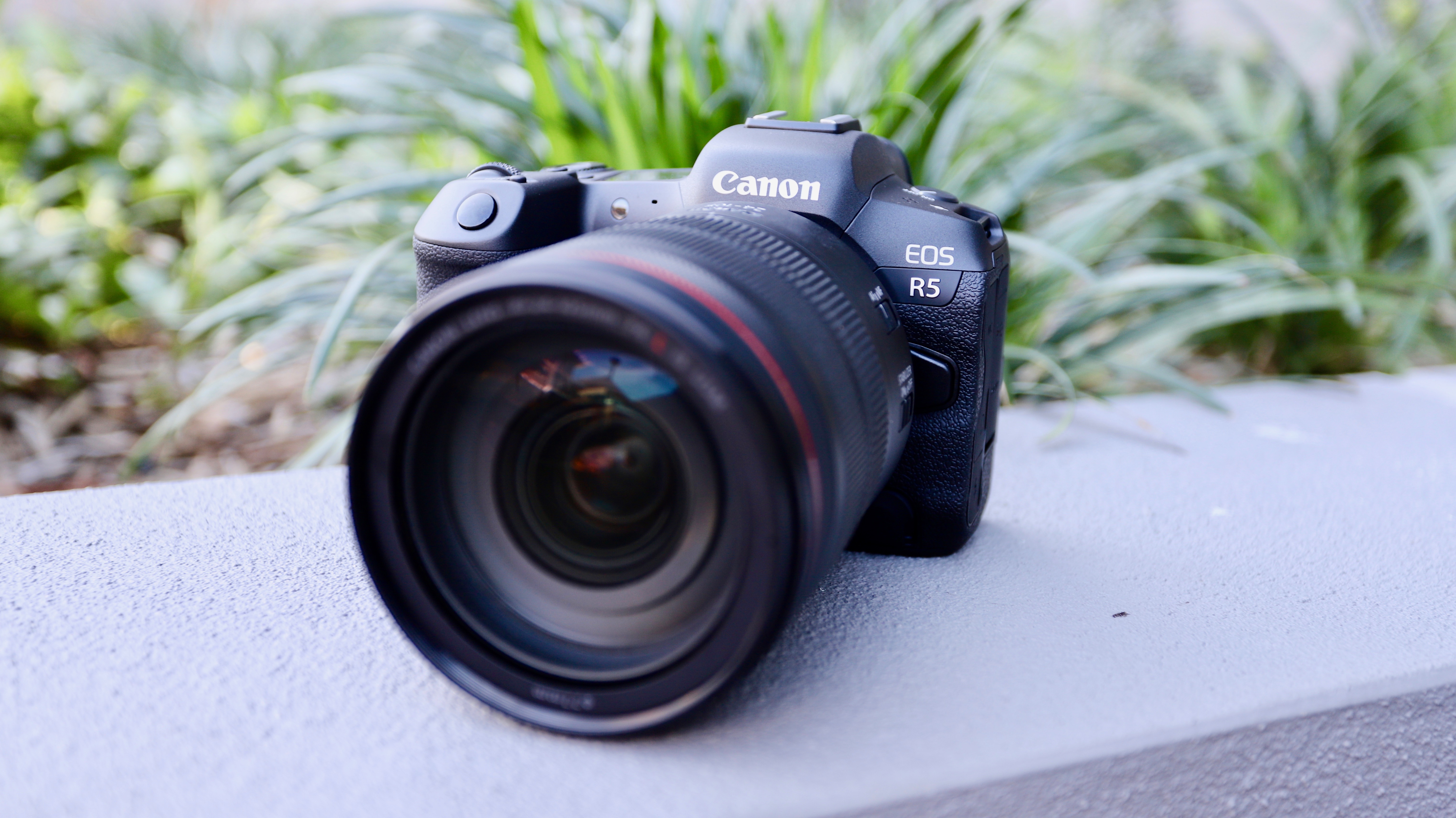 There's a heck of a lot to like about the Canon EOS R5, particularly if you're mainly a stills photographer. In fact, we'd go so far as to say that there's never been a better Canon camera for that purpose.
You get fantastic image quality, seriously impressive autofocus and a decent battery life. The body design is well thought out too, with a good touchscreen and a superb electronic viewfinder.
Although there's a headline-grabbing spec of 8K video, it's perhaps less clear whether videographers should look towards the R5. Its heat restrictions are likely to put off somebody who wants to film at high-volumes, but for those who whose needs are a little less intense it's a fantastic hybrid model that outperforms many of the others in its class.
Canon has clearly gone all to get our attention with this camera, and it's close to perfection. However, that comes at a cost - the EOS R5 right now has a high asking price, but if you're keen on the brand, then it may be worth paying.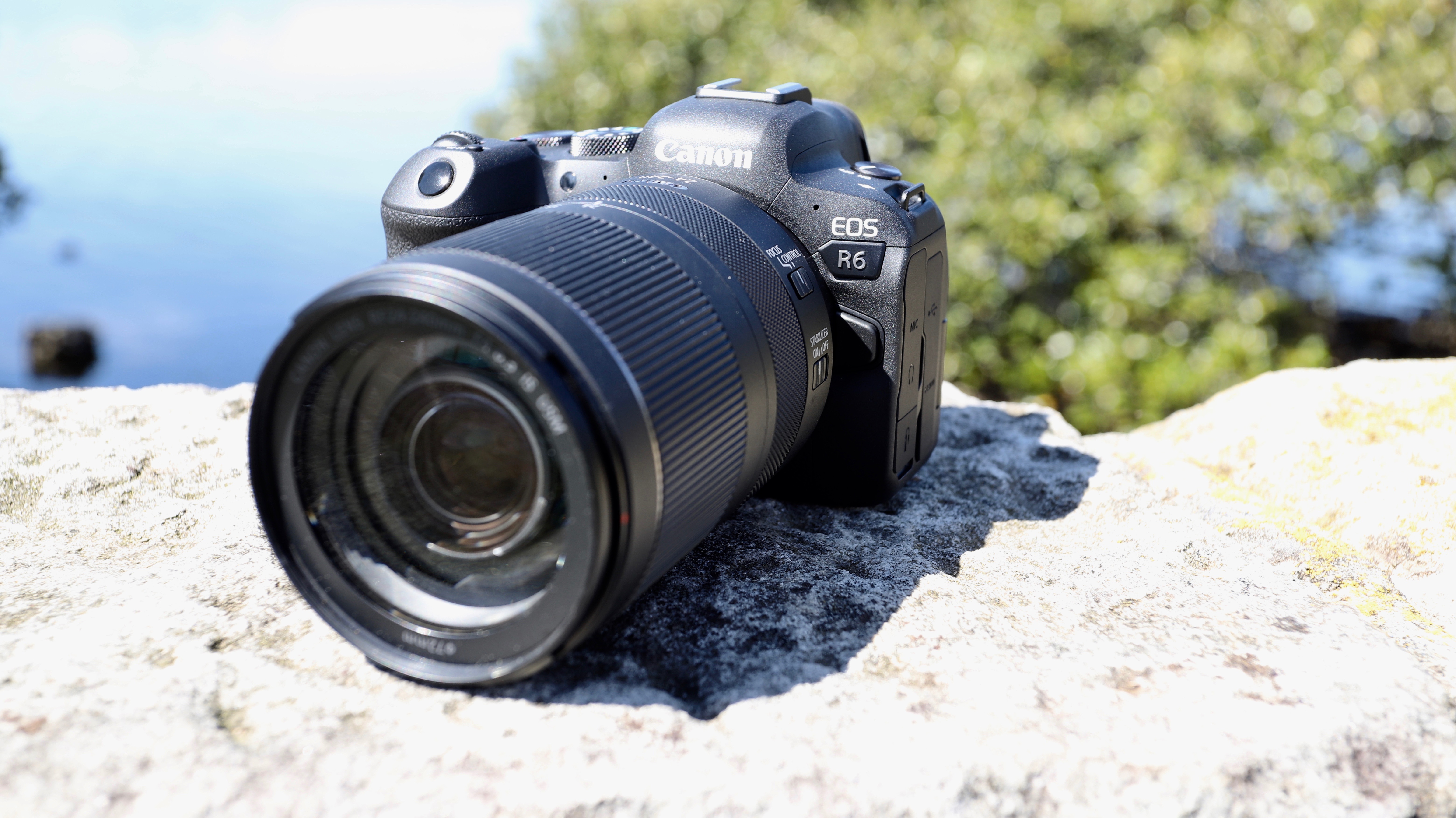 In theory, the Canon EOS R6 is a more affordable, pared-back version of the R5. In reality, it's one of the best all-rounders you can buy.
At 20.1MP, its full-frame sensor has a lower pixel count than the EOS 6D Mark II. At 4K/60p, its video resolution doesn't come to close to the 8K offered by the R5. And at 12fps, its mechanical burst speeds can't match the 16fps of the 1D X Mark III. Yet as a package, the EOS R6 is an absolute joy to shoot with. Dual Pixel autofocus is properly fast and accurate, while Canon's first attempt at in-body image stabilization is an unmitigated success.
You'll really have to squint to see those lacking pixels, while 20fps burst speeds with the electronic shutter are blisteringly quick. Dynamic range is slightly disappointing, with a lack of detail in bright sunlight, but color reproduction is excellent, noise-handling good and image quality otherwise impressive overall.
A worthy upgrade from the Canon EOS R, RP or almost any of Canon's DSLRs, the only major issue with the R6 is its cost: there are mirrorless cameras out there with higher resolution sensors and better 4K video performance for the same price or less.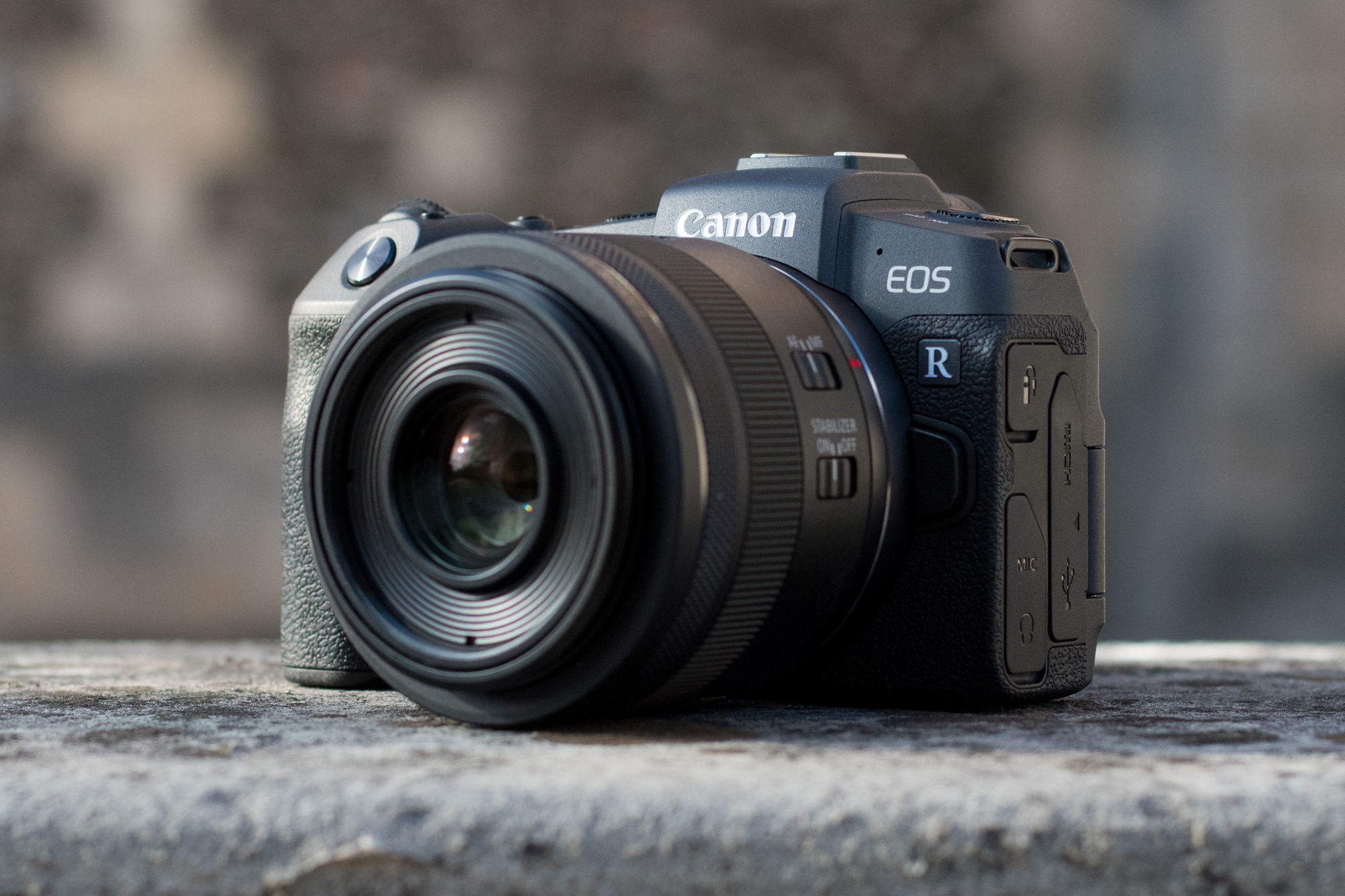 It arrived a little later than its more expensive full-frame mirrorless sibling but the EOS RP gets close to the top spot for being the Canon's best mirrorless camera by virtue of its affordability and its topnotch performance. It's compact and easy to use, so even beginners will be able to quickly find their way around the EOS RP. However, its small size does occasionally make the camera feel overbalanced when using larger lenses.
And while it does have 4K video recording, it comes with a 1.6x crop factor and you won't be able to use Canon's trusted Dual Pixel CMOS autofocus system unless you shoot in 1080p Full HD resolution. Besides that, though, the EOS RP has excellent AF performance, produces vibrant and sharp images, boasts a wonderfully responsive rear LCD touchscreen and can be used with existing EF lenses with a lens adaptor.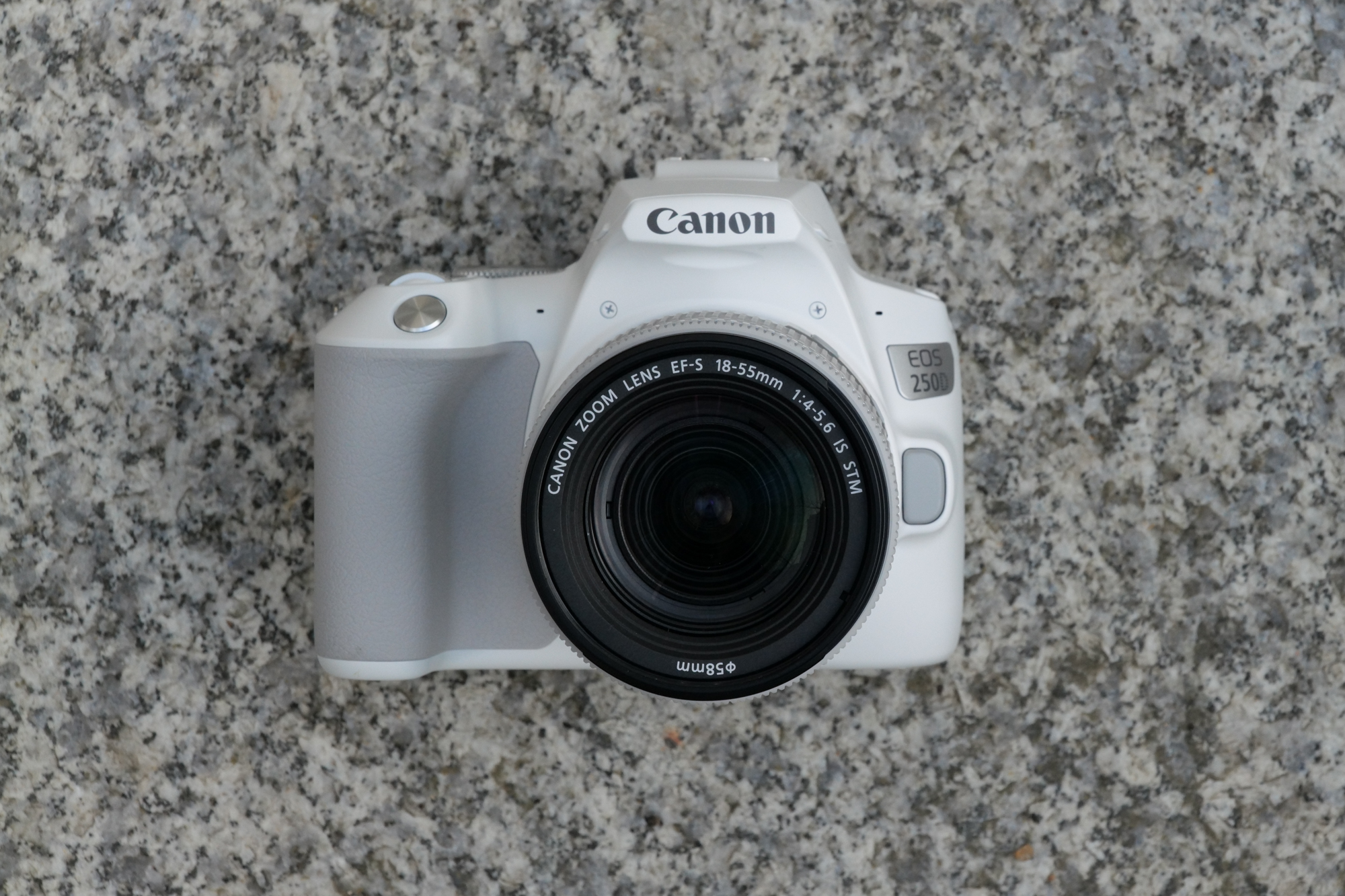 Canon's EOS 200D was an entry-level DSLR with enthusiast aspirations. Its successor builds on that approach, adding a few straightforward updates to create an even more competent beginners' camera which nails the basics. Battery life is excellent, the Dual Pixel CMOS AF system performs consistently well and image quality is good.
In the hand, the body is small, light and good to hold, while a responsive touchscreen makes the 250D a pleasure to use. Sure, its dated 9-point AF system isn't revolutionary and the upgrades are probably too slight to justify a switch from the 200D, but with a mount on top that plays nice with a vast number of lenses and accessories, the 250D is a capable all-rounder that has plenty to offer first-time buyers.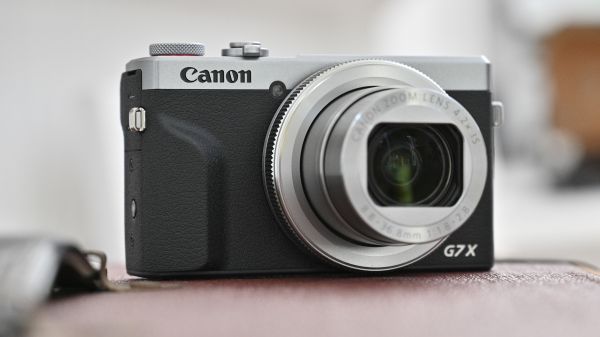 Long popular with vloggers, Canon's G7X range has kicked it up a notch with its latest implementation. There's still a very capable 20.1MP one-inch sensor, but now it's also equipped with uncropped 4K video recording, and, something which had been requested many times, a microphone socket.
That means you can elevate the sound above and beyond the internal mic's offering, if you want to. Furthermore, the G7X III can stream directly to YouTube, so you can live vlog whatever's happening around you, without having to downgrade to using your smartphone. USB charging is another great feature which means you can give it power bursts on the go, particularly prudent if you've been shooting a lot of 4K video.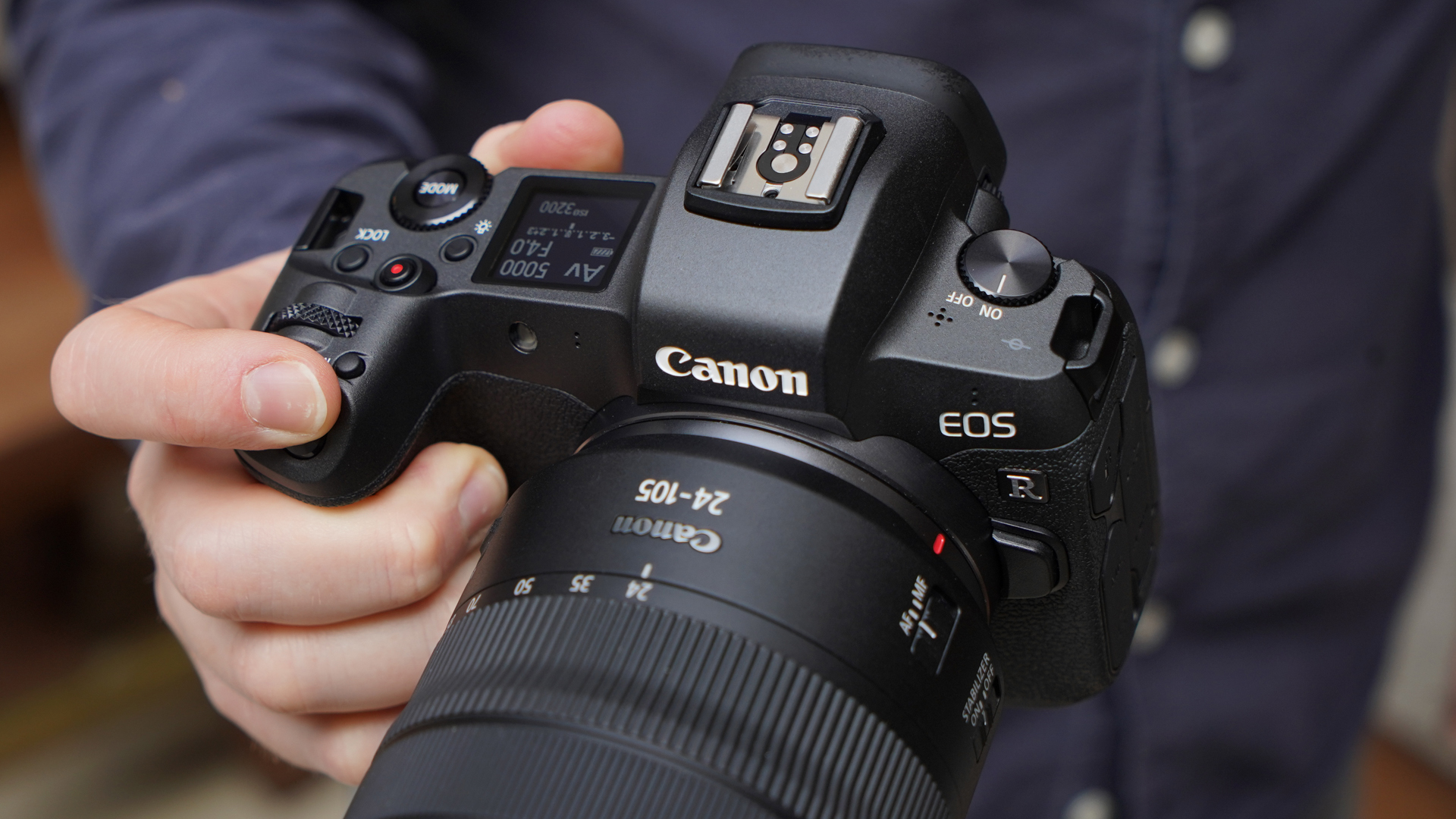 As we found in our review, Canon's first full-frame mirrorless camera is something of a hit-and-miss affair, but for some Canon users looking to step up to something more capable, it may just be ideal.
While the model retains much of what makes the EOS DSLR line special, Canon has thrown in a superb electronic viewfinder with a 3.69-million dot resolution. We're also very encouraged by the new lenses that have been released so far, although Canon has continued support for its exhaustive EF lens system through three separate adapters.
It would have been nice to see an AF lever, sensor-based image stabilisation and an additional card slot to make the model truly competitive, but the camera is at least blessed with excellent autofocus, good handling and very sound image quality. If you're a user of older EOS 5D or double-digit models and you're looking to step up the the very latest in Canon's full-frame tech, you should find adopting the EOS R to be a pain-free affair.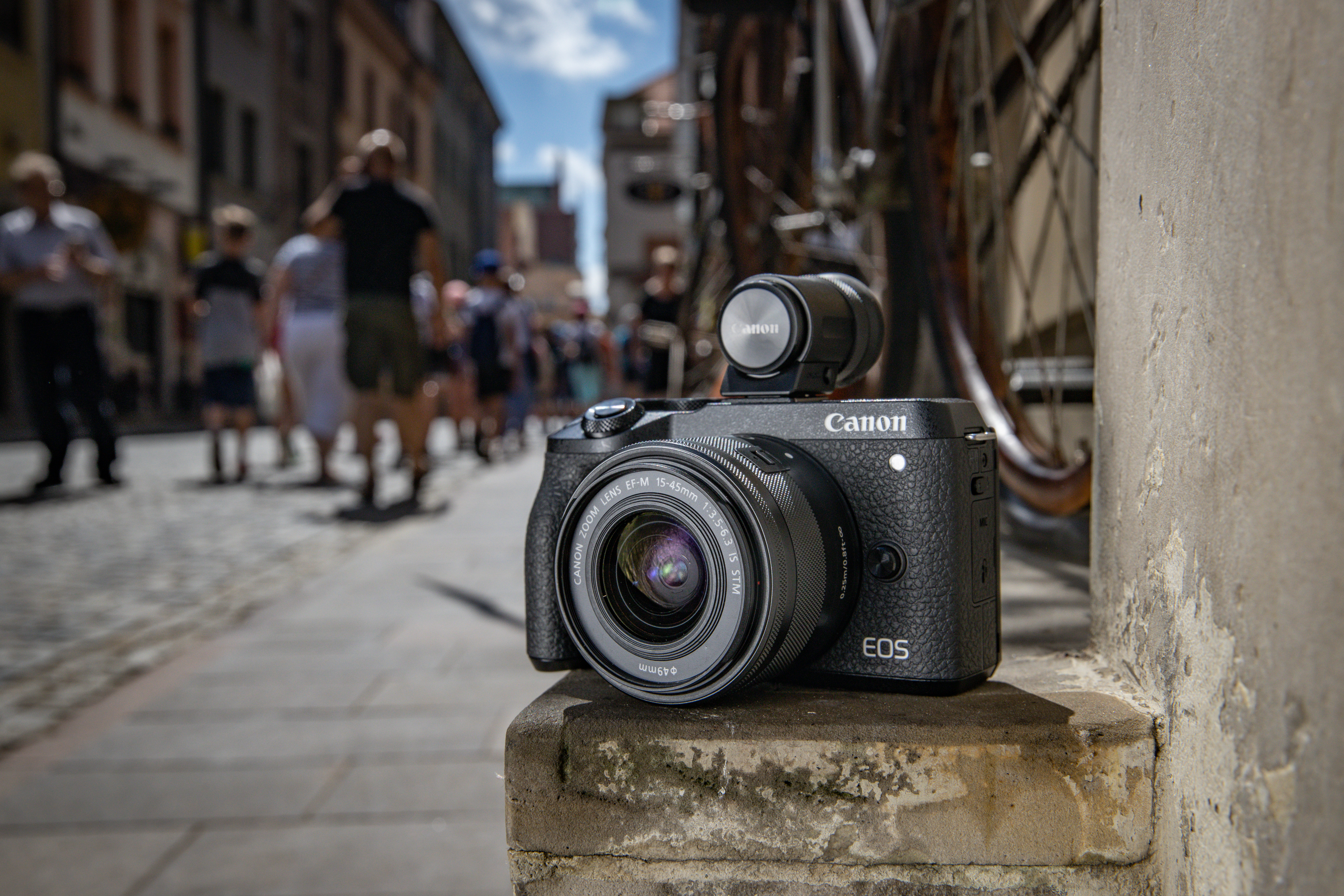 The Canon EOS M50 has, for a while now, been one of our favourite Canon mirrorless cameras for many reasons, but with the arrival of the EOS M6 Mark II, there's a new king in town. It's compact and a great choice for a travelling companion and, if the idea of no viewfinder puts you off, you can easily attach one.
That tiny body houses a 32.5MP APS-C sensor (the same one that's in the Canon EOS 90D listed below) and, working with a Digic 8 image processor, offers up to 14fps continuous shooting – great for sports, wildlife, street photography and so much more.
Unlike the EOS RP mentioned above, 4K video is uncropped, utilizing the entire width of the sensor, and there's also a microphone input socket and a screen that faces all the way forward – this one's for the vloggers.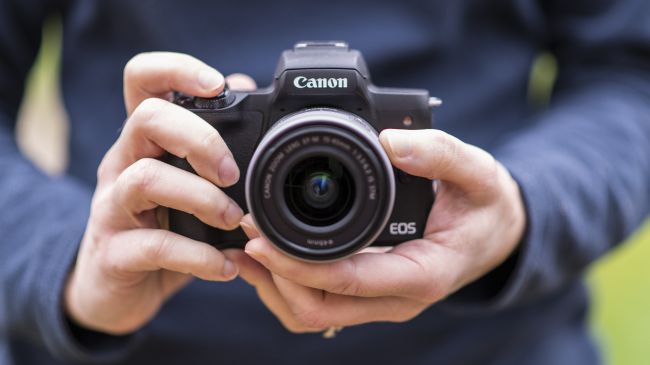 It may have been superseded in Canon's line-up by the EOS M6 Mark II, but the EOS M50 remains a great value mirrorless choice. A great option for beginners looking to take their first steps into manual shooting or vlogging, the M50 combines an excellent electronic viewfinder with a slick, vari-angle touchscreen that makes it make it very approachable for novices. Similarly, the Dual Pixel CMOS autofocus is brisk and the option to touch and drag on the display makes AF area selection a cinch.
Slight downsides are the limited battery life, plasticky finish and somewhat meagre native lens line-up, although it's possible to mount EF lenses with an adaptor. The EOS M50 was also Canon's first camera to benefit from the Digic 8 processor, which helps to deliver consistently great images. Throw 4K video into the mix – albeit with an outdated 1.6x crop – and you've got a small, stellar smartphone upgrade that's flawed, yes, but also flexible, fun and easy to use.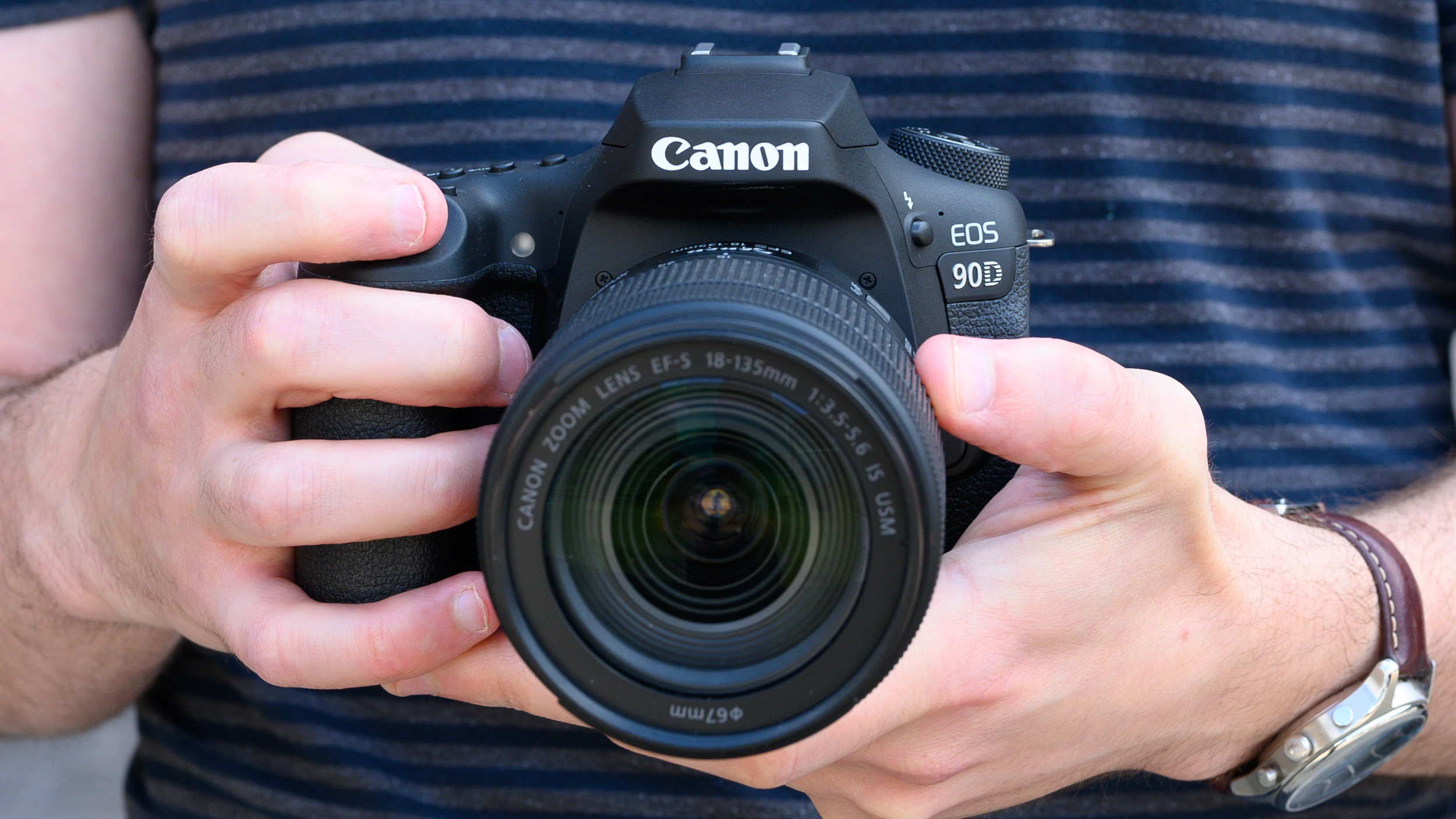 Just when most people assumed that DSLRs were going to die a slow death, Canon decided to prove otherwise. The EOS 90D is the first camera of its kind to boast a 32.5MP sensor and, alongside a Digic 8 processor, gives the snapper the ability to capture 4K video at up to 30fps which, thankfully is uncropped. While it's the same sensor and image engine pairing as the EOS M6 Mark II mentioned above, the EOS 90D doesn't quite have the speed of its mirrorless cousin, instead topping out 11fps when shooting continuously in live view mode.
There's a new metering sensor under the hood as well and its performance is excellent, exposing areas of light and shadow to near-perfection. However, we did find that due to the high pixel density on the crop sensor, noise performance isn't the best but for the most part that can be taken care of during post production.
The battery has a CIPA rating of 1,300 shots but our tests showed the camera is capable of well over that, which is way more than what you'd get from the average mirrorless camera. All in all, a wonderfully versatile snapper for anyone who prefers the DSLR experience.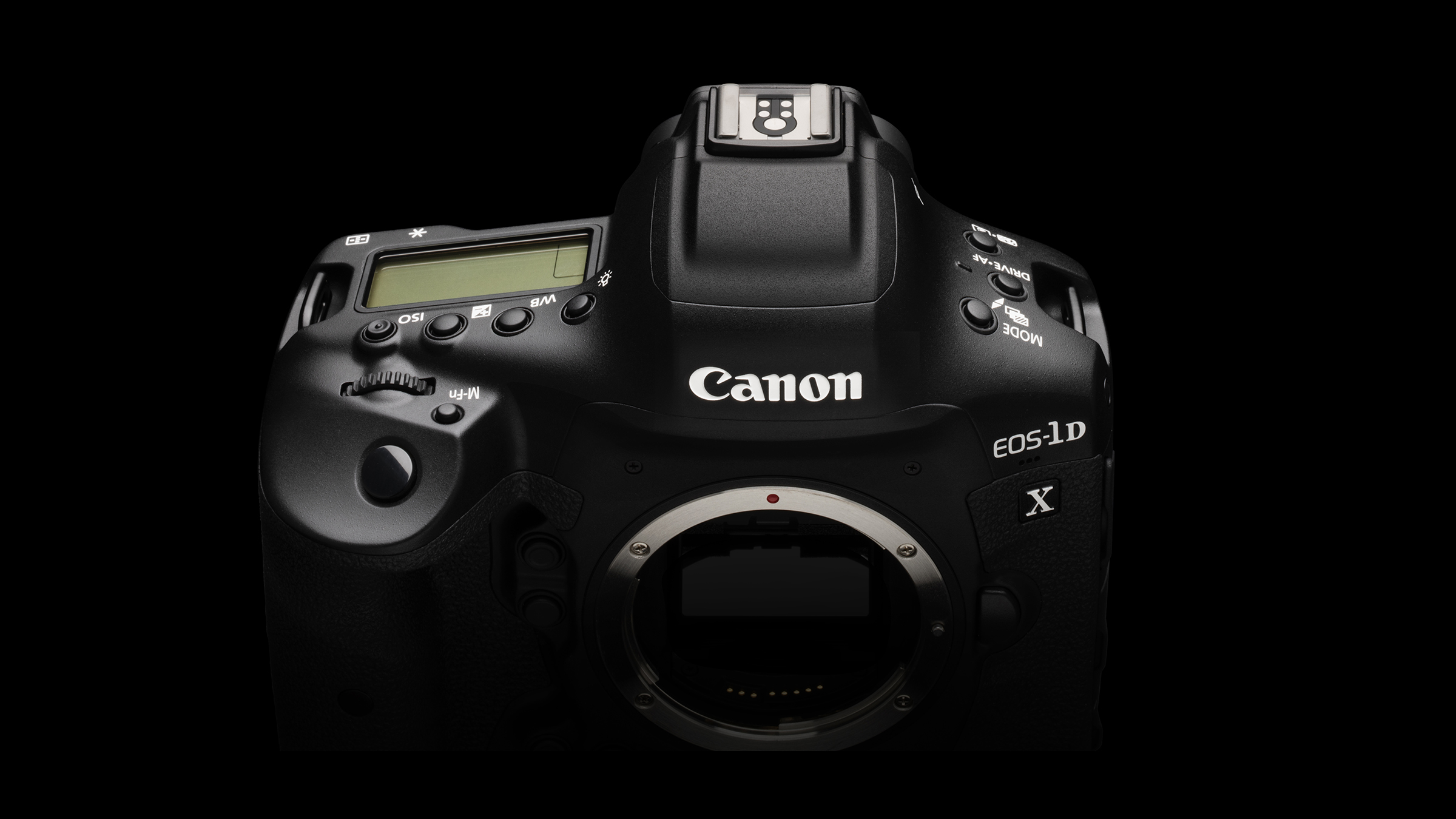 Think of a superlative and it probably describes the Canon 1DX Mark III. A flagship sports DSLR in every sense, Canon has packed its latest full-framer so full of features – and with so much performance – that it automatically deserves a spot on this list. The only reason it's so far down is because its power and price tag simply make it too much camera for most people.
Physically, the 1DX Mark III is the same size as its predecessor, but 90g lighter and as ergonomic as ever. Two new Smart Controllers also make it a cinch to operate, courtesy of optical sensors that let you navigate focus points with the lightest swipe of your thumb.
At its heart is a new Digic X processing chip, three times quicker than the one in the 1DX Mark II, which works alongside a completely redesigned sensor to deliver 4K video at 50fps, blistering continuous frame rates and an almost unlimited buffer.
Then there's the autofocus. Driven by deep learning for subject recognition and detection, it's supremely fast and infallibly accurate, rivaling the very best mirrorless models – whether you use the optical viewfinder or Live View. In summary, it's supremely capable and can comfortably outgun almost all the competition, mirrorless or DSLR.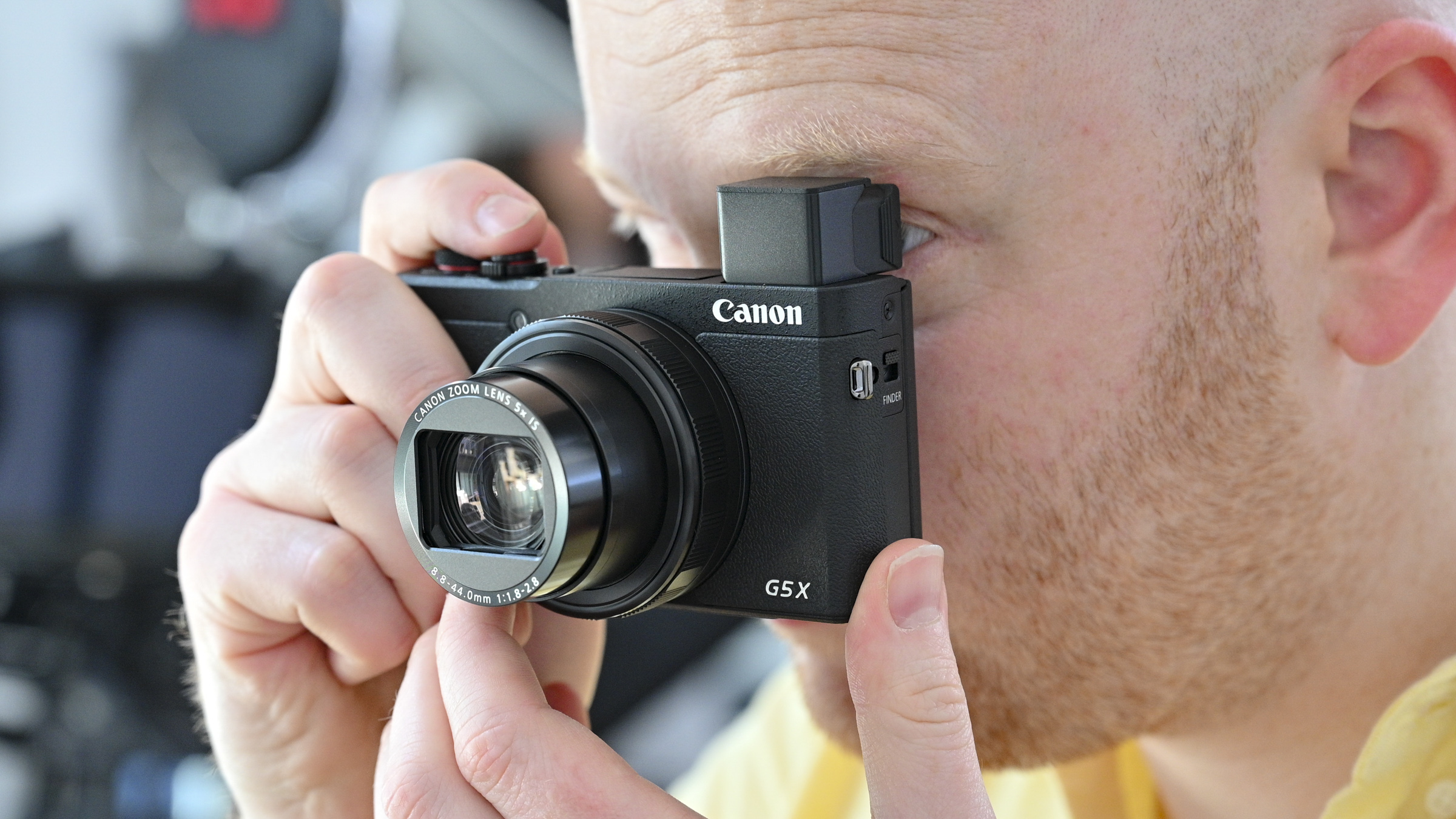 Canon has managed to pack a lot into this little pocket rocket, combining a stacked CMOS sensor with a Digic 8 imaging engine. This gives the PowerShot G5 X Mark II the ability to capture stills at a blitzing pace of 30fps when shooting RAW, or 20fps when shooting conventionally.
ISO performance has been improved over the previous iteration of this camera and 4K video capture added. For those who prefer a viewfinder to using the rear LCD screen, the pop-up EVF has a darn good resolution of 2.36 million dots. Despite packing in an EVF, Canon has even managed to add a flash to the camera. There's even an ND filter available on board if you happen to be shooting in brilliant sunlight.
Noise performance is pretty good for a camera with a 1-inch sensor, although the 4K video quality isn't something to write home about, particularly when compared to the likes of Sony's latest Cyber-shot RX100 range. Despite that, the G5 X Mark II is an excellent choice for a compact, provided you've got the spare change for it.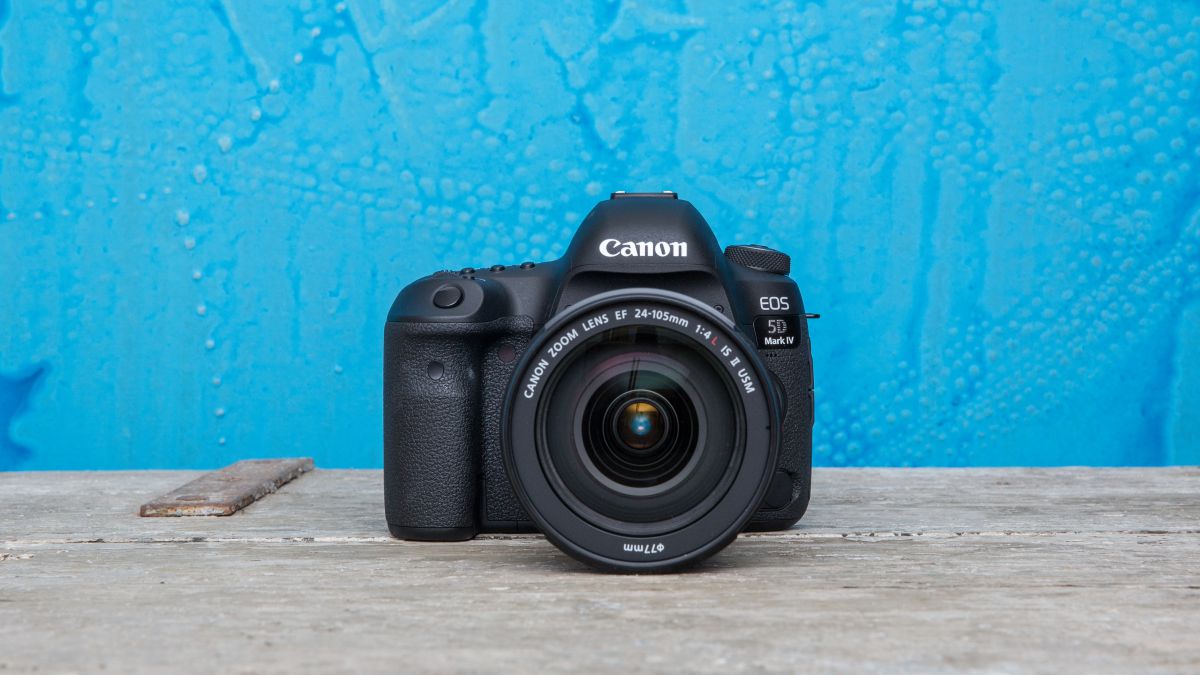 Canon's 5D range has - and continues to have - a number of fans. And for good reason, these high-specced DSLRs offer a huge number of features in a body which handles superbly.
Here we have an excellent 30.4MP sensor, which although lower in resolution than the likes of the Nikon D850 still gives you plenty of scope to create fantastic shots in a range of conditions.
There's also a well-performing 61-point AF system which copes well with low-light and is super-quick. 4K video recording is available - but this being a slightly older model, we're limited to 30p.
Although autofocusing is whip-smart, the 5D Mark IV can only manage 7fps, which puts it behind many newer models, but if you're shooting landscapes, portraits, still live - in short anything which doesn't move too quickly - you will be more than fine.
from TechRadar - All the latest technology news https://ift.tt/33P322c
via
IFTTT