Following its fire-breathing debut at CES 2023 , Nakamichi's new Dragon Dolby Atmos soundbar is now available for pre-order. The company is...
Following its fire-breathing debut at CES 2023, Nakamichi's new Dragon Dolby Atmos soundbar is now available for pre-order. The company is only making 500 units available at the outset, which is likely a good call given the Dragon's steep $3,500 / £2,800 / AU$5,300 pre-order price.
Nakamichi is pitching the Dragon not so much as a soundbar but rather as a plug-and-play home surround sound system. And while it shares many of the same features found in the best Dolby Atmos soundbars such as upfiring drivers and a central, horizontally arrayed enclosure for the main speakers, this 11.4.6-channel system easily trounces the capabilities of many separate component-based home theater audio systems on specs alone.
Digging into those specs, the Dragon's main soundbar unit features 14 speakers, four of them up-firing, in a 58-inch wide stainless steel casing. Total system power is specified at 3,000 watts and Nakamichi claims it can hit staggeringly loud 125 dB SPL peaks. There's onboard support for Dolby Atmos and DTS:X Pro processing and it also features aptX HD Bluetooth for music streaming and Dolby Vision and HDR10+ pass-through, along with VRR and ALLM, on its four HDMI 2.1 ports (one with eARC).
One feature that really makes the Dragon system stand out from the crowd is its "Omni-Motion Reference" rear speakers, which have both side- and rear-facing drivers to create a more immersive surround sound experience. These use a pair of 1.5-inch AMT tweeters – a design found in many high-end stereo speakers – along with 3.5-inch woofers and a 3-inch up-firing driver for Atmos height effects that can be rotated up to 180° to best accommodate the listening environment.
The Dragon system also features dual wireless subwoofers, both of which use two 8-inch drivers in a push-pull configuration that's said to equal the output of four separate subs
Nakamichi's release of the Dragon coincides with the audio brand's 75th anniversary. To celebrate, buyers who pre-order the limited edition soundbar system will get a version with a gold plate on the front of the main unit, an etched logo on the remote control, and a behind-the-scenes digital storybook.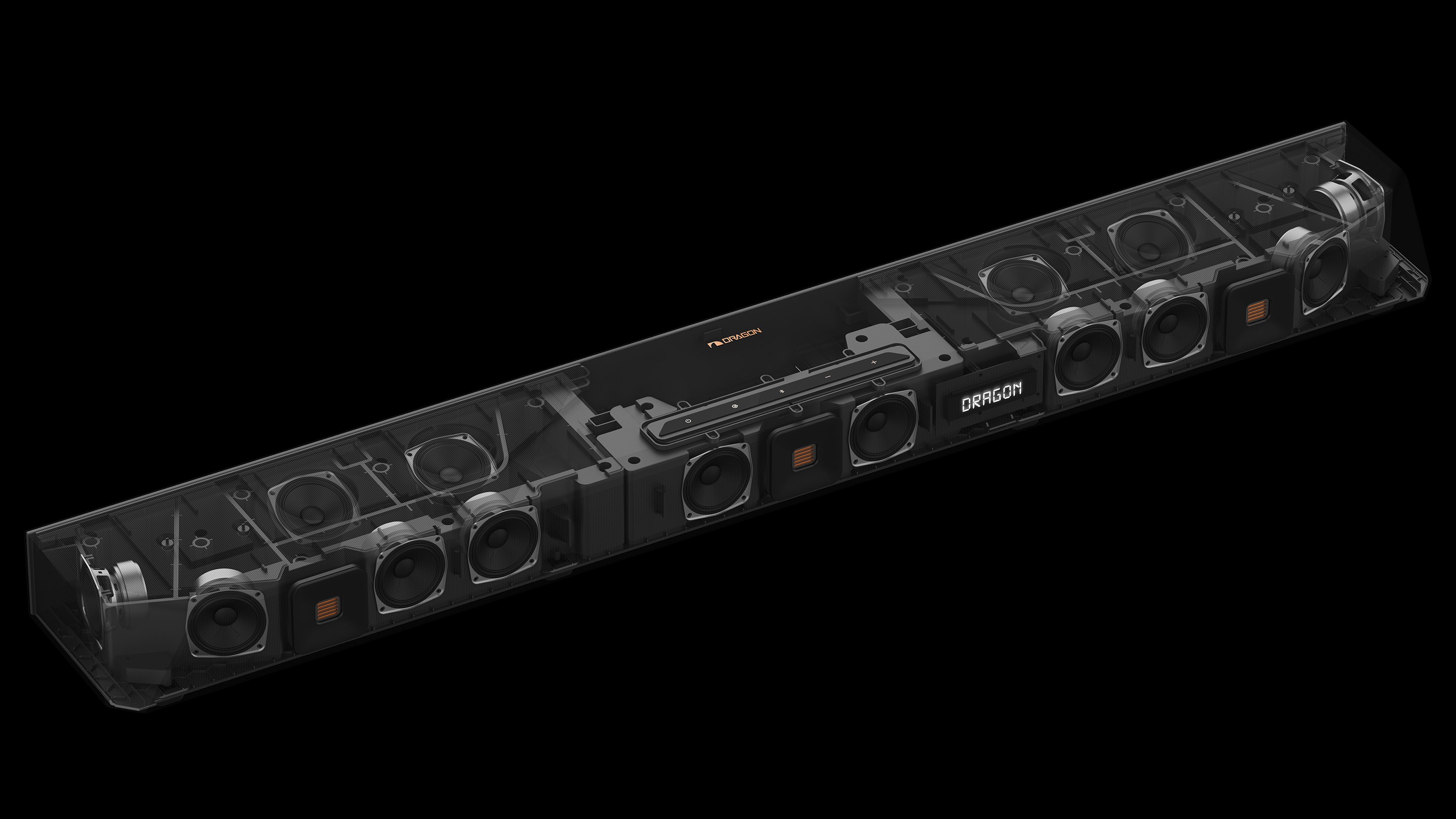 Opinion: Soundbars can be 'plug-and play surround sound systems'
Soundbars started out as a means to simply augment the audio performance of the best 4K TVs, many of which skimp on speakers out of necessity given their ultra-slim designs. But the soundbar category has since skyrocketed in popularity, with viewers opting for more sophisticated designs like the Sonos Arc and Bose Smart Soundbar 600 that can be paired with wireless subwoofers and surround speakers for a more immersive, home theater-style audio experience.
Just as important, the latest high-end soundbar designs come with up-firing speakers to deliver the height effects in Dolby Atmos soundtracks, something they do by bouncing the sound off your room's ceiling. With six total up-firing speakers, Nakamichi's Dragon system promises to not just provide a suggestion of height effects – something that more basic soundbars do – but deliver a full-bore Dolby Atmos audio experience that can rival what you get from a separate speaker system with one of the best A/V receivers.
Is the $3,500 limited edition Dragon system worth the money? I haven't heard it, and most likely never will since the company is not making Dragons available for review. But I recently tested the JBL 1300X soundbar, a $1,699 / £1,299 / (around AU$2,570) similarly high-end 16-channel system with front and rear-channel up-firing speakers and a powerful subwoofer with a 12-inch driver. The 1300X was the first soundbar that I felt could serve as a satisfactory replacement for my A/V receiver and speakers, and I expect the Dragon would perform equally well if not better.
If you've got a large room and money to spare, Nakamichi's new Dragon soundbar looks like the soundbar to beat for 2023. I've not heard of anything this ambitious in the works from any other speaker manufacturer, so the Dragon for now sits alone atop its pile of sonic gold. There are only 500 systems being made, so you'd better act quickly. But if you're looking for a more modest and affordable soundbar option, check out our guide to the best soundbars.
from TechRadar - All the latest technology news https://ift.tt/u85UK92
via
IFTTT