High-res audio . That has a nice ring to it, right? Yet most people are content to listen to regular-res audio on streaming services or via...
High-res audio. That has a nice ring to it, right? Yet most people are content to listen to regular-res audio on streaming services or via some physical format like CD or vinyl LPs. These folks are blissfully unaware that an opportunity exists to step things up to high-res.
Several of the best music streaming services offer high-resolution audio alongside their standard (uncompressed CD-quality) and compressed (reduced quality) streams. On some services, Tidal for instance, you'll need to pay a higher price to access a high-res tier, while others like Apple Music and Amazon Music Unlimited bundle it into their standard-price plan. Yet others – we're pointing our finger at you, Spotify – don't offer high-res audio at all!
Accessing high-res audio isn't exactly a walk in the park, but it's now become a bit easier. The new CS1 Endpoint Network Streamer from Canada-based NAD Electronics is a compact device that you can add to your stereo or home theater system to take advantage of the high-res audio offerings on music streaming services. Just plug it in, connect it to your receiver or integrated amp, link up to your home's Wi-Fi or wired Ethernet network, and you'll be ready to rock out.
The affordable (US$349 / £299 / CDN$499) CS1 supports dual-band Wi-Fi, Bluetooth, and AirPlay for streaming. But what really sounds neat about it is that you can use Tidal Connect and Spotify Connect to stream directly and control playback using the Tidal and Spotify apps. MQA support is onboard to enable playback of high-res Master quality music from Tidal, and the CS1 is a Roon endpoint. You'll also be able to use Chromecast to cue up music from compatible apps, and the CS1 will take it from there, streaming tracks in standard or high-res format to its 24-bit/192kHz-capable Texas Instruments' PCM5141 DAC.
As for connections, the CS1 sports analog RCA and both optical and coaxial digital outputs. The analog jacks allow for hookup to a wide range of gear old and new, while the digital outputs permit connection to the latest generation of powered speakers, or even a soundbar system.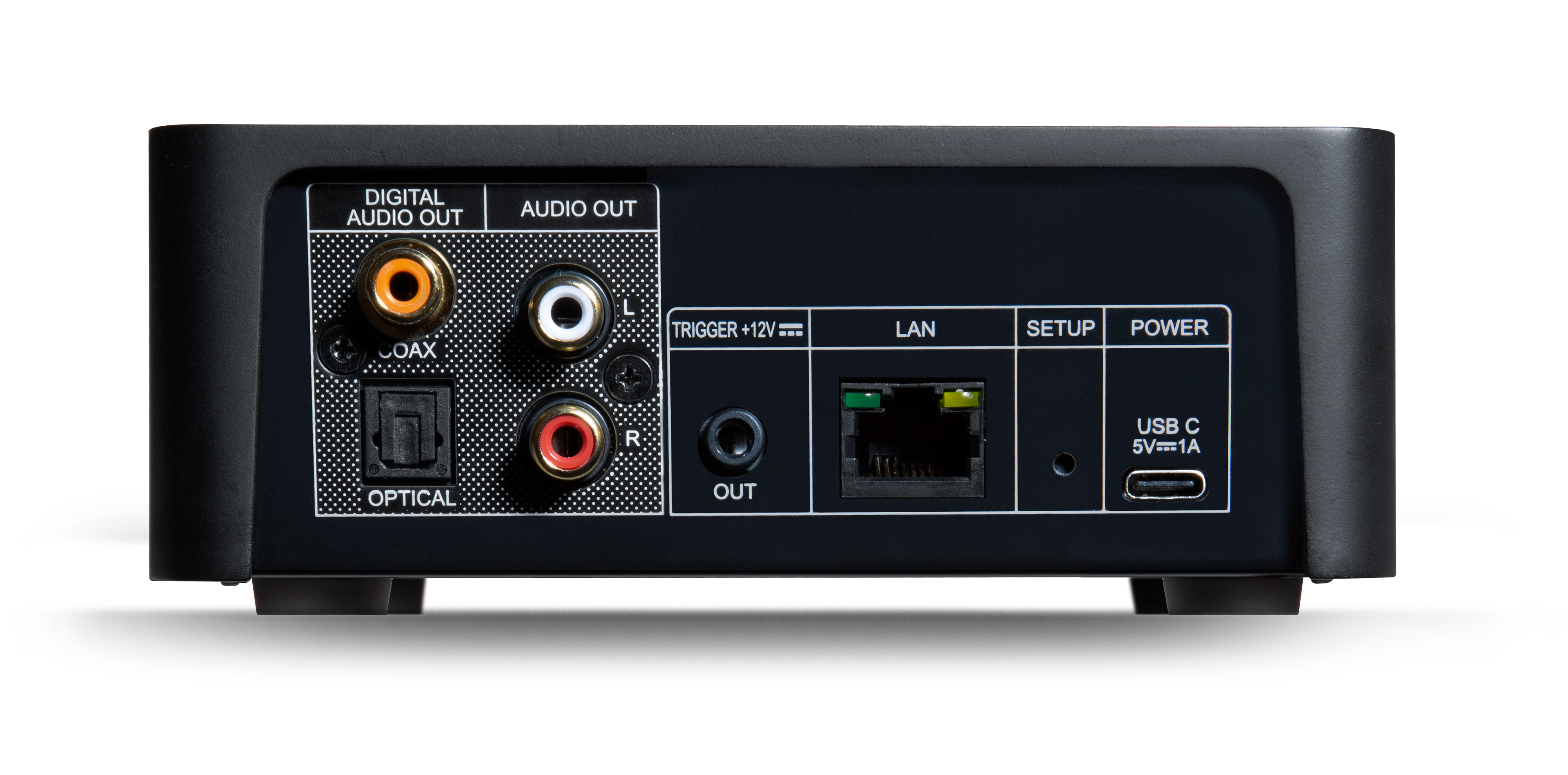 Analysis: High-res audio doesn't need to be expensive – or complicated
There are low-cost ways to get into high-res music, but many of those options are for listening with headphones. And while there's nothing wrong with pursuing audio bliss via the best headphones route, some people – me, for instance – prefer listening to music using a good, old-fashioned stereo speakers-plus-amplifier setup.
The high-end audio marketplace is filled with integrated amplifiers that are capable of streaming high-resolution audio over a Wi-Fi network from compatible services like Tidal or Qobuz. But many of those components are pricey, and they also require use of a custom, brand-specific app to facilitate streaming, with some apps doing that job much better than others.
Music fans wanting to add both streaming and high-res audio capability to an existing stereo setup that lacks those features might find their choices to be limited. One good option is the Node streaming DAC from NAD's sister company Bluesound. The Node offers all of the same features as the CS1, but adds on an analog input, an HDMI eARC output, and, most significantly, app-based control using the company's excellent BluOS control app. But even though the Bluesound Node is very much worth the money given all it does, at $599 / £549 / CDN$699 it still costs more than many people will want to spend.
For such folks, the lower-cost CS1 will come across as a more approachable option for adding streaming and high-res audio capability to an existing system. It's true that you won't get to use the BluOS control app used in the company's pricier streaming-capable products, but not everyone will need the high level of features that app provides (multiroom streaming to multiple components, for instance). With the CS1, you can just fire up Tidal on your phone, tap play, and you're off and running in high-res.
The NAD CS1 Endpoint Network Streamer will be available in March.
from TechRadar - All the latest technology news https://ift.tt/Kx4LEN6
via
IFTTT