Sony has announced a new portable Bluetooth speaker alongside its substantial new SRS-XV800 party speaker . The SRS-XB100 is a lightweight ...
Sony has announced a new portable Bluetooth speaker alongside its substantial new SRS-XV800 party speaker. The SRS-XB100 is a lightweight wireless model for music fans on the move, and it's designed to bring better-than-average loudness through Sony's use of a passive radiator.
Available in blue, orange, light gray, and black color options, the SRS-XB100 is priced at $59 (around £47 / AU$87), which puts it in the same price range as the Tribit Stormbox Micro 2, TechRadar's current top budget pick in our best Bluetooth speakers guide. Like the Tribit, Sony's portable is a lightweight option at 0.6 pounds, and it measures a mere 2.9(w) x 3.7(h) inches. Also like the Tribit, Sony includes a multiway strap, letting you lock the speaker to a backpack, bike handlebars, or whatever else is handy when you're out and about.
Along with that passive radiator, Sony's new portable packs a Sound Diffusion Processor that uses DSP to create a more expansive sound field, indoors or out, and it can be paired with a second SRS-XB100 for stereo playback. The speaker's built-in microphone lets you make hands-free calls, and it has an Echo canceling feature that improves call clarity when both parties are speaking at the same time.
Sony says you can expect 16 hours of battery life from the SRS-XB100 when the speaker is set to a modest volume level. That's enough to keep it playing all day long without a recharge – something you'll do using its USB-C port – and it's also a four-hour power advantage over the Tri-bit Stormbox Micro 2.
When out on an adventure, you'll want for your portable speaker to be weather-resistant, and the SRS-XB100 manages that with its IP67 rating. That basically means Sony's portable can withstand a dunking in a one meter depth of water for up to 30 minutes, and it's also dustproof.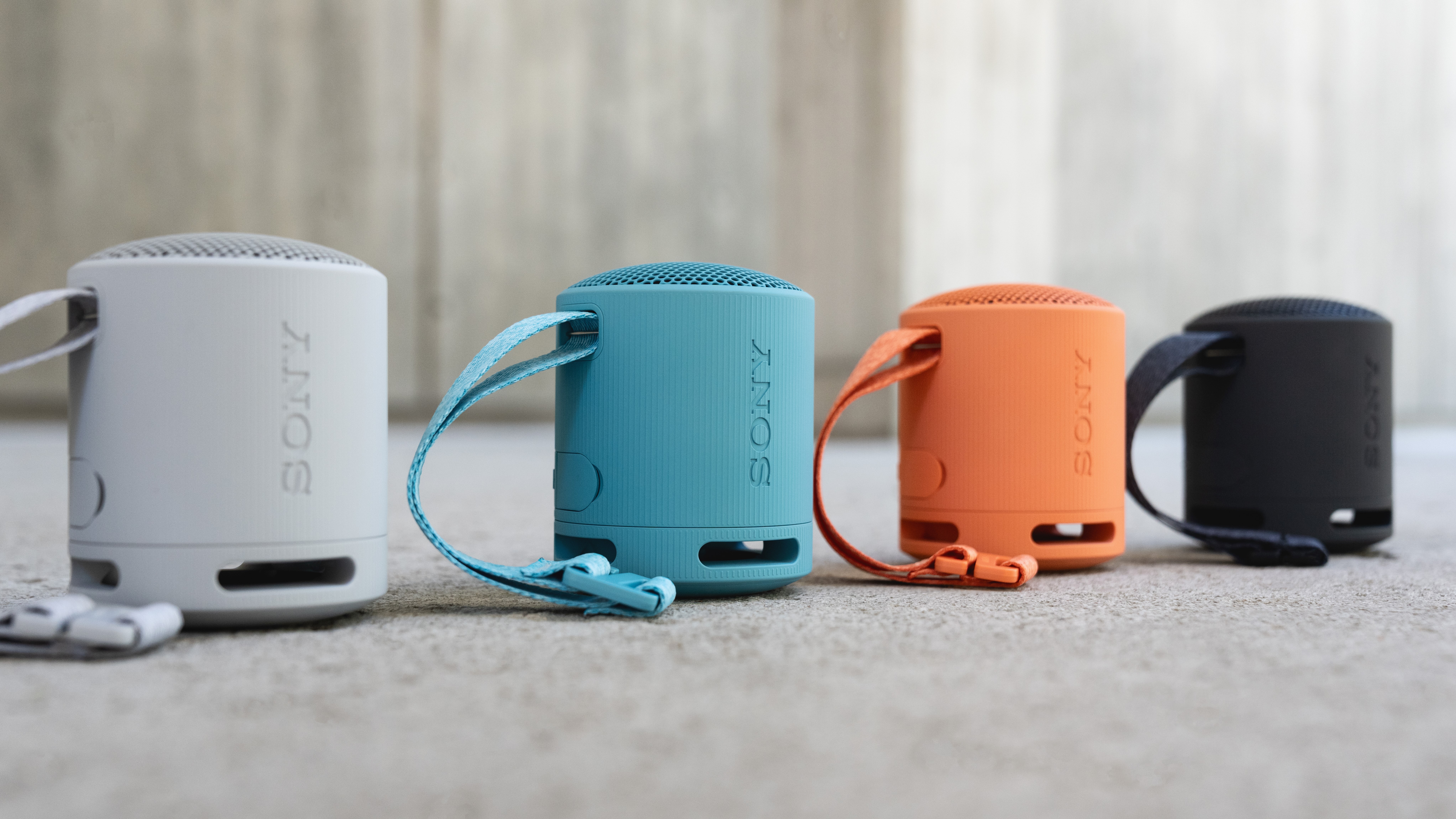 Opinion: Sony's affordable portable – the new Bluetooth speaker price champ?
Summer is approaching (here in the US, at least), and we're more than ready to get outdoors and soak up the sun. With its compact design and essentially weather-proof build, Sony's new SRS-XB100 portable speaker looks like the perfect companion for a day-long outing, and with a 16-hour battery life, we won't have to fret about it running out of juice.
As for sound quality, Sony is making strong claims for the SRS-XB100. Passive radiator or not, we don't expect this compact speaker to be able to touch the rich, full sound delivered by the also-portable Sonos Move, the top choice for premium sound in our Bluetooth speakers guide.
But the Sonos also connects via Wi-Fi and can be used as the outdoor option in an extended Sonos whole-home system, so it's not an apt comparison. A better one would be the Sonos Roam, a significantly smaller and more lightweight model that Sonos designed for more wide-ranging portability. But the Roam is priced at $179 / £179 / AU$299, making it a pricey Bluetooth speaker option for most people, and its 10-hour battery life is just average. If Sony's significantly cheaper SRS-XB100 can deliver even a slice of the Sonos' sound quality while offering a basically weatherproof build and day-long battery life, it will be a formidable competitor for that model, let alone the Tribit Stormbox Micro 2.
There's only one way to find out, and it will be to get our hands on an SRS-XB100. Sony's new speaker is available for pre-order today and can be purchased starting on May 22, so it may not be long before we have a verdict.
from TechRadar - All the latest technology news https://ift.tt/0yIPlTE
via
IFTTT