The maps app on your phone is a useful thing to have, but if you drive a lot you're probably well aware of its limitations.  A do-everythi...
The maps app on your phone is a useful thing to have, but if you drive a lot you're probably well aware of its limitations.
A do-everything map isn't as laser-focused as a dedicated driving app, and mobile maps can eat into your mobile data use and in some cases interrupt you with ads too.
That's why TomTom made the excellent TomTom Go Navigation app. Designed specifically for drivers, it's the best way to get where you're going.
Designed for drivers like you
Everything about TomTom Go Navigation is designed specifically for drivers like you. Trying to remember that brilliant place but can't recall its name?
Drive to Photo can scan an image from your photo library, and if it's geotagged (which happens automatically on most phones) it can take you right to it. Drive to Contacts does the same with the contacts stored on your phone.
TomTom Go Navigation offers the most up-to-date and accurate data of diversions, obstacles, congestion and accidents – as well as accurate data about speed and traffic camera locations so you can drive more safely.
Plus, the app knows exactly what's happening on the road ahead, automatically analysing your route and steering you away from slow-downs, jams and other irritations.
And if you spot a new speed or traffic camera that the app doesn't already know about, you can share its location with the rest of the TomTom family.
It can also go where other smartphone apps can't, offering accurate, up-to-date downloadable maps for over 150 different countries for offline navigation, and you can update your apps weekly so you've always got the right information.
No more looking for the correct lane
We've lost count of the times we've missed a lane exit because of our maps app's confusing interface or too-late lane guidance.
TomTom Go Navigation means an end to missed exits and last-minute lane changes thanks to its high-quality turn-by-turn guidance, which it's refined through more than 20 years of keeping people moving.
In addition to TomTom's crystal clear maps, there are also 3D map visualisations that show you landmarks to make navigating unfamiliar places even easier.
Get the low-down from locals
No matter where you're driving, TomTom Go Navigation can find you the best places to park, the best places to stay, the best sights to see, the best places to visit and the best places to fill up on fuel.
That's because it's packed with thousands of points of interest, rated by drivers just like you – and it's easy to save places as favourites so you can find them fast in the future.
TomTom Go Navigation doesn't stop being useful when you stop your vehicle. When you park, you can switch the app to a different mode of transport so it can help you when you walk or cycle too.
The ultimate driving app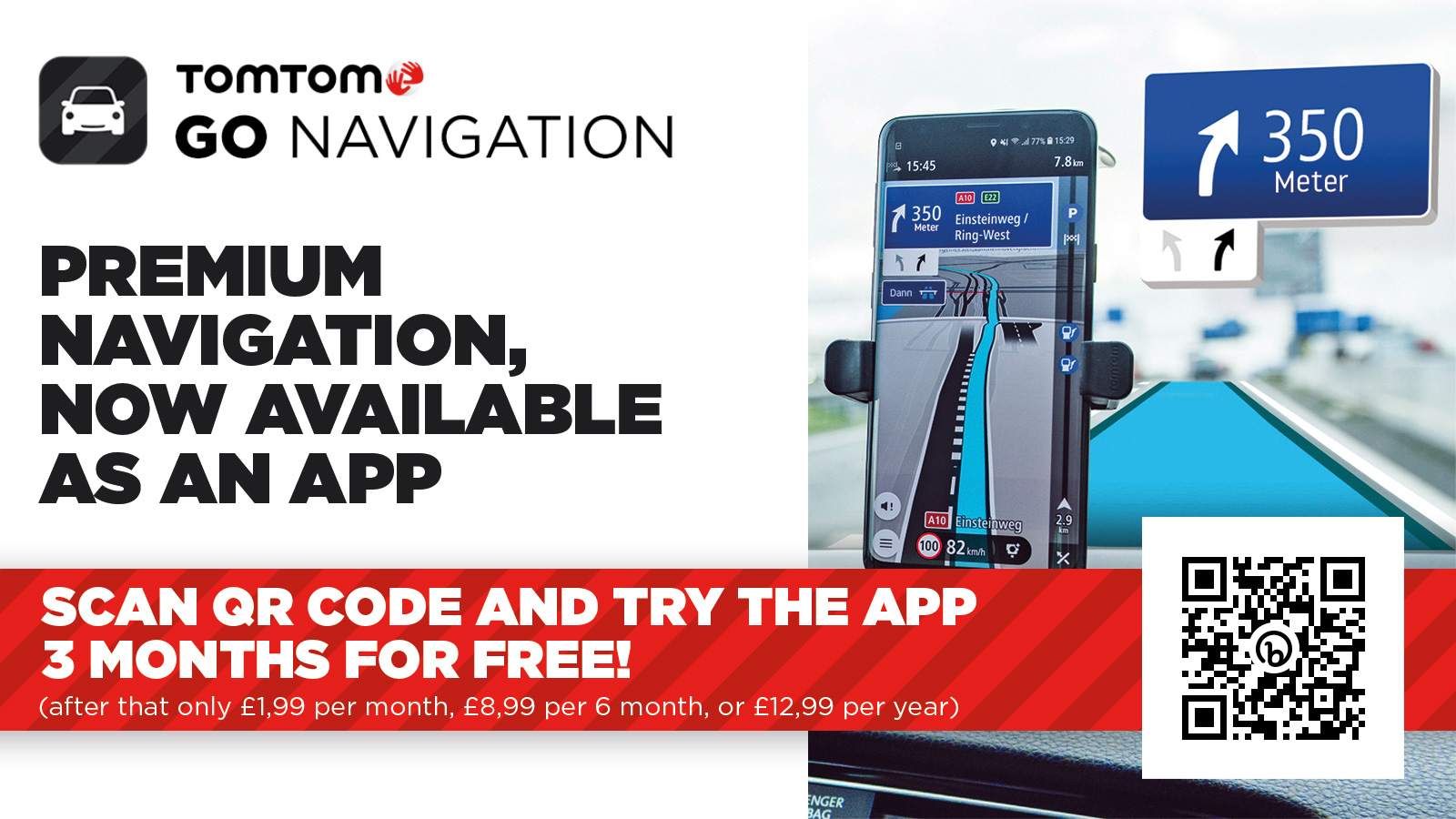 If your vehicle has Apple's CarPlay or Google's Android Auto, TomTom Go Navigation can move to the big screen: you can see your directions on your car's built-in display and hear spoken directions through your car's audio system, all without ads.
TomTom Go Navigation puts you, the driver, at the centre of everything: it delivers the ultimate driving experience, with accurate traffic information, safety camera alerts, easy to follow lane guidance and so much more – all directly from your phone, your CarPlay display or your Android Auto system. And because TomTom Go Navigation respects your privacy and doesn't interrupt you with ads, it goes beyond getting you from A to B.
TomTom is so sure you'll love the TomTom Go Navigation app that it's currently offering a great deal: three months of the app for free. Simply set up your user account right here on the TomTom site and you'll get an email confirming your successful purchase. You can then download the app and use the same login details to get three months of the best driving app around.
from TechRadar - All the latest technology news https://ift.tt/3nFMSlP
via
IFTTT