Monday update: You too can get a PS5 restock alerts and buy the console this week if you follow our PS5 restock Twitter tracker Matt Swide...
Monday update: You too can get a PS5 restock alerts and buy the console this week if you follow our PS5 restock Twitter tracker Matt Swider. Matt will send you real-time alerts when the Sony PS5 is in stock – if you follow his Twitter account and turn on notifications – and has helped more than 87,000 people secure a next-gen console at stores like GameStop, Best Buy, Target and Walmart. The exclusive news last week was that Best Buy would have an in-store restock, the first of 2021 of any major nationwide retailer in the United States, and now it's GameStop's turn on Thursday, September 30. It can happen at any time at other retailers, which is why it's best to turn on those Twitter tracker notifications.
Here's how to know when the next PS5 restock will happen:
PS5 restock news today, Monday, September 27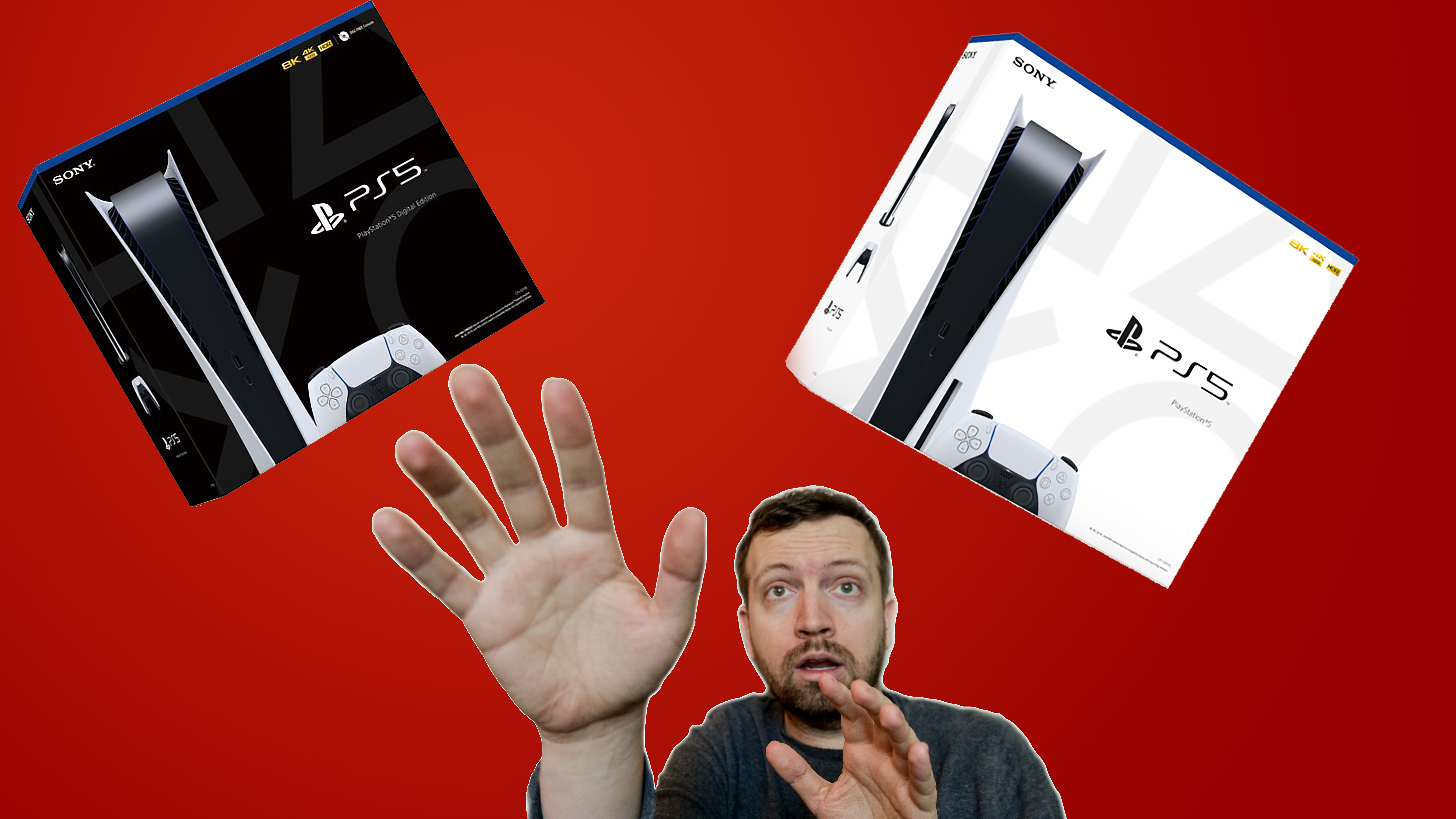 The big PS5 restock news this week revolved around GameStop having an in-store restock of the PlayStation 5 console. Given the ongoing global chip shortage, it's been tough to find the PS5 in stock, and Thursday may be your day at GameStop.
Walmart usually restocks on a Thursday, while Antonline, a little-known retailer with good customer service, has guaranteed weekly restocks of next-gen consoles (so it could be an Xbox Series X restock on some weeks). Target prefers Friday restocks.
Sony Direct sends out email invites (more on that below), while Costo and Sam's Club haven't had been good sources of PS5 stock in several months.
Why has it become even harder to find PS5 in stock? Some manufacturers retailers, we can confirm, are holding back consoles until closer to the holidays: think early November to meet ongoing demand. So you should find a console soon enough, if you keep up with the PS5 restock news and alerts.
GameStop restock in-store on Thursday
The GameStop PS5 restock is the next confirmed chance to buy PS5, as it'll have the console for sale in stores for the first time in 2021. This is your chance to buy the Sony console in the same way Microsoft gamers could buy the Xbox Series X earlier this summer.
When it pivots back to online restocks, GameStop remains your best chance to buy a PS5 in 2021 simply because it offers bundles and has a barrier to entry through its GameStop PowerUp Rewards Pro membership that costs $15. Some people dislike this approach, but it rewards real gamers and has nearly stopped resellers – it's hard for them to profit off of specific PS5 games on the open market when those games are readily available at MSRP.
Matt Swider usually gets confirmation of a GameStop PS5 restock date ahead of the official announcement and he shares that information on Twitter. We haven't gotten that information just yet, but we do know that the retailer is prepping bundles for a restock that's likely to be early next week.
Best Buy restocks may return online and in-store
Best Buy had an in-store restock on September 23, 2021, after it failed to have the console online for more than a month. It was odd because Best Buy stocked the PlayStation 5 almost weekly before that, so clearly it was changing up its strategy.
This doesn't mean the retailer will continue to have in-store restocks of the PS5. It may do what it does with the GPU restocks: alternating between online restocks through its website and in-store restocks on select Thursday mornings.
Best Buy restock time online: The date is harder to nail down outside of the fact that it's never in stock during the weekends or evenings. But the official restock time always falls between 9:37am EDT and 5:05am EDT, so destined for working hours in the US Eastern time zone. It's a big window, sure, but one we can easily track on Twitter.
Target PS5 restocks could be on a Friday
The last Target PS5 restock was Friday, September 10 at 7:37am EDT, and if you missed it, you're not alone. It was a small inventory drop, and only a few of our followers got it, as you're buying online, but selecting a local store when making the purchase for a later in-store pickup.
Target usually takes long breaks to build up inventory (although this month seemed like it didn't have enough consoles like it usually does), and we often see it in stock every three weeks. That could mean we see a Target PS5 restock this week or next week – three weeks from the last restock date.
Target PS5 restock time: While Target has shifted its PlayStation 5 restock day of the week previously, the time is consistent: in 2021, it's always been 7am EDT to 8am EDT, with one exception: last week was a little outside that window at 8:14am EDT. Don't pass up PS5 Disc, which is almost always in-stock first for PS5 Digital, which often goes in stock second, as PS5 Digital stock is extremely low.
Sony Direct PS5 restock surprises everyone
Update: The Sony Direct PS5 restock is finished, and while it was filled with glitches at first and not everyone could get into the waiting room, enough people got the console to call it a success during a dire month for the Sony system.
Sony Direct has had a PS5 restock twice a month for the last few months, and we're always tipped off by Matt's Twitter followers, a handful of whom receive the coveted Sony Direct email invite one day in advance of a 'virtual queue.' What's that? It's a lottery system that randomly selects people so that can more fairly buy the console.
There are often two virtual queues that exist, one for people who receive that Sony Direct email invite (it's randomized among PSN users and the queue starts at 3pm EDT, so check your inbox for the email invite), and one that sometimes opens up at 5pm EDT (though the last restock there was at 6pm EDT) for everyone else if there are planned leftovers (and it's of course much harder to be successful in the later PlayStation Direct virtual queue).
Antonline PS5 restock – one next-gen bundle a week
Antonline has been consistent with its PS5 restocks, promising – and mostly fulfilling – a next-gen console restock once per week. We say mostly because sometimes it has the Xbox Series S in there, which isn't as difficult to find in stock compared to the PS5. Anyway, because Antonline had a PS5 Digital bundle last week, there's no guarantee it'll pick a Sony console this time, but it's a next-gen console to be sure.
Keep in mind: Antonline PS5 bundles will look pricey at first, but they're at face value for all of the games and accessories included. While consoles still sell out in about three minutes (or less), the bundles slow down resellers, who can't easily profit off of the extras. So it's a benefit to real gamers who want to play the bundled games.
Walmart PS5 restock – often Thursdays
Will the PS5 restock at Walmart this upcoming week? We're always checking with our sources (we usually know a little bit in advance), but we know two things: it favors Thursdays (every Walmart PS5 restock has been on a Thursday except for one in 2021), and we know for a fact that its severely back-ordered PlayStation 5 shipments are making their way to US consumers sooner than the slated October dates (yes, not everyone has seen their 'order processing' status hasten, but a lot of people have).
Walmart takes a long time to ship, and if it continues to offer the console with dates in October like it did in August (a two-month gap), by the time October rolls around, it's going to have to be promising consoles in 2022, and no one wants to see that on Black Friday. It needed to slow down the pace a bit. That's why we giving Walmart a 50/50 shot every Thursday, and we know it's usually at specific times: 12pm EDT, 3pm EDT or 9pm EDT.
from TechRadar - All the latest technology news https://ift.tt/3hcuxsQ
via
IFTTT