Horizon Forbidden West is the long-awaited sequel to the critically-acclaimed Horizon Zero Dawn that made its debut during Sony's PS5 ...
Horizon Forbidden West is the long-awaited sequel to the critically-acclaimed Horizon Zero Dawn that made its debut during Sony's PS5 games event in June and recently scored a gameplay trailer during Sony's latest State of Play event.
Coming to PS5, and perhaps somewhat surprisingly, PS4, Horizon Forbidden West continues Aloy's story, and takes her to America's wild frontier. We didn't see much more of the game during Sony's PS5 event live stream in September, sadly, but the game's most recent gameplay trailer (embedded below) shows us what to expect.
Namely, it's a whole new open world to explore replete with new machines, gadgets for traversal and weapons to take down the new raider faction. In the latest 14-minute trailer for the game shown during the May 2021 State of Play, we get a chance to see Aloy in action using the new grappling hook, breathing mask and glider to easily navigate the ruins and rubble of the coastal environments, as well as two new weapons to take down a mammoth-like Tremortusk.
The visuals look stunning, but it is – admittedly – still a work in process with framerates looking like they drop below 30 fps at points.
Want all the juicy details? Here's what we know about Horizon Forbidden West so far, including its release date, trailer and more.
Horizon Forbidden West: what you need to know
What is it? The sequel to the critically-acclaimed Horizon Zero Dawn
When will it release? Late 2021/2022
What platforms will it be available on? PS5 / PS4
Horizon Forbidden West release date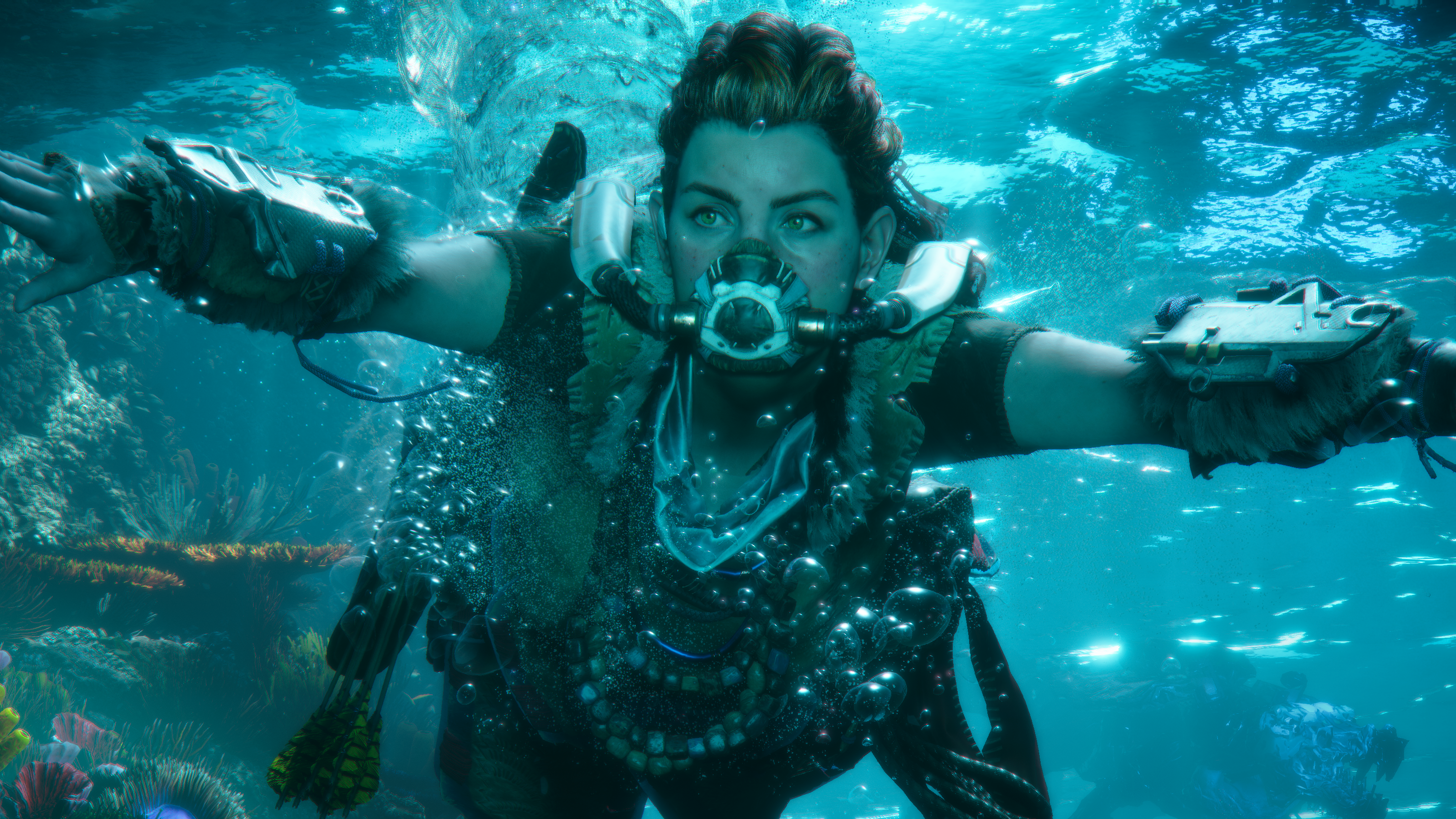 While the Horizon Forbidden West release date was notably absent from the gameplay reveal, developer Guerrilla Games released a dev diary video last year confirming that the Horizon Zero Dawn sequel will release exclusively for PS5 in 2021. We now know it will also come to PS4, too – meaning you won't have to upgrade to new hardware to play the game.
Despite confirming in a PS5 trailer at CES 2021 that the game is still set for a 2021 release, some rumors suggest the game could be delayed until 2022.
Developer Guerrilla Games took to Twitter shortly after the May 2021 State of Play to address the absence of a confirmed release date for Horizon Forbidden West. While offering nothing concrete, Guerrilla reassured fans that "development is on track" and will have more updates "very soon."
Thanks for watching our #HorizonForbiddenWest gameplay reveal! We don't have an exact release date just yet, but development is on track and we will have an update for you very soon - thank you as always for your ongoing support!May 27, 2021
However, Sony hasn't officially announced any sort of delay and, back in February, PlayStation boss Jim Ryan told GQ he felt "pretty good" that Horizon Forbidden West will still arrive in 2021. Fairly recent social media advertisements have also stated that Horizon Forbidden West will arrive in "late 2021" or "second half of 2021", meaning it's likely we won't see the game until the tail end of this year.
Horizon Forbidden West trailers
Sony and Guerrilla Games revealed the first Horizon Forbidden West trailer at the PS5 games reveal event on June 11, 2020. The trailer below provides a three-minute glimpse at the kinds of varied landscapes you'll explore in the second game, and which machines you can expect to fight (mammoths and alligators, by the looks of it).
We also get the sense that Horizon Forbidden West will be heavy on underwater gameplay, based on how much of a big deal the trailer makes of Aloy using her scuba gear at the 1:40 mark above, and the shots of underwater ruined cities.
The Horizon sequel looks amazing, though, it's hard to tell just how much of what's shown is actual gameplay and not pre-rendered.
Of course, there's also the State of Play trailer that's worth watching, too:
Horizon Forbidden West setting, story and gameplay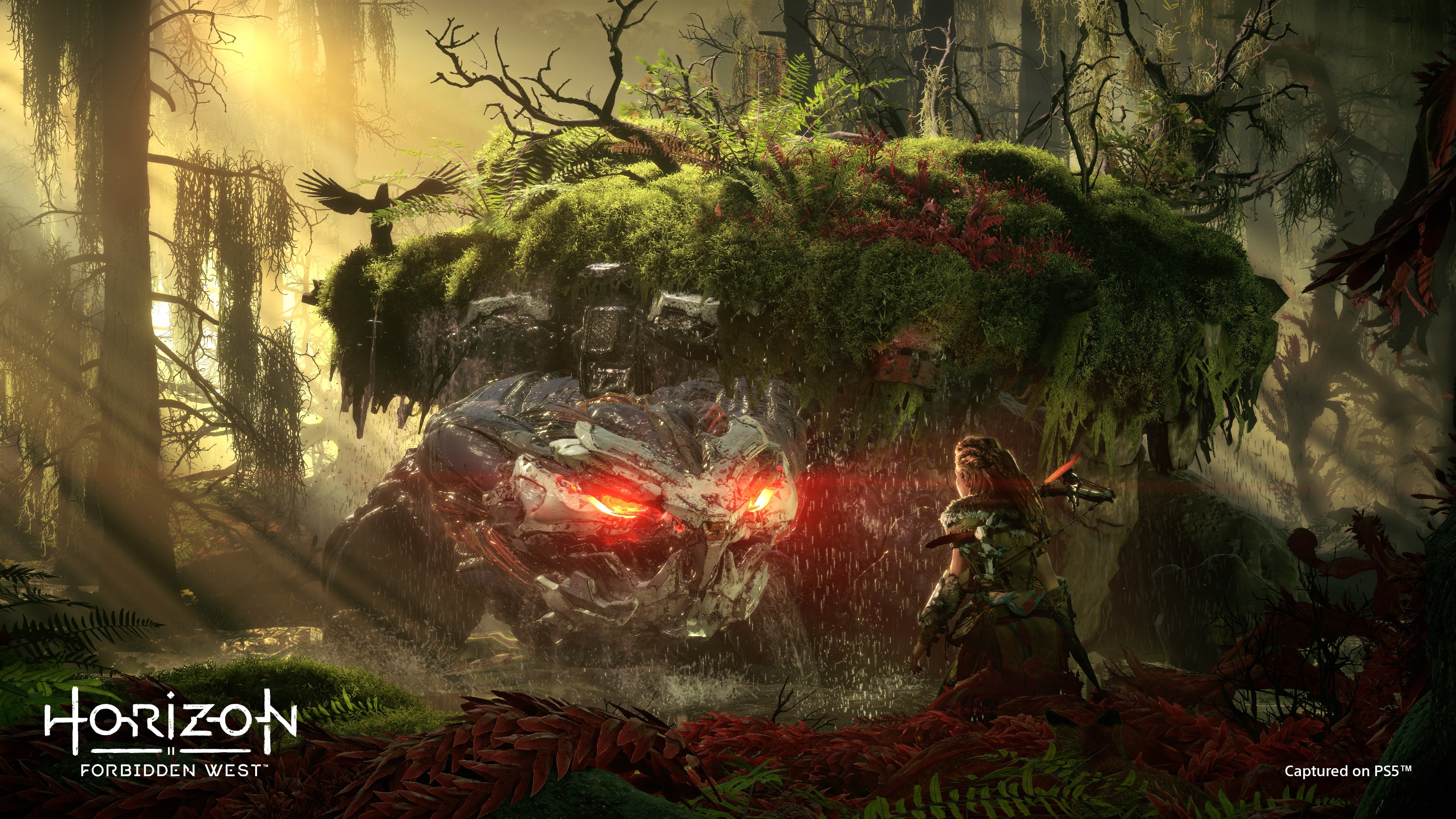 We know that Horizon Forbidden West sees Aloy traveling to post-apocalyptic California and will feature locations such as San Francisco and Yosemite. Based on the trailer it seems like Aloy's journey could take her all over the Western Seaboard, down the coast to Mexico, and potentially back out east to the Caribbean Sea.
Along the way we'll see a bunch of new enemies, including the velociraptor-esque Clawstriders and some new aquatic machines that look pretty intimidating. To make matters worse, raiders have learned to control some of the machines, making Aloy's life out west that much harder.
We'll learn more about the game's plot as we move closer to launch, but the key point is that there's blight that could destroy all of the life on the planet – and it's up to Aloy and her crew to stop it before it does.
Horizon Forbidden West news and rumors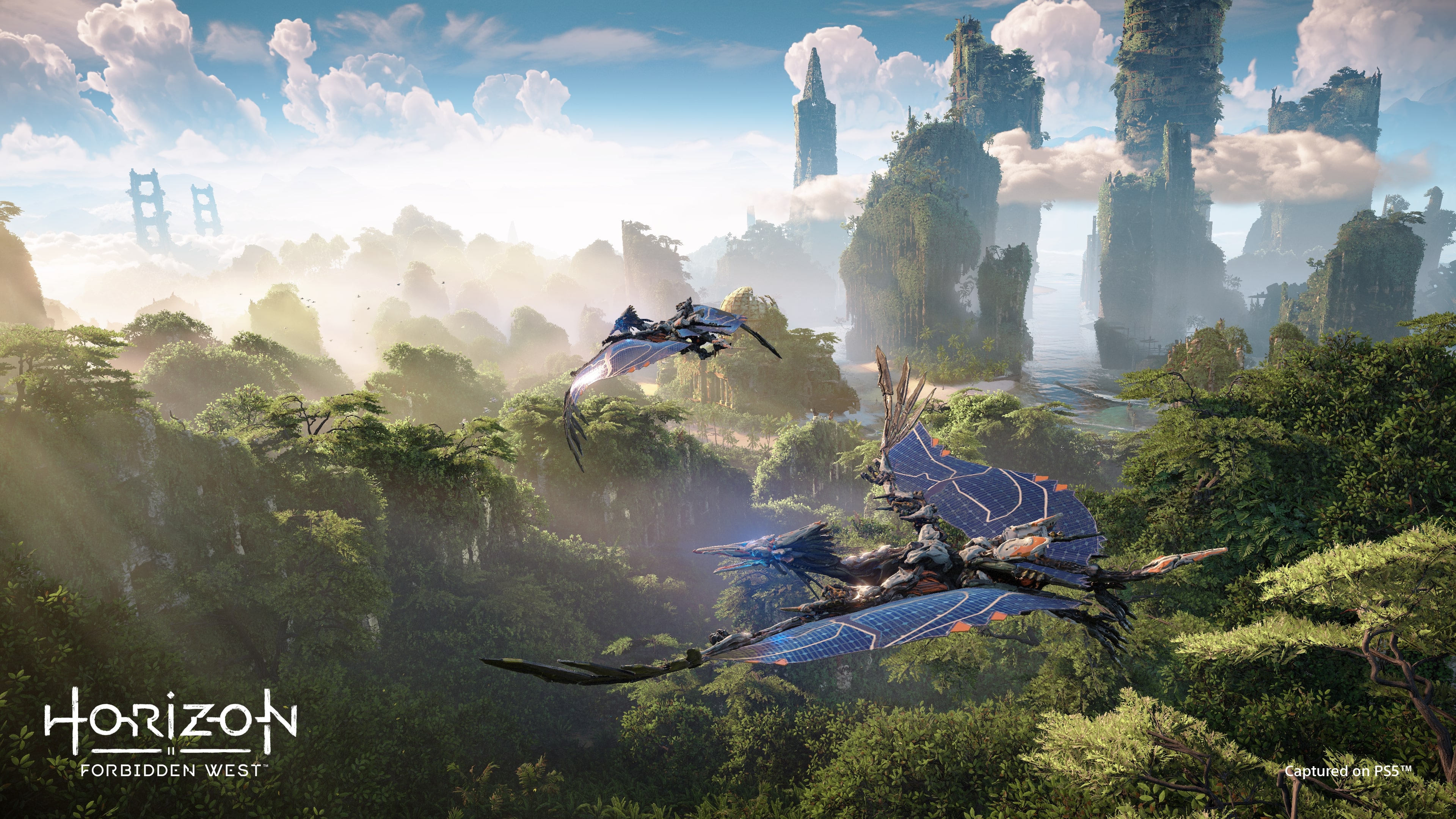 We've compiled all the latest Horizon Fordbiden West news and rumors below for your perusal:
60fps mode and other advantages on PS5
In an interview with French YouTube content creator Julien Chièze, Guerrilla Games confirmed that the PS5 version of Horizon Forbidden West will feature a 60fps mode, double the frame rate of the original PS4 game and the recent gameplay footage. It's not clear at this time what visual cutbacks (lower resolution, for example) will be required to achieve this frame rate, though.
In an interview with Game Informer, Game Director Mathijs de Jonge said that because of its power, "the PlayStation 5 can go much further [than the PlayStation 4]". De Jonge explained that, "Visually we can add a lot more detail. Graphically, the rendering technique for the underwater scenes is special for the PlayStation 5, it has extra details and extra systems, like the wave technique is better on that system."
On top of this, "The lighting on Aloy on PlayStation 5 has much more definition," as they "use a special cinematic lighting rig, that on the PlayStation 4 is only used in cutscenes, because the game is not running and we have more processing power in those scenes. But with the PlayStation 5 we have plenty of processing power, so we can have that lighting rig always available, so she always looks great with that lighting setup travelling with her anywhere."
But PS4 owners shouldn't be worried about the game's performance. According to de Jonge, "A lot of the development has taken place on the PlayStation 4, and a lot of playtesting has been done on PlayStation 4. So we are ensuring that owners of that console have a great experience and the game will look fantastic on that console."
In the "last stages of development"
Horizon Forbidden West doesn't have a solid release date just yet but in a new interview with Hardware Zone, game director Mathijs de Jonge has said that it's in the "last stages of development".
"We have just successfully completed our beta milestone, which is pretty far along," said De Jonge. "We're now in the final stages of development. So we are polishing the game and fixing bugs. We are also wrapping up certain aspects of the game, like some of the machines being behind schedule - because it takes an enormous amount of time to build them. We're working on the final cinematic. So, we're really wrapping up. There's still a lot to do with a game of this size and magnitude, but we're in the final stages."
This comes not long after PlayStation Studios head Hermen Hulst expressed a cautious approach to the release date, saying in a PlayStation Blog Post, "we think we are on track to release this holiday season. But that isn't quite certain yet, and we're working as hard as we can to confirm that to you as soon as we can."
So, while anything could happen with the game's final release date at the moment, it is in its final stages.
Climb anywhere and swim underwater in a larger world
Following the new footage of Horizon Forbidden West revealed during the recent State of Play, Game Director Mathijs de Jonge and Narrative Director Benjamin McCaw spoke to IGN, touching on some of the advancements players can expect to see in the sequel.
Players can, for example, expect more freedom in free climbing, with de Jonge saying, "In terms of the traversal and the human combat, this was a point from Horizon Zero Dawn, where we wanted to improve the mechanics…you can now free climb anywhere in the world" thanks to an "automatic system that just detects if there is a latch somewhere in the geometry [of rocks, cliffs and mountain sides]."
Horizon Forbidden West will also have a larger, more dense game world than Zero Dawn. According to de Jonge, "The map is a little bit bigger, but in general, we've really looked at increasing the density, and adding more content, making sure there's a lot more to do for the player across the map, and then making that content also engaging by telling little micro-stories."
Some of the additional breadth and depth in the world is coming from new underwater exploration. Benjamin McCaw explained that "Exploration is really the theme. And it's not enough for us to just show underwater. We wanted to make sure that it's every bit as beautiful as what you see in the natural world above it. But it wasn't just enough that you could swim around underwater. We wanted to do some things that are really surprising and interesting. And I think that's where some of the story stuff comes in, and we just absolutely can't wait for players to see what they're going to experience."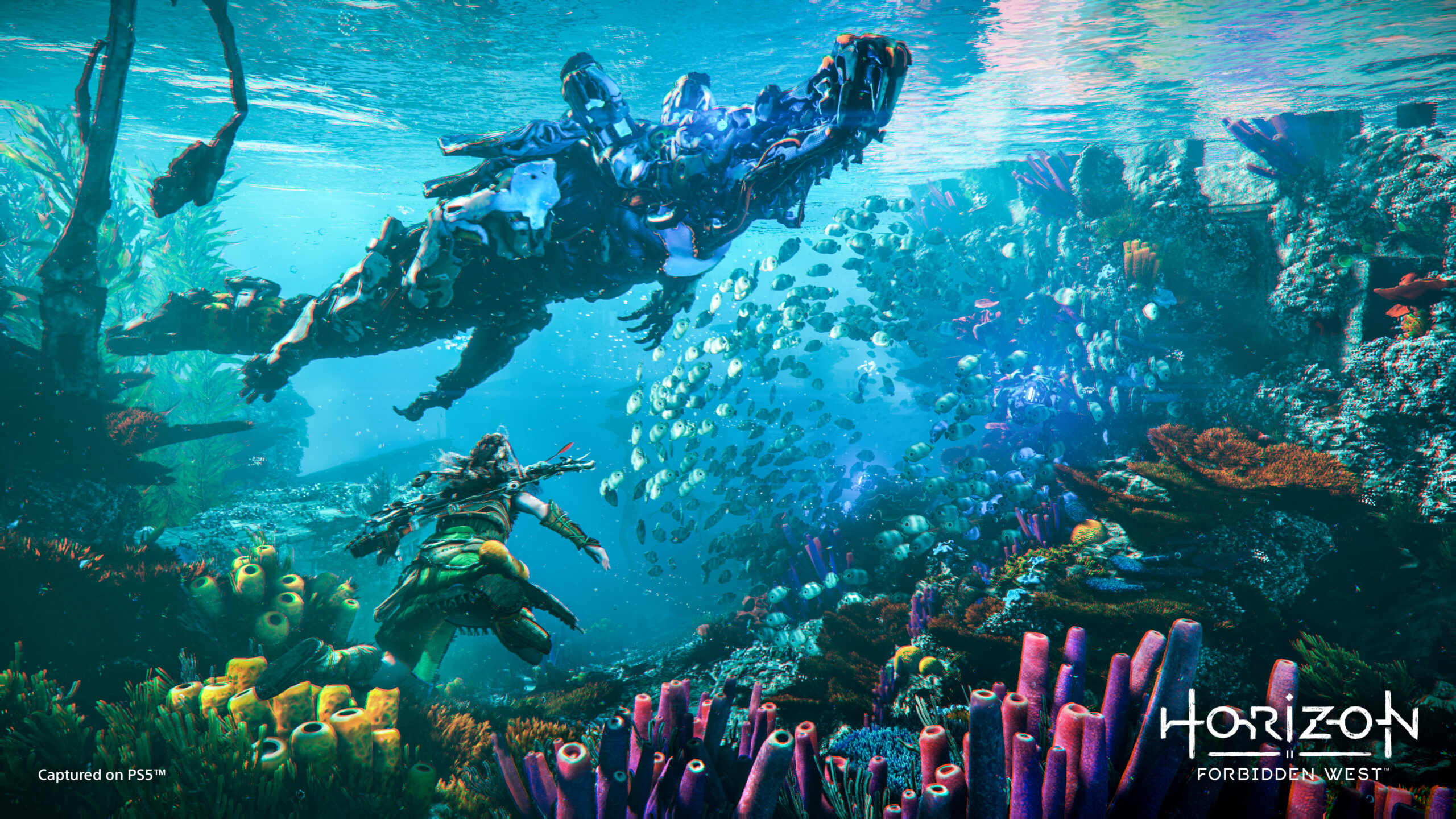 A brand new skill tree and how Valor Surge works
In an interview with Game Informer, game director Mathijs De Jonge revealed that Horizon Forbidden West's skill tree hasn't simply been updated since the first game, instead the previous skill tree has been "completely redesigned and repopulated with new skills", with new options to allowing players to upgrade Aloy's skills to suit their playstyle.
De Jonge also explained how the skill tree is how players will be able to unlock 'Valor Surges', the powerful electric move we saw Aloy unleash during the recent Horizon Forbidden West gameplay reveal.
According to De Jonge, Valor Surges are unlocked by spending skill points in the skill tree, with players then being able to choose which Valor Surge is active at any moment.
To unleash a Valor Surge move, the Valor Surge bar in the bottom right of the screen needs to be filled. This is done by "playing technically", headshotting humans or removing components from enemies, which will reward players with specific technical combat XP, which is its own point system, that can be spent in the skill tree.
Guerrilla Games also revealed that Horizon Forbidden West will have full PS5 3D audio and DualSense support, a new free-climbing system and a new melee system that allows for combos.
Still on track for 2021 release
Despite rumors suggesting Horizon Forbidden West is delayed, it looks like (at present) Sony is still intending to release the sequel in 2021.
PlayStation advertisements on social media (captured by IGN and VGC) both cite a 2021 release date for the game, with one saying "late 2021" and another saying "second half of 2021".
Combined with PlayStation boss Jim Ryan's comments that he was "feeling pretty good" about Horizon Forbidden West hitting its release window target, it looks like we will still be getting our hands on the sequel sometime this year.
Virtually no loading screens
During a dev diary video from Guerrilla Games, Horizon Forbidden West game director Mathijs de Jonge explained how the sequel will utilize the PS5's super-fast SSD.
"With the PS5's SSD, there will be virtually no loading screens," Jonge said in the video. "In an open-world game like Horizon Forbidden West, if you open up the map and fast travel from one end to the other, or restart from a checkpoint, it will be super fast. When you boot up the game, you're right there in the action."
Check out the video below:
Adaptive triggers
You can expect improved use of haptic feedback and adaptive triggers on the PS5, and Horizon Forbidden West is no exception, with its unique mix of bows, slings, and ropecasters. Guerrilla Game Director, Mathijs de Jonge, has said that "The DualSense wireless controller adaptive triggers will help us to make the weapons feel even more unique and satisfying to use."
from TechRadar - All the latest technology news https://ift.tt/3iQO2GS
via
IFTTT